Here we go again. Cue Card versus Silviniaco Conti, two heavyweights squaring up for a sixth round in Kempton's traditional Boxing Day tear-up, the King George VI Chase.
In the blue corner (with pink stars), Cue Card, winner of 10 of his 22 races,  including twice at the Cheltenham Festival. In the red corner Silviniaco Conti, 13 wins from 23 races, including, most relevantly, this main event last year.
And now there's a twist because it was also in that race that trainer Colin Tizzard's son, Joe, rode Cue Card for the 20th and final time; instead he will be giving the leg up to Daryl Jacob, who, eight months after being replaced by Sam Twiston-Davies as stable No 1 to Paul Nicholls, finds himself going head-to-head with his old boss's star turn for this celebrated midwinter prize.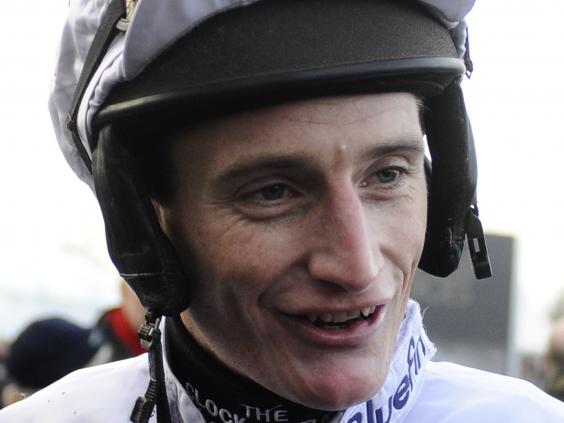 The career score stands at 3-2 to Cue Card but Silviniaco Conti has won their last two encounters and, in much better form this season, is at short odds to draw level with his old adversary. However, judging by the noises from Dorset, the Tizzards have no intention of throwing in the towel, while Jacob is confident they will get him back to his best following a pelvic injury which prematurely ended last season's campaign.
"He has under-performed twice, but the Tizzards have been looking after this horse all his life and they'll know what to do," he said. "Last year it looked like he had Silviniaco Conti beat until after the second last. I'm excited at the chance to help get the best out of him."
Joe Tizzard and Jacob go back a long way, to when they rode the point-to-point circuit  together, and with the former retiring last March and the latter looking to relaunch his career as a freelance after refusing to accept his Ditcheat demotion, the opportunity arose for a link-up with Cue Card. "It was sorted out two days after I left Paul's. I was still out injured after Cheltenham, but Joe was great and it really gave me something to look forward to," he explained.
In such a volatile profession, Jacob has  enjoyed some incredible highs (he won the 2012 Grand National on Neptune Collonges) and dispiriting lows, but sometimes the huge ups and deep downs can occur within minutes of each other.
On the final day of last season's Festival, Jacob, looking to rescue a week so frustrating it had brought him close to tears, finally broke his duck in the second race. But by the time the third race was underway, Jacob was going to hospital with a broken leg, knee and elbow after crashing through a rail and into a TV camera on the way to the start. He doesn't dwell on it. "Falls like that happen," says the 31-year-old.
Jacob also insists he has quickly moved on to this new chapter after deciding that, having spent a year as Nicholls' No 1, he wasn't prepared to go back to being No 2. Was it a wrench to leave? "Not particularly. I don't regret it. I had three great years with Paul. I helped him to win the trainer's championship in two of those years, rode winners at a 25 per cent strike rate and won a Grand National as well as two Cheltenham Festival winners. 
"I'd love to be stable jockey again one day, but the freelancing is going better and better. In life, you learn to deal with everything. There's no point in getting older if you don't get wiser."
The King George VI Chase at Kempton is live on Channel 4 Racing on Boxing Day
Reuse content