Most England players leaving the team hotel after an important Twickenham victory over one of the southern hemisphere superpowers feel they can fly home without the aid of aeroplane. George Ford is not an England player of the common or garden variety. When the outside-half travelled back to Bath after last month's much-needed win against the Wallabies, he flatly rejected all forms of teleportation in favour of a road trip in his own car and spent the entire journey in the icy grip of reality, which was just how he liked it.
"It probably sounds a bit dull, but I can honestly say that the only thing on my mind as I drove from Surrey to the West Country that Sunday morning was Montpellier on the Friday night," he recalled, referring to Bath's highly significant visit to Languedoc on European Champions Cup business. "You can't take a chance on looking over your shoulder at a job well done or patting yourself on the back. Not in this game. I think I've always known that, but as you begin to gather experience at the top level of the sport you know it more.
"That's not to suggest that I wasn't happy with how things had gone against Australia. The dressing room was a good place to be in after the match: while we felt we'd let them back into it on a couple of occasions – I certainly felt that way – the positives of the performance outweighed those concerns. We'd gone in with a plan based around building pressure, using that pressure to build a score and making sure that if they were going to play some football, they'd have to do it from their own 22. And, by and large, we'd executed it pretty well.
"But that's always as far as it goes in my mind: all that matters is what happens next, not what has already happened. And anyway, everyone at Bath knew how vital it was to win in Montpellier, so it wasn't as if there was nothing much for me to think about in the car that day."
Those thoughts did not, needless to say, extend to next year's World Cup, even though Ford's rise to prominence over the last few months – the last few weeks, as far as the wider rugby public is concerned – has all but guaranteed him a place in the red-rose squad for that tournament, assuming he stays fit and healthy.
If, on the face of it, his apparent immunity to flights of fancy is unnerving – any 21-year-old blessed with so lavish a sporting gift would be forgiven for spending at least a part of each day with his feet several inches off the ground – this single-mindedness is one of the qualities that sets him apart from the likes of Danny Cipriani and Freddie Burns, who also covet the England No 10 shirt.
Another of those gifts is the low-slung, super-sharp running game that has pushed him ahead of his friend, schoolmate, one-time neighbour and national age-group colleague Owen Farrell in the pecking order. Not since Stuart Barnes, perhaps the most influential English club player of the last 30 years, was bending all rugby life to his will at the Recreation Ground during Bath's golden decade at the end of the amateur era has a red-rose outside-half offered so complete a range of skills.
Ford has yet to prove himself as merciless as his predecessor – Barnes, a romantic soul in many respects, was off the scale when it came to cold-hearted, ultra-ruthless competitiveness on the rugby field – but as he is nowhere near as bolshy and rebellious either, he is set fair for a long and fruitful spell at Test level. Yet if a red-rose career seemed his for the taking when he won the International Rugby Board's top junior award three years ago, there was a rite-of-passage feel about 2014 from the moment the year dawned.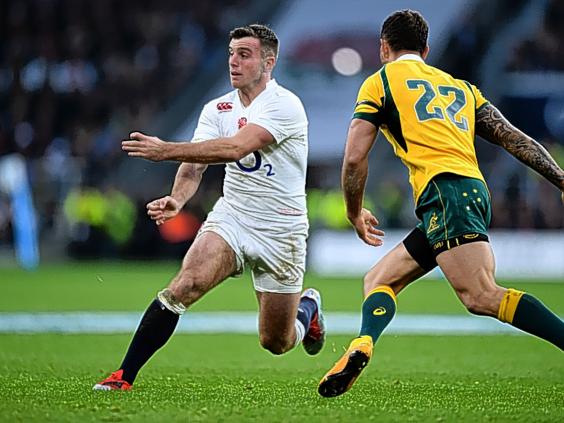 And during the first six months of it, there were setbacks. Ford's goal-kicking, as Barnesian as it gets, went wonky in a couple of high-profile matches, not least in the European Challenge Cup final against Northampton in May. He then made the call to forgo a first England start, against the All Blacks in Auckland, in favour of surgical repairs to a troublesome shoulder joint – a move that allowed both Burns and Cipriani to make their pitch for preferment against the reigning world champions.
"That was a tough decision, for obvious reasons, and it wasn't taken lightly, although the medical advice I received was strong and clear," Ford said, a few days after outsmarting Montpellier in wild winter weather and plotting Bath's route back into European contention.
"As a result, I didn't really have any expectations at the start of the season. I wanted to get fit as quickly as possible, of course, so my only focus was on the opening game at Sale. Seriously, nothing else was in my mind."
It is one of Ford's principal themes, the "next match" theory of rugby survival, but there was more to it on this occasion. "While I've never looked too far into the future – once you start doing that, you're a goner – the injury issue was a whole new experience for me. I had nothing to compare it with or set it against. It was my first significant operation and the first time I'd ever had to find my way back into rugby after a break of longer than three or four weeks. I wasn't scared of the situation, but I was a little worried about it.
"Fortunately, the previous Premiership season had taught me an awful lot about myself and where I was in my game. There had been blips, yes, but they were instructive in themselves and as a result of the lessons I learnt I felt more comfortable, as a person as much as a player. In the end, there's no substitute for hard experience.
"It's difficult to explain this to people, but you have to go through the bad times – and the good times too – before you can reach the level of understanding and self-awareness you need to really perform at a high standard. You have to understand why things went wrong, but also why they're going well." Didn't Sir Clive Woodward once say something very similar? "If he did, I agree with him completely," Ford replied. "You learn a lot of valuable things when it's going your way."
Generally speaking, the force has been with him ever since he made the bold decision to leave Leicester for Bath in search of regular first-team activity in the spring of 2013. "I loved my time at the Tigers, but I was playing in bits and bobs," he said. "I would never dream of using that as an excuse for failure, but as a 10 you need to understand your responsibilities and how to meet them under pressure.
England 26 Australia 17 - player ratings
England 26 Australia 17 - player ratings
1/3 Joe Marler

Gave England the upper edge as he got the better of James Slipper, but a shoulder injury looked to force him off earlier than England would have liked. 7

2/3 Dylan Hartley

Relished the battle up front and had the cheek to ask the referee for "more scrums". Line-outs were as accurate as ever and gave England good quick ball. 8

Getty Images

3/3 David Wilson

More prominent in the loose than in previous weeks and stepped up where he need to in the scrum. 7
"I'm not saying that I've learnt everything just because I've had a season and a half as a club No 1 – I don't want to be sitting here in a year's time thinking, 'What possessed me to be so stupid as to suggest that I know it all?' – but consistent exposure to those pressures is bound to have its effect.
"You can use goal-kicking as an example of the importance of experience, of time spent on the pitch learning to deal with a problem. When my kicking went wrong for me in the past, I think it was down to me not finding a way to get my mind in the right place – away from the heat of the battle going on all around me and into somewhere far more compartmentalised.
"It's a difficult thing, trying to separate things out when you've just been in the thick of it, just been smashed so hard that you can barely catch your breath. I've been susceptible in the past to kicking for goal while still caught up in other elements of the game, and if you're lining up a shot at the sticks while thinking about what's just happened, you're asking for trouble."
Much to the relief and delight of Stuart Lancaster and the rest of the England coaching hierarchy, Ford's thoughts were perfectly organised when he was given his chance against Samoa in the third of last month's Twickenham Tests, and again a week later when Australia came to town. If the first-half performance against the Pacific islanders was a little off-script at times, the newcomer made all the right calls after the break and continued in the same vein in the win over the Wallabies.
"How did I find those two matches? Very distinct from each other," he said. "The Samoa game was huge, of course: it was my first start, there was a full house at Twickenham and we'd lost five on the bounce. I wasn't by any means thinking that it was anything less than a full-on, must-win Test match: after all, it was by far the biggest game I'd ever played. But without disrespecting Samoa in the slightest, going straight into the Wallaby match a few days later was the most significant step I'd taken.
"For a start, there was the perception of Australia to deal with – of the rugby they were capable of playing. Everyone knows how good they are with the ball, but far more than that, the evidence of threat was there on the field right from the start. It was a leap in intensity, in physicality, in pressure. You could just tell they were a team of world-class players. You could feel the difference."
Intensity, physicality, pressure... these things are unlikely to diminish as we head into World Cup year. Next on the agenda is Wales in Cardiff, where England suffered the mother and father of a beating last time, and the heat will rise from there. Someone has to control the temperature, and as things stand the prime candidate is an early twentysomething with two international starts behind him.
Reuse content