We enter the final week of the regular season with a pretty decent idea of who is going to have an extended run in the play-offs. Northampton and Bath have secured first and second place respectfully, and have the home advantage in the semi-finals.
But there is one final round of games to play to decide who will join them in the play-offs. Leicester, Exeter and Saracens are all fighting for those last two places, with Exeter hosting Sale and Saracens away to London Welsh.
The major interest is the match for Leicester, where they host Northampton at Welford Road, which for the Tigers, would almost appear to be a quarter-final. Nothing less than victory will do for the Tigers if they are to stay in top four contention. The general assumption is that Saracens and Exeter will both be victorious, but Leicester can stay above them by winning on Saturday.
The East Midlands Derby has a long standing tradition of being a fierce fixture. The last Premiership meeting between the two teams was in December at Franklins Gardens, where the Saints overcame a first-half red card to Dylan Hartley to win 21-20.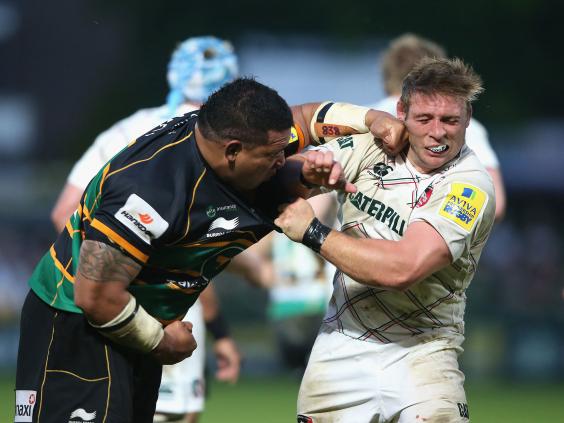 The Saints' Supporters' Player of the Season Calum Clark said: "It's one of those rivalries that we want to keep alive and strong in rugby. They're always unbelievable games to play in and bring the best out in both sides."
Khan Fotuali'i agrees, and when asked about how the preparation changes, he said: "It gets more intense. It's a big rivalry, and a lot of history. It's the same as any other week, just a bit more intensity, mentally and with planning. We want to go out there, and get the win."
He went on to say that the Saints want to change the Welford Road record and get a win. On a personal level, to keep Leicester out of the top four would be "pretty awesome from that point of view, but play-offs are tough times. You get one chance and that's it. If you lose that day, there's no going forward."
Should the Saints lose to Leicester, it would put give the Tigers third place. Asked if the Saints would want to avoid Leicester in the play-offs, given that they have been in the play-offs for the last 11 years. , Fotuali'i said: "I think the answer to that would be yes maybe three or four years ago, but now we have the confidence that we can get on top of them. And we know we can beat them. It doesn't really matter who we have in the semi at home, it's just about executing well."
Reuse content