Martin Johnson, Ben Kay, Louis Deacon, Geoff Parling… between them, the four most accomplished Leicester locks of the professional era have very nearly 200 England caps and more than a dozen Lions Test appearances in the bank, not to mention God's amount of silverware: World Cups, Heineken Cups, league titles, the whole shebang. Ed Slater? He picked up a Premiership winner's medal last May but by Welford Road standards he is some way off the pace when it comes to laying hands on the game's glittering prizes.
This will not be the case indefinitely. Slater is now as near to an automatic first-team choice as it is possible to be in a squad environment as brutally competitive as the reigning champions' – indeed, he has been leading the side for the last month or so. He is also on the rise internationally, having spent the entire Six Nations among Stuart Lancaster's red-rose training group and made his presence felt in all senses of the phrase. If he is not quite within touching distance of a first cap, he is a damned sight closer to it than he was this time last year.
Today being East Midlands derby day, he is very much "in the zone", to use the current jargon. His Leicester career, now in its fourth season, has been marked by meetings with the nearest and dearest from Northampton. He made his senior debut against the Saints at Franklin's Gardens, where this afternoon's profoundly unneighbourly set-to will unfold, and won his Premiership medal against the same opposition in one of the more talked about Twickenham finals in recent memory.
From Slater's perspective, this fresh opportunity to mix it with Courtney Lawes, one of the men blocking his path into the national team, is a motivating factor to die for.
"I was born in Leicester and supported the club as a kid. My uncle has been a season-ticket holder for years and he took me to my first matches," the 6ft 6in forward recalled this week. "Then I went to school in Milton Keynes, where all my friends followed Northampton. When I was doing the old lap of honour thing at Twickenham after last year's final, I spotted some of them in the stand and gave them the thumbs-up. And they immediately responded, if not in a polite way." For the avoidance of doubt, he gave a brief visual presentation. "Still, it's a great rivalry," he concluded, with a grin.
It is no small thing for a relatively late developer like Slater, who took the scenic route into the Premiership game via the Antipodes rather than the shortest route from A to B via the academy structure, to be offered the Leicester captaincy, over the likes of Deacon, Anthony Allen, Julian Salvi and Jordan Crane, all of whom are hard-bitten Tigers with vast experience and know-how.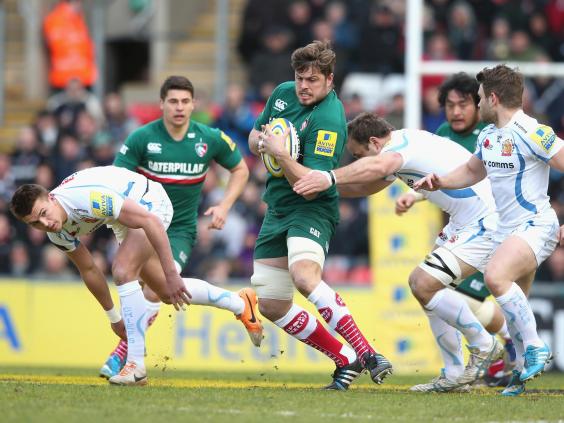 Richard Cockerill, the rugby director, explains it thus: "There are two possible reasons to make someone skipper – he's either respected as the best player, or people are scared of him. With Ed, there was a bit of both in the decision. He's a player blessed with the Leicester mentality. He's hard-nosed, he's aggressive and he cares about what he does. I like his attitude."
Did Slater feel awed by the responsibility? "It came as a bit of a surprise and I was definitely taken aback," he confessed. "But awed? No, I don't think that's the word. I'm leaning far more towards 'proud'. Yes, I was very proud to be asked."
What about his style of captaincy. Is he a talker, or a doer? "The vocal side of things doesn't play that big a part," he replied. "We're a tight bunch of players with natural leaders in a lot of positions, so there's no need to say too much. If you're talking for the sake of it, you run the risk of missing the right moment to say something that's really important. I've spoken to Richard about the way Martin Johnson approached the job back in the day. It seems he wasn't too chatty either."
Slater is 25 – not exactly a babe in arms, but no great age for a lock. He was a keen player in his teens, but it was not until he headed for Australia as an 18-year-old that he announced himself as a forward of serious potential. "I messed up my A levels, so I thought I'd do something different and try my luck over there," he said. "I did some pretty basic jobs to raise the money – I was a painter and decorator for a while, I worked in a call centre – and then headed for Sydney, where I started playing for the Eastern Suburbs club. I went with the intention of staying for six months, but it turned into three and a half years. My rugby took off and they were keen to keep me.
"Easts were brilliant with me. They helped with my education [he embarked on a degree course in communications at the private Notre Dame University] and they made it possible for me take my rugby to a completely new level, to the extent that I ended up training with the New South Wales Waratahs and signing a junior contract with them. As it turned out, one of their coaching coordinators, Mike Penistone, had Leicester connections, and he put my name forward for a trial back in England. The trial went well so I returned to Australia to tie up some loose ends – I had to drop out of university, for a start – and… well, here I am."
Here, meaning Leicester, is where he intends to stay. Penistone's guidance helped him survive the culture shock awaiting him on his arrival at the club: "He kept on telling me little stories about the way of life at the Tigers and, looking back, he was obviously prepping me."
By showing the resolve to rise above the inevitable selection frustrations and injury setbacks, Slater has put himself at the heart of matters. Cockerill backs him because, like the mighty Johnson before him, he understands the club's mindset and is happy to put himself through the physical torments long associated with life at Welford Road.
Technically, he is coming on in leaps and bounds. Early experience as a No 8 gave him the confidence to carry the ball in exposed areas of the field as well as at close quarters, and if the Tigers' recent set-piece work is anything to go by, he is as heavy a scrummager as any of his England rivals, with the possible exception of the unusually substantial Bath lock Dave Attwood. Yet he speaks most loudly through his body language.
There is more than a touch of "Leicester old school" about him, which, roughly translated, means he is a hard case – not occasionally, but relentlessly. In a sport that, like it or not, remains rooted in the dark arts of intimidation and subjugation, he is the very last person to take a backward step.
Right now, the engine room is the most stable area of the England operation. The eye-wateringly explosive Lawes is in the form of his life, largely because the equally athletic Joe Launchbury of Wasps has become so proficient in so many disciplines that he allows the man from Northampton the freedom to roam around the field looking for ribcages that might be in need of rearranging. Behind these two, Attwood offers something a little different – not that there is anything "little" about him. With the highly intelligent Parling, a Test Lion as recently as last summer, expected back from long-term injury in the next two or three weeks, places in the squad for next year's World Cup will be bitterly contested.
Slater acknowledges the scale of the task but fully intends to be counted among those contestants. "If I'm being absolutely honest, I was a little disappointed not to get closer to Six Nations selection this season," he admitted, indicating that he was no more comfortable making the homeward-bound Tuesday night "misery drive" than those more experienced England hands who also missed out on Lancaster's match-day cut. "But things can change so quickly. Two years ago, I could run out at Welford Road with most of the crowd not knowing I was in the team. Now I'm getting a shot at captaincy.
"As far as I can make out, the England coaches like my physicality, my abrasiveness, and I'd like to think that over the next few months I can add to my skill set and prove that I fit into the modern second-row role. Joe and Courtney? They're really strong, aren't they? But there are a few of us looking to force their way in." As Slater is making his name as an enforcer, the situation should be tailor-made for him.