"Have you heard the Pilou-Pilou?" says Leigh Halfpenny with a slight smile. "You should. It's quite something."
The Pilou-Pilou, a chant about ruthless, ancient warriors coming down from the mountains to the sea, has been likened to a French haka. It is sung and shouted long and hard before every game at the Stade Mayol, a great symbol of intent. Halfpenny, who signed for Toulon in May, has never heard it from the pitch
And that is why, for all his glorious ability as one of the best full-backs in world rugby, the pressure rages inside the boy from Gorseinon.
Like many self-made men, Toulon's president, Mourad Boudjellal, believes his money should produce instant results. Toulon pay big – Jonny Wilkinson's salary was £710,000 a year when he signed in 2009 – and Halfpenny gives another slight smile when asked what it is like to play for the Real Madrid of rugby.
When Halfpenny was unable to make his debut because of a groin injury, Boudjellal, who made his money from publishing fantasy and sci-fi comics, gave a fair impression of Flash Gordon's nemesis, Ming the Merciless, and threatened to cancel his contract.
It led to a flurry of offers from Wales and some serious shuttle diplomacy from Halfpenny's agent, Tim Lopez, who managed to smooth things over. Halfpenny, who was speaking in his role as a Lucozade ambassador, never has his thoughts too far away from Provence.
There are the autumn internationals, the Six Nations, the World Cup, all stretching out on various points of his horizon but, when asked about them, Halfpenny, who has just returned to training at the club, replies: "I cannot look beyond Toulon at the moment.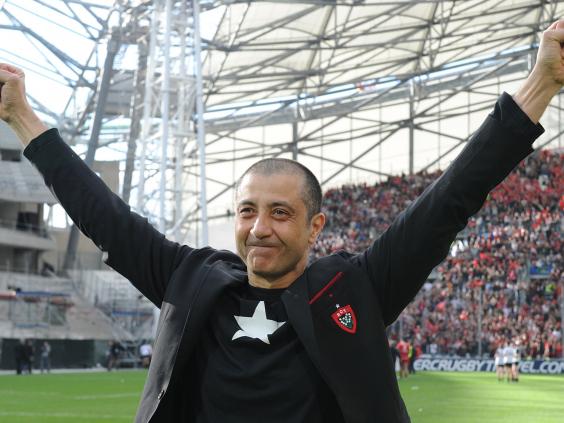 "It is a big situation, what with everything that has gone on and the only way to respond is to deliver for your team. The competition for places at Toulon is unlike anywhere else in the world and you know what the consequences of one bad game could be."
They do not forget easily at Toulon. Not only do they chant the Pilou-Pilou, they throw newspapers into the air whenever they are on the point of victory; a legacy of some comments Serge Blanco made in print about Toulon's trophy cabinet never matching the expectations of the crowd. Then, they were Newcastle United rather than Real Madrid.
"Toulon is a port, the home of the French fleet. There is only one sport in Toulon and that is rugby and you are expected to win every game," says Halfpenny. "If Toulon are at home, it is the main event not just of the weekend but the week. When you get to the ground you see fans packed outside the stadium two or three hours before, it's like an international. I've never seen anything like it; it's unique.
"There were many reasons I went to Toulon. I wanted to stretch myself and the idea of playing for the best team in Europe appealed and so did the idea of sharing a dressing room with the likes of Bakkies Botha, Juan Fernandez Lobbe and Bryan Habana and training with them up close."
On the pitch, Halfpenny is a ferocious competitor; off it he seems nothing like the man you would imagine; polite and softly spoken, he is now applying that voice to learning French. "It is a lot harder than I imagined it would be to pick up," he says. "I've got set phrases to learn every day that get me through. It struck me the other day that I am from Wales and I speak French and English. As a proud Welshman I am ashamed to say I don't speak Welsh and that is something I will try to rectify."
It is seven months since Halfpenny last played in an international. England were leading 29-18 at Twickenham and there were fewer than seven minutes remaining when it seemed Luther Burrell would put them further ahead. Just as the Northampton centre was about to put the ball over the try-line, Halfpenny sprinted across to drive him out of play.
It was a heroic tackle but it came at the cost of a dislocated shoulder. There must have been times when Halfpenny wondered whether it was worth paying.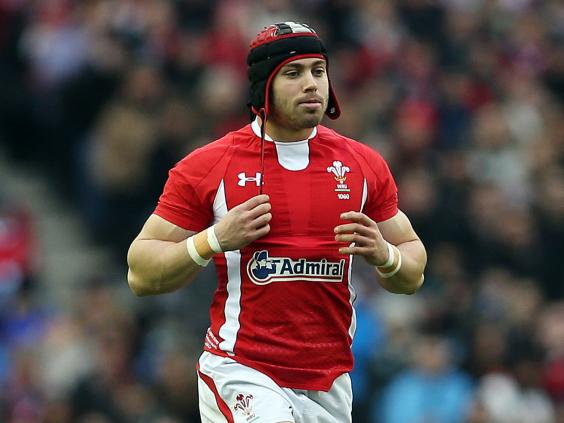 The one thing missing from the revival of Welsh rugby under Warren Gatland's management has been a victory over a southern hemisphere side. In June, facing South Africa in the second Test at Nelspruit, they came within a late penalty try of doing so. Had Halfpenny been there, it might have made the  difference.
"It's a nice thought but not to have made that tackle would have gone against every one of my values," he says. "I had pulled that jersey on and I couldn't walk away from the responsibilities that went with it and, if the price was my shoulder, then so be it."
Rugby is perhaps the ultimate team sport, except for those who take the penalties, when it suddenly becomes an intensely individual experience. In the semi-finals of the last World Cup against France, Halfpenny had the penalty to end all penalties. The distance was ridiculous – some 47 yards – but the prize in Auckland – a place in the final – was enormous. He failed; just.
"The expectation we put on ourselves was enormous," he says. "Perhaps it was more than the expectation there was in Wales.
"Out in New Zealand we had no idea what people back home were thinking. When we heard they would be opening the Millennium Stadium just to watch us play on the big screens, we had some idea and when we got home, well, we would have liked to have won, we thought we could have made the final, but… there was pride and a bit of frustration.
"You know I worked all my life to take that kick. I know the pressure that comes with international rugby, that games are decided by small margins, but the work you do all week should prepare you for that. You should be able to take that kick without fear.
"It was always my dream when I was a kid in Gorseinon, kicking in the field outside, that one day I would do it for my country. I see pressure as a privilege."
Leigh Halfpenny and Chris Robshaw were speaking on behalf of Lucozade Sport. To find out more and view exclusive content visit: www.lucozadesport.com or follow @LucozadeSport