Ever felt robbed at a vending machine when your snack of choice gets stuck on the final rung, and you want nothing more than to shake it vigorously but fear setting off the probably fake alarm it warns you off?
Well fear no more, as you can now take on the Scrum Shop, just like London Irish players Leo Halavatau, Matt Parr, Luke Narraway, Geoff Cross and Conor Gilsenan have been doing this summer in preparation for the new Premiership season.
Etixx, Belgium's leading sports nutrition brand, have developed the latest in vending machine technology that sees payment accepted in the form of scrummaging. With this in mind, the London Irish squad will be filling themselves with the contents of the Scrum Shop all season long – although they may be disappointed when they find out it's filled with Etixx's range of products and not the chocolate and crisps they will be craving.
The machine will even give you a score, ranging from 'tackle' to 'bone-cruncher', and it wasn't long before the Exile boys got the energy bars flowing – it took them even less time to begin playing pranks on each other.
But the best bit of all is that the Scrum Shop will be at Twickenham this Saturday in the Westy Car Park between 11am-6pm for fans to give it a go as part of the season-opening London Double Header, which sees Irish takes on Harlequins and London Wasps face last season's beaten finalists Saracens in back-to-back matches at HQ.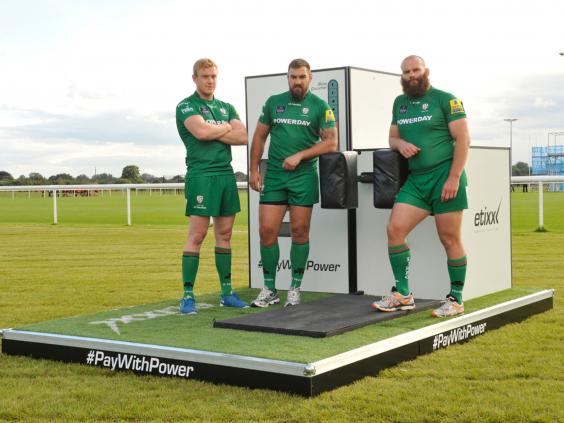 Claire Rive, Sports Nutrition National Sales Manager at Etixx said: "Our extensive experience, research and development show that we know exactly what today's athletes need to supplement their training and aid recovery. All products in our range have been developed and tested with elite athletes across the world, earning respect and recognition in the professional sporting industry.
"We couldn't think of a better way to challenge the strength and skill of London Irish than with the 'Scrum Shop' - and we can't wait to see fans having a go at Twickenham this weekend."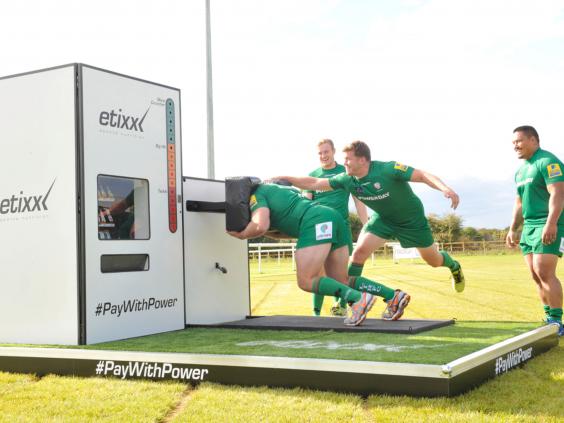 Etixx will sponsor the Aviva Premiership side for the next three seasons, where all at the Majedski Stadium will be hopeful of enjoying a far more successful campaign than the previous years. The Exiles have slipped from top-four contenders to relegation scrappers, but there is a renewed optimism at the club that a string of new signings – including Narraway and former Saracens wing James Short –though the loss of influential pair James O'Connor and Chris Hala'ufia does come as a blow.
The question now is do you think you can tackle the Scrum Shop better than the London Irish stars? It shouldn't be too hard, given that young prospect Tom Smallbone struggled to understand that the scrummaging method doesn't work with general vending machines.
Watch the video below…
Etixx will be launching in the UK in September. More information is available at www.etixxsports.com.
Reuse content