Chris Ashton could not hide his delight at breaking Vincent Clerc's European try-scoring record as Saracens claimed back-to-back Champions Cup final victories by beatin Clermont Auvergne 28-17, but insisted that he had his teammates to thank for carrying him through the bad times of his five-year stay with the club.
Ashton now had the chance to sign off on his Saracens career with the double-double as the club attempt to add the Premiership title to this European success, a year after doing exactly that. They will face Exeter Chiefs next weekend in what could be Ashton's final match for the club, should they lose, with the wing due to move on to Toulon at the end of the season.
Having seen his England career somewhat unfairly cut short in 2014 when he was exiled from Stuart Lancaster's plans – which was then followed by Eddie Jones's decision to recall and drop him after a ban for making contact with the eyes of Ulster's Luke Mashall last year – despite being one of the form wing's in the world, Ashton was the first to accept his time at Sarries had not been an entirely smooth one.
But after crossing the line in the 13th minute to put Saracens in a lead they would not relinquish, Ashton paid tribute to his colleagues as well as the coaching staff that have never once doubted him.
"I won't lie, I'm pretty happy about it," Ashton said of the record. "But I think a lot of it isn't down to me individually, it's down to the group of players I've been playing with over the past five years and Alex [Goode] has been a big part of that. I rely on them, I rely on them all the time, it's nice for my name to be up there but a lot of it belongs to this club to be honest."
He added: "I'm going to miss it. Like I said with the try stuff, I've had five amazing years here, some of it has been life-changing. I've had unbelievable highs and definitely some lows along there, and the support I've had from the coaching staff and the group of players has been nothing short of phenomenal, they've always been by my side so it will be a sad day, it was nice to do something on a high today.
"Obviously we've still got next week but I'll celebrate today with the lads and I'll enjoy it, and life changes sometime and opportunities arise. I think my time now is to move on."
With the Champions Cup trophy gleaming in front of him, Ashton could not help but laugh – along with Goode and director of rugby Mark McCall – when the first question of the press conference questioned why Ashton had not scored in the very first minute.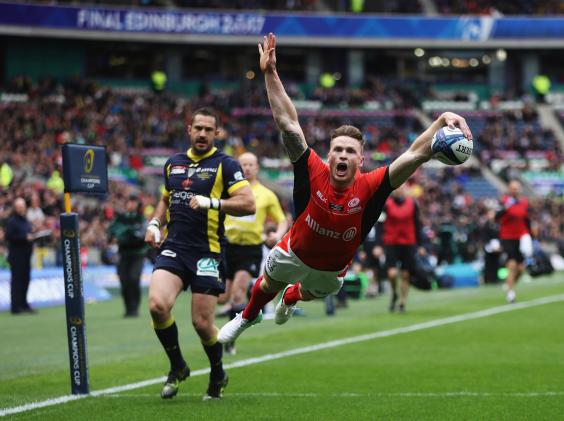 But from the first minute to the last, Saracens were the better side, and even when Nick Abendanon finished a candidate for try of the season when Clermont covered the length of the pitch in one move, McCall still believed his side were on the right path, even if the scoreboard read 18-17 at the time.
"It felt like we were dominant for long periods, we had a lot of territory, attacked very well but we were never away on the scoreboard," McCall said. "12-7 at half-time and it was one of those games where they scored their 100m try, it was a great try for them. At 18-17 it felt like we should have been in more control, the only place we weren't in control was the scoreboard and I thought our reaction, our response to their try – which can knock you – was really outstanding.
"We attacked the game in the last 20 minutes, we played some outstanding rugby, we kicked behind them, we put them under pressure for 20 minutes and I think we got what we deserved at the end."
Reuse content