Joe Launchbury did not look like a man who had walked unseeing through an All Black blizzard. The second row mountain is prominent among the new breed of irreverent Englishmen developing under Stuart Lancaster's aegis. He threw every inch of his impressive bulk at the All Black line, revelled in the ferocity of the fight and stole in for a try. Afterwards there was disappointment. This was not a player buoyed by a narrow defeat. Here was a man who expected to win, saw how it might be possible and was dejected by the failure to close out the match after shaking down the Kiwis.
For much of Saturday afternoon the white shirt held sway over black, the world's best team in retreat under the weight of English fire. Yes the All Blacks engineered the necessary response after shipping 19 points and surrendering the lead, but this was not a game that conformed to the pre-match commentary. A few myths were debunked here, not least the frequency with which an All Black shivers like any mortal when the opposition invades his space. Launchbury was chief among the invaders.
"As a group we set our standards pretty high. We came into the autumn internationals targeting three wins. We were desperate to do that. We knew the size of the challenge [against New Zealand]. It did not quite go to plan at the start but the desire and heart we showed to get back in the game was very impressive. The key is to kick on now in the Six Nations. This is a good chance now to focus, put this to one side and take it to the next level. We spoke how this will help us grow as a side. We have gone toe-to-toe with the best side in the world for the best part of 80 minutes. We have three more games against them in the summer, which will give us a great benchmark."
Launchbury left the field prematurely with a shoulder injury. He is only 22 and you hope that the commitment he brings to the contact area is not his undoing. This is the modern game's great worry. These boys are getting bigger and quicker, increasing the force with which they hammer into the fray. At 6ft 6in the mass of Launchbury's impressive bulk appears naturally occurring and less reliant on the pumping of iron to inflate his physique. There are too many biceps and pectoral injuries incurred to be comfortable with the giganticism that dominates modern rugby theory.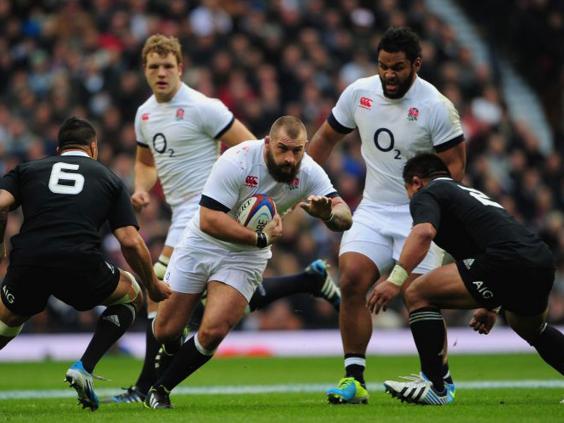 It is not Launchbury's size necessarily that makes him dangerous but his attitude. Respect for the All Black proposition does not convert to fear when he is standing 30 metres from the Haka. "I'm enjoying my rugby. I love wearing the white shirt. As a pack we take people on. We weren't expecting to be 15-3 down in the middle of the first half but we clawed it back. We kicked for the corner a couple of times when arguably we might have gone for the posts. That laid down a marker. The crowd got behind us and we got a score. We are a young squad. We are not vastly experienced but we have a collective spirit and heart and we try to go toe-to-toe with whoever we play. We should be proud of that but obviously we want to start reversing these results and get some wins.
"We fancied our chances. We came in off a couple of good wins and thought we'd give them a good go, which we did. Confidence is high. This was a setback in terms of results but we are happy with the direction we are travelling in. We have the Six Nations next then a series in New Zealand, which is exactly what we want. I've never been there before but I'm quietly excited. We're not going to make up the numbers. They have a strong self-belief but so do we. We are not happy to lose to anybody."
The sentiment was echoed by Joe Marler, who made light of Alex Corbisiero's absence in the front row. Lancaster has yet to crack the backs unit. Ben Foden and Chris Ashton out wide were no match for Julian Savea and Charles Piutau, and Joel Tomkins at outside centre failed to give England the cutting edge the forward effort deserved. Lancaster has no fears up front, where Marler slotted in seamlessly.
Coupling a shaven head with a full beard, there is something of the human battering ram about Marler, who must cut a disturbing figure for opposing props. He conveys a sense of blunt power, and articulates the game with the same sparing approach. It is good to know that the shock and awe evoked by the All Blacks in pre-match commentary was not shared by him.
"The gap is not that big," he said. "You grow up thinking the All Blacks are the pinnacle of the game, that every person who wears the black shirt is incredible. A lot of them are but you have to have the belief that you can take them on. We did that. There is stuff we have to work on but to come so close and to fight as hard as we did was pleasing. We made some mistakes in the last  quarter, which was disappointing. They are good but not magical."
England's narrow loss: Key statistics
7
Defeats for England in 22 matches under Stuart Lancaster
1
Victory for England in their last 11 matches against New Zealand
1,442
Points for Dan Carter in 100 NZ games (178 in 11 against England)
Reuse content