England will head into their own World Cup tournament with an experience deficit of alarming proportions: two-thirds of the squad chosen by the head coach, Stuart Lancaster, have yet to reach the 30-cap threshold. But the red-rose hierarchy have at least convinced themselves that if things go belly-up against the superpowers of the southern hemisphere next month – or worse, against Wales – it will not be for the want of character.
Lancaster and his back-room lieutenants – Andy Farrell, Graham Rowntree, Mike Catt – were unanimous in their view that the players who won the tight selection decisions, from Sam Burgess and Henry Slade in midfield to Kieran Brookes, George Kruis and Ben Morgan up front, are precisely the sorts to keep their heads when those around them are in danger of losing theirs. They believe that over the course of an intensive 10-week camp, in which psychological study played every bit as important a part as physical assessment, they have identified the natural-born winners.
Whether there was complete unanimity behind closed doors is another matter entirely. Those making the closest reading of the runes last week were in no doubt that Luther Burrell, the Northampton midfielder, was ahead of Slade in the race for a place in the centre quartet. Those who watched Nick Easter, the veteran Harlequins No 8, play an effective "make do and mend" hand off the bench in Paris on Saturday night were convinced that he had moved ahead of a half-fit Ben Morgan and would make the cut for a third World Cup appearance.
Wrong, wrong. Slade's glorious international debut against France at Twickenham almost a fortnight ago may have been a slow-burner in the minds of the coaches, but they saw the light in the end. Morgan, whose performance in that game left spectators both respectful of his resourcefulness in recovering from a badly busted leg and disturbed by his lack of penetration with ball in hand, did enough during Wednesday's final training session at the team base in Surrey to convince the right people of his readiness for the challenges ahead.
Some contenders – the celebrity playmaker Danny Cipriani, for example – were told after the session that their race was run. Others were informed early yesterday morning. Both Burrell and Easter were in the latter category, not that the extra few hours' grace made them feel any better about things.
Lancaster's long relationship with Burrell, whom he has coached since the midfielder was in his mid-teens, had persuaded many that he would stick with the devil he knew rather than pick both Burgess and Slade ahead of him, and it may be that the head coach was the last of the hierarchy to reach a different conclusion. Certainly, the decision to jettison the Northampton player caused him some grief.
"Yeah, it was tough," Lancaster acknowledged. "In all sorts of ways, really. You go back over the emotional connection you have with someone you developed as an academy player, someone you've worked with since he was 15. It's hard to grade these conversations in terms of difficulty: it was as hard to speak to Alex Corbisiero [the Lions prop who lost out to Brookes] and Dave Attwood [the lock who failed to find a way past Kruis]. But Luther… that was especially hard. I have a huge amount of respect for the way he handled it."
Inevitably, the Burgess question cropped up: after all, he was still playing rugby league this time last year and has made barely a dozen midfield appearances for Bath, who are currently trying to turn him into a back-row forward. Lancaster did his level best to explain his thinking.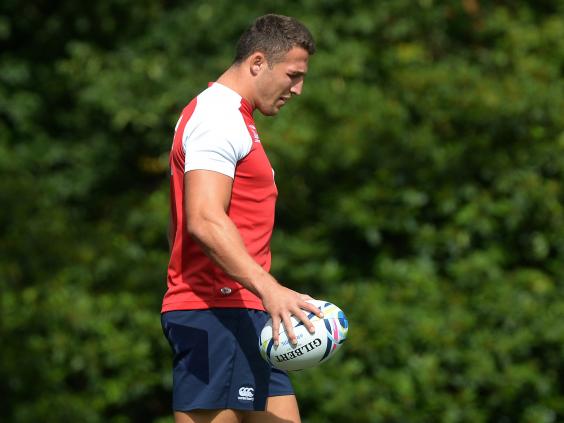 "It's about balance," he said. "To win at this level, you need physicality, ball-players and finishers. Sam brings the physicality at 116kg [18st] and he's as quick as any of our centres, leaving aside someone like Jonathan Joseph. He's powerful and he reads defences well. He's also an aggressive tackler.
"But one of his main attributes, which goes unnoticed, is the effectiveness of his running lines, even when he doesn't get the ball. There was a try in that last training session when he stopped three defenders – very good defenders – with the line he ran, and Alex Goode ran round the back for a try.
"Is it a risk, having Sam and Henry in midfield after one international appearance each? I wouldn't say so. I think it's exciting. Henry's history is different to Sam's history and all we've done is picked on the basis of the confidence we have in these players after watching them for 10 weeks.
"The beauty of having so many options with England is that it creates great debate, and everyone is entitled to their opinion. What we coaches know is what we see in camp, day in and day out. No one knows the players better than us, because we watch them against each other. I could go through a hundred occasions when I've seen one back line go against another. That's how you build the picture."
There have been some mighty big fallers over the course of this process and all will have a hard-luck story to tell. Was Cipriani given a fair crack of the whip, or was he starved of game time by a coaching panel worried that he might play a little too well? Could Corbisiero have reasonably expected to be cut some slack on the injury front, as Morgan has been? Their supporters will take some convincing that they have been treated well.
But the deed is now done and Lancaster, as head man, will be judged by it in due course. He showed no obvious sign of being unnerved by that prospect yesterday.
"There's definitely a sigh of relief now we've reached this point," he remarked. "There's been tension in the air for obvious reasons, because these are big stakes. But I didn't mind that because I wanted to see who would thrive in the situation, who would stand up and deliver in training, and who would find it a bit too stressful." Stage one is at an end. Now for the difficult bit.
Reuse content