You wouldn't know that England have the chance to match New Zealand's record win streak this weekend by Eddie Jones's behaviour on Thursday, but the head coach gave his most prickly press confidence to date that displayed all the signs of a man under pressure.
That couldn't be further from the truth. England have won all 16 matches under his tenure and are on course for a second consecutive Six Nations Grand Slam, and victories over Scotland on Saturday and Ireland next week will not only secure that triumph, but also break the All Blacks' record they set last year. Yet something has irked Jones this week, and he made sure those in attendance at their Pennyhill Park training base knew about it.
Whether he was showing his anger from the England team tactics being photographed during the week, his frustration from the leg injury that struck Owen Farrell during Thursday's training session shortly after being named in the side to face the Scots, or his lingering feelings of disgruntlement with Italy's tactics two weeks' ago, he gave the impression that all is not well inside the England camp this week.
Jones's behaviour was enough of a shock to trigger the question of whether he's still enjoying the job or not. "Immensely mate!" came the reply. "Aren't you?" For someone who has previously criticised the number of media engagements that he is required to attend, it wasn't hard to see who his frosty side was being reserved for, but this wasn't the only abnormal incident that occurred.
For starters, Jones refused to explain what exactly happened with Farrell to leave him needing treatment on the turf – that is unless you are to believe his claim that the 92kg inside centre "ran into my dog".
"He could be in doubt, mate. Could be in doubt," Jones said. "He's got a bad leg, so he couldn't finish training. I think he ran into my dog, he ran into her. He'll be alright. I think he'll be alright. 
Pushed further on Farrell's injury, given the claim of running into Annie, the Papillon belonging to the Australian, was not sticking, Jones said: "We've got some great goal kickers - George Ford. But Owen will be right, he's in doubt but we'll see. He should be right.
England vs Italy player ratings
England vs Italy player ratings
1/15 England: Mike Brown – 5 out of 10

Left on his heels when Michele Campagnaro broke through the line, but started to show signs of his running best in the second half that he hasn't shown for quite some time.

Getty Images

2/15 Jonny May – 4 out of 10

Failed to take a Ben Te'o offload in the first half when through on the try line, and faded from that point on as England struggled to figure out how to get the ball out wide.

Getty Images

3/15 Ben Te'o – 7 out of 10

When he got the chance to run with the ball he was impressive, taking a crash ball through the line and bagging his second try as the game began to unravel. Showed some nice offloads and also effective in the tackle.

Getty Images

4/15 Owen Farrell – 4 out of 10

In what was supposed to be a celebration of his 50th cap, Farrell put in possibly his worst performance in an England shirt. Twice he committed the cardinal sin of missing touch from a penalty and kicking the ball dead, and he also struggled with the swirling wind inside Twickenham as he missed a penalty and three conversions. He also got away with a questionable hit on Edoardo Gori to put him out of the game.

Getty Images

5/15 Elliot Daly – 7 out of 10

Displayed his pace once again to bag his second try in as many matches and was unlikely not to double up after impressive defending from Carlo Canna saw the replacement fly-half kick the ball out from under Daly's hand. He also did his defensive work well, helping to force a knock-on in a maul on the England try line.

Getty Images

6/15 George Ford – 5 out of 10

He will rarely see less of the ball thanks to the Italian defenders. His kick down the line nearly produced a try for Daly, but he fell short defensively when Campagnaro ran over him on his way to scoring.

Getty Images

7/15 Danny Care – 6 out of 10

Sparked the England fightback into life with his quick tap and go to score in the corner after catching the Italian defence asleep. He was also the first to counter the Italian defence by running through the middle of the ruck.

Getty Images

8/15 Joe Marler – 6 out of 10

The English front-row struggled early on but that wasn't any of Marler's doing as he stood firm. Went through the motions a bit when it came to carrying, and was withdrawn in the 55th minute for the returning Mako Vunipola who made a notable impact in the scrum and the loose.

AFP/Getty Images

9/15 Dylan Hartley – 5 out of 10

Asking referee Romain Poite what England need to do to ruck wasn't a high point, but his lineout was exemplary. Questions about whether Jamie George should come into the side won't go away yet though.

Getty Images

10/15 Dan Cole – 5 out of 10

A game of mixed fortunes for the tighthead, and he conceded two penalties inside a minute in the first half before scoring England's opening try. He also struggled early in the scrum, with Lovotti managing to turn him in twice to win penalties.

Getty Images

11/15 Joe Launchbury – 7 out of 10

One of those who led Plan B in the second half as he took on the carrying duty from the base to try force Italy into retreat. Appears to be excelling with each game that goes by.

Getty Images

12/15 Courtney Lawes – 6 out of 10

Carried well once again and put in a big hit on Allan to shake up the fly-half, but as England struggled to find ways of securing clean ball, his impact faded.

Getty Images

13/15 Maro Itoje – 7 out of 10

Two steals in the lineout helped disrupt the Italian set-piece and he also imposed in defence, with one big hit on Venditti setting the tone early in the second half as England got back on the gas.

Getty Images

14/15 James Haskell – 6 out of 10

Given it's his first international start for eight months, it's hard to over-analyse the flanker. One knock-on wasn't his fault given it was a poor pass from Care, but his conversation about the laws of the game will not be one for the highlight reel.

Getty Images

15/15 Nathan Hughes – 7 out of 10

Another to endure a mixed game as he combined powerful running and tackling with conceding two penalties at the breakdown and also dropped the ball in an early counter attack.

Getty Images
"You don't know that - Annie is a pretty tricky runner and sometimes she gets off the leash."
But finally, some sort of reason was given. "He just ran into someone at training - as simple as that. He'll be alright, possibly."
With squad members also sticking to the dog story – almost as if they had been told the party line – Farrell's participation in Saturday's Calcutta Cup match remains a mystery. Then there was Jonny Wilkinson, the 2003 Rugby World Cup hero who was supposedly knocking over drop-goals with – you guessed it – Farrell during training.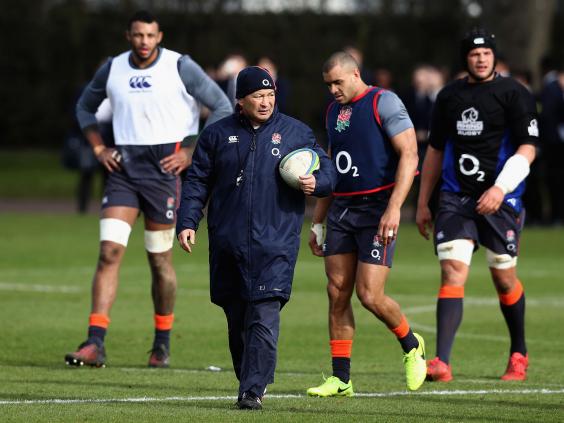 Wilkinson wasn't the only focal point watching on the sidelines, with Warren Gatland also in attendance to cast his eye over a number of potential British and Irish Lions hopefuls. The prospect of Jones inviting Gatland as one of his many special guests to add their two-pence on his squad, as he has done with Antonio Conte, Gareth Southgate and many more, is highly unlikely, given their coaching rivalry and the Australian's approach of ignoring anything to do with the Lions this year.
But what all this did was take the attention away from his team selection. Jones went against what the tactics board claimed last Tuesday by sticking with Nathan Jones at number eight, despite signals suggesting that Billy Vunipola would take the shirt back after making his comeback from a serious knee injury that required surgery last November.
It was a leaf out of Jose Mourinho's book, taking the attention off the players and putting it onto himself, and it also reduced the spotlight on the fact that England's performances have not been quite what Jones would've liked. England have been brilliant in spells, but could quite easily have lost their games against France and Wales and they made a meal out of seeing off Italy and their extraordinary no-ruck approach.
"Every week it gets harder, and that's the great thing," Jones said. "We have some great players coming back. It's probably the strongest 23 that we have picked for a long time. It's been an interesting week."
It certainly has, given the team leak clearly stated that Vunipola was in at No 8, albeit for a training session only. "The Daily Telegraph picked him for us and we decided we'd change our minds! He's [Vunipola's] always in with a chance, he's one of our best players, but he's not ready to start yet.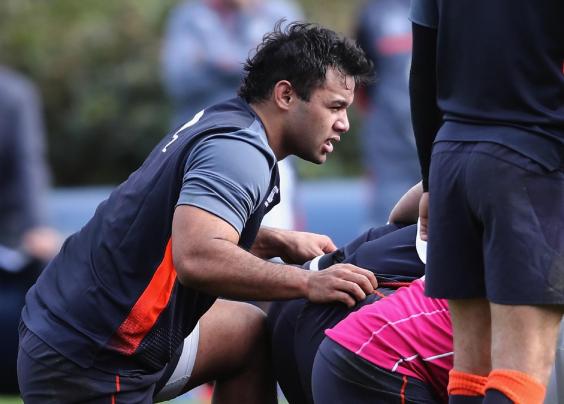 "We didn't say he was going to start. The boards weren't left out by accident."
But perhaps the most telling of Jones's responses came in his assessment of England's slow starts. Against France, Wales and Italy, England have trailed on the scoreboard. That doesn't seem to concern Jones, but given the way Scotland powered back against Wales in the second half to score 20 unanswered points, perhaps it should.
"We've varied it up a bit, changed the way we've trained considerably. Intensity has improved and we're moving towards our best performance," he insisted.
"It's an 80-minute game and we've got to be ahead at the 80 minute mark and that's what we're aiming to be against Scotland.
"We've been ahead at the 80th minute mark and that's the only time that counts. It's like starting a 100 metre race - you can be ahead at the 10m mark but you've got to be in front at the 100m mark.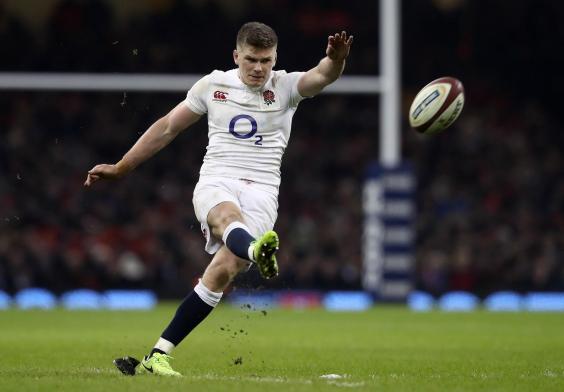 "We want to play well. It's a big occasion it's the Calcutta Cup and we want to play well and we're preparing to start well. We're not preparing not to start well, we're preparing to start well so there's no different message."
But could Jones explain why England are starting slowly? "If I knew then I would fix it and I haven't been able to fix it so I don't know."
If this is the England when they're winning, then imagine the England that appears when they finally lose a game. That could well be this weekend, with an in-form Scotland side looking to win their first match at Twickenham since 1983. Do that, and there might be more fireworks off the pitch than there is on it.
Reuse content