It is almost exactly seven years since England started an important World Cup pool match against the Springboks without a fully functioning outside-half to their name – the rugby equivalent of launching yourself down the Hahnenkamm with no ski poles or attempting to win Badminton without a horse.
The South Africans rattled up 36 points on that gruesome night in Paris and might have amassed more had they stopped laughing, while the defending champions failed to register at all. Had it been possible for them to score less than zero, they would surely have managed it.
Twelve months out from another global gathering, this one on home soil and therefore doubly significant in terms of popularisation and legacy, it is a cautionary tale – a timely reminder that even in this age of the union specialist, positional flexibility is something well worth considering when it comes to piecing together a squad of 31 players. Back in 2007, injuries to Jonny Wilkinson and Olly Barkley left  England so far up a gum tree, they contracted altitude sickness. If only they had given  themselves a get-out.
Which is where Henry Slade of Exeter comes in. He is a mere babe-in-arms at 21, has yet to play a full Premiership season as a first choice at Sandy Park and has not been within hollering distance of a senior international cap. Even so, the idea that he might tickle the fancy of the England head coach Stuart Lancaster before next year's event is far from ridiculous. It may be a stretch to imagine him making the cut as a pure stand-off – not with George Ford, Freddie Burns, Danny Cipriani and Stephen Myler ahead of him in the race to understudy Owen Farrell – but his ability to perform both centre roles as well as operate at No 10 puts him in a different category to everyone else in the country.
A challenging 31-player limit on World Cup squad size means something will have to give in selection: for instance, it is difficult to see how a coach can pick four full-time centres AND two complete back-three units.
If someone like Slade can do a turn in either centre position against the weakest opposition – Russia and Uruguay are about to dispute the one unfilled space in the draw, the winners ending up in England's group – while providing additional outside-half cover and an extra goal-kicking option, he will give Lancaster some precious wriggle room.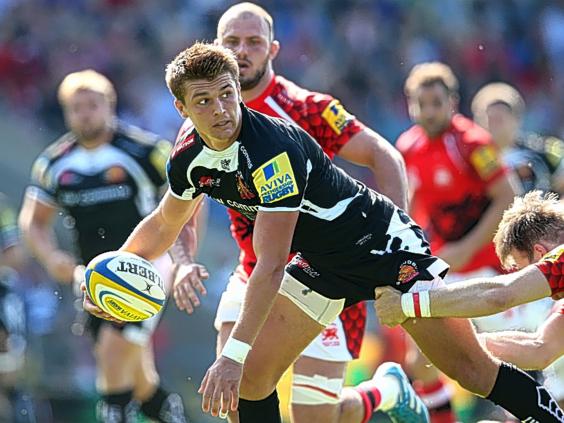 "It's there in the back of my mind," Slade said this week. "I know every player talks about growing up dreaming of playing rugby for his country, but it happens to be true. It certainly was in my case. I'm pleased with what I've achieved over the last season or so and it's nice to know that I'm on the radar."
Slade played for England in a non-cap match against Barbarians last summer and was one of the 55 players invited to an elite red-rose training camp at Loughborough University a month ago.
"The England coaches keep in touch with me, as well as with the people here at Exeter, so I know what's expected. But in the end, my chances of playing a part next year are entirely dependent on form. If I don't play well at Premiership level and in Europe, they won't spend much time thinking about me."
If he hits a bad patch at the wrong moment, it will not be because of any frailty in what the All Blacks like to call the "top four inches". Born and raised in Plymouth – Slade comes from farming stock, although his father is a chartered surveyor – he grew up playing with and against the tough-minded likes of Jack Nowell, Sam Hill and Luke Cowan-Dickie, the nearest thing Exeter have had to a golden generation. Every bit as hard-bitten as his peers without quite sharing their rugged blue-collar image, his graceful time-and-space style of midfield play is underpinned by a powerful physique and a genuine relish for rugby's rough-and-tumble.
"I have to thank the coaches at the club for giving me my opportunities at the right moments," he said. "They're brilliant at exposing young players to the realities of senior rugby by involving them in first-team training at an early stage – when I was at school, I'd be here working with the top players in half-term and on bank holidays and even when I had free periods – but they're also careful not to chuck people in at the deep end. If they think you're up to it, they'll give you a chance… but do it gradually.
"It means that when you do find yourself in a really big match, as I did against Toulon in the Heineken Cup last year, you're full of confidence. I was on the field early in that game because of an injury to Gareth Steenson and I remember a scrum down there in the bottom corner. As I lined up in defence, I looked across and saw Jonny Wilkinson, Matt Giteau, Mathieu Bastareaud, Bryan Habana and Drew Mitchell standing opposite me. It was a bit of a 'Wow' moment, definitely: Jonny was my idol, right from when I was a kid. But at the same time, I thought: 'Actually, this is what I've always wanted. Let's get on with it.' Mind you, it didn't stop me grabbing a selfie with Jonny in the dressing room afterwards."
At Sandy Park today, when Exeter open their handsomely redeveloped stadium with a televised match against a Leicester side still smarting from last season's blank return on the trophy front, Slade will find another familiar face staring in his direction: Manu Tuilagi, the human bowling bowl. "You kind of know what you're going to get from Manu," he said, smiling softly. "It will be a test."
If he comes through it – if he reaches close of play in one piece without having been trampled into the Devon mud or knocked flying into the new terracing – an awful lot of people will notice, including the national hierarchy. It is already perfectly obvious that he is on top of the attacking side of the No 13 role: there were times during last weekend's 50-point thrashing of London Welsh in Oxford when he opened up the opposition like James Hook circa 2009. If he can cope with the uniquely demanding defensive challenges of the position, Lancaster is likely to find himself wondering what's not to like.
"If you ask me if I see myself as an outside-half, the answer is yes," he said. "But I don't see anything negative about this positional switch and I don't regard versatility as a trap. Quite the opposite. When you come down to it, it's much more fun on the field than it is on the bench, especially when these big games come around.
"And there are a lot of big games these days. When I was growing up, watching rugby in Devon, I never really thought of Exeter in the way I'd think about Leicester or Bath or the other top clubs. Nowadays, we're no different to those famous sides. We know it will be hard this weekend: I don't think Leicester enjoyed missing out on the Premiership final last time out, so they'll be out to prove something. But we've made so much progress in recent seasons. There's nothing 'lesser' about Exeter, no matter who  we're playing."
Reuse content