At the tender age of 24, he has already become the youngest player to captain the British and Irish Lions, not to mention guide his country to the 2011 World Cup semi-finals for the first time since the inaugural competition in 1987, and led them to the Six Nations Grand Slam last year. You'd be forgiven for thinking Sam Warburton takes success in his stride, but he is the first to admit that he is yet to comprehend what he's achieved so far.
"I still chuckle when people say that because when you say it, it doesn't really sink in," admitted Warburton, speaking ironically at the home of English rugby, Twickenham, as part of the launch of the Official Film of the British and Irish Lions Tour to Australia 2013 DVD. "Until you watch things like the DVD which I'll do tonight – it's going to be the first time I do watch the DVD – you're in this bubble when you're away on tour, and you don't really realise how the fans perceive the tour, how other people are looking at it from the outside. You just sort of concentrate on yourself, you don't read any press, you stay away from them.
"But when you watch the DVD you can see it from a perspective when you're a fan again like when you were watching as a teenager, and it helps make you realise what you've done. I'm looking forward to going back and watching the DVD for that reason. It makes it sink in really and what you've done. You've watched those DVD's in the past and I always wanted to be part of them and suddenly you see your face there on the TV. It'll be quite a surreal moment I think, so if I'm honest I don't think it has sunk in yet and I don't think it will do for quite a while."
The Cardiff Blues flanker was outstanding in the second Test against Australia, but limped out of the nail-biting clash after he picked up a hamstring tear in the 66th minute which saw his participation in the tour come to a premature end. Instead of leading out his side in the decisive third Test in Sydney, he would have to watch from the stands where he would be powerless to have an impact on the match once referee Romain Potre gave Jonathan Sexton the signal to kick-off.
"It was really hard," said Warburton, reflecting on the pain of missing the Lions record-breaking victory on Australian soil. "It's never the same unless you play in any sport, if you just missed out on a final they will tell you exactly the same thing. It's not the same unless you played in the match and you're sitting down in the changing room struggling to take your jersey off after, you get much more of a sense of relief.
"But it was still great to be part of it. If someone told me at the start of the season I would've been picked for two Test matches, I would've bit their arm off as playing in Test matches is what it's all been about for me really from a young age playing. So I'm still really proud of myself to achieve that.
"I haven't sat down with the physio yet", added Warburton when talking about his current injury. "It's quite a broad comeback date as it said 12-16 weeks, and I think I'm five weeks post injury now. I haven't even started running yet and until you start running it's going to be very difficult to nail down a weekend you can get back.
"So I'll start doing some running next week and come up with a more detailed plan and a return date. But hopefully sometime in October would be nice, that would be the target. Anything later than October would be over that 16 week period so if I can get back then and for some Heineken Cup rugby that would be awesome."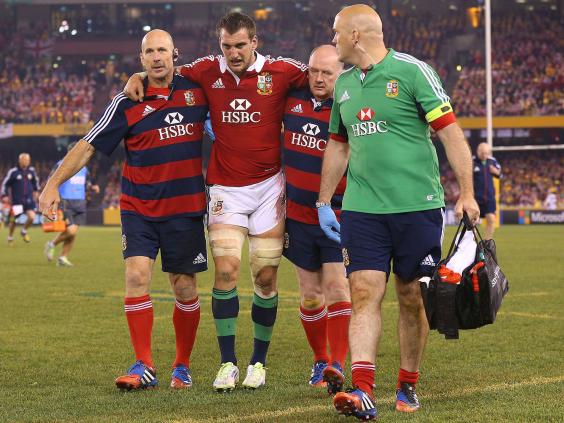 Warburton began this season in rather unfamiliar waters though. The back-row forward was out-of-form and Wales were on their biggest losing streak for some time. Gatland had decided to drop Warburton to the bench midway through last season's Autumn Internationals. Heading into the RBS Six Nations, the Lions captaincy was far from certain, with Brian O'Driscoll, Paul O'Connell and Chris Robshaw all being mentioned as possible candidates.
But after a man-of-the-match performance against Scotland and an almighty showing in the Six Nations decider demolition of England, Warburton suddenly appeared nailed on to lead the tour party, although Gatland was still reluctant to hand the captaincy immediately back to his regular captain, instead allowing prop Gethin Jenkins to captain the side that day.
"I think it's natural (to receive criticism as captain of the Lions)," explained Warburton. "If I was a fan and I was watching the Lions, say I'd never been a professional rugby player, then I probably would've hoped that Alun Wyn Jones would've been captain or Gethin Jenkins or someone that's been captain for Wales in the past.
"So I think that is just the natural way to think – you want someone from your country to lead the Lions. But I knew I could do a good job and knew if I play well then I'd deserve to be there really. I knew if I could basically concentrate on my performance and make sure I delivered there then it would all come good in the end.
"Worrying about other people's opinions? It's taken me a few seasons to learn it but you realise that it's not important and as long as you remain confident in yourself and you keep getting feedback from your coaches, your management and your peers, that's all you really seek as a player, to make sure that you have the respect of those guys. It does take you a while to learn that but I never felt under pressure to perform, because I knew if I performed well then I'd do myself justice really.
"I'd take the captaincy going into this season if it's offered to me. It's something that I've been a bit reluctant and I've admitted that in the past but I feel a lot more comfortable with the captaincy now and I'd love to do it again for Wales."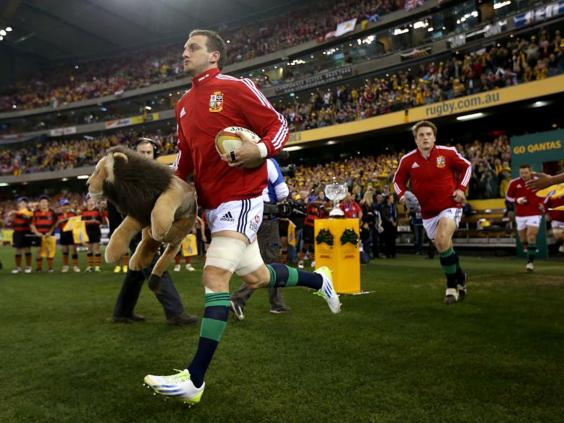 With the work and effort put onto the pitch, the Lions are known to match it off it, with the tour commonly known as one of the last traditions of a game radicalised since it went professional in 1995. The celebrations on previous tours have often bordered on legendary, so what was it like this time around in the days after the triumph.
"I was probably one of the worst partiers on the trip. We went to this one place called the Ivory which had a pool and a lot of the players just chucked their blazers off and dived straight in there after the third Test.
"The boys would never do anything like that if it was in the middle of the tour but it was the end of the season, we had three days in Sydney and five weeks off afterwards, and it was a chance for the boys to just let their hair down and basically just be normal, enjoy a drink and not have to worry about playing the next week. So it was a great three days in Sydney and we went to Bondi Beach one day and it was a good chance to just enjoy each other's company without having to do it on a sort of rugby level."
So what changed? What allowed the Lions to go on after suffering the smallest of defeats in Melbourne?
"I don't think there was a one instance," considered Warburton, "but looking at that session, it was in Noosa on the Wednesday, and I saw the team that we picked and just thought it was the most physical team and best that we picked all tour.
"I just couldn't see Australia being able to compete with us physically – looking at our forward pack, I thought we just looked too good and our back line too and I just went and watched the session and I was chatting with our analyst and from that moment I thought we were going to win. We looked well prepared and really hungry to get the win on that day and I don't think the players would have wanted to let that opportunity go."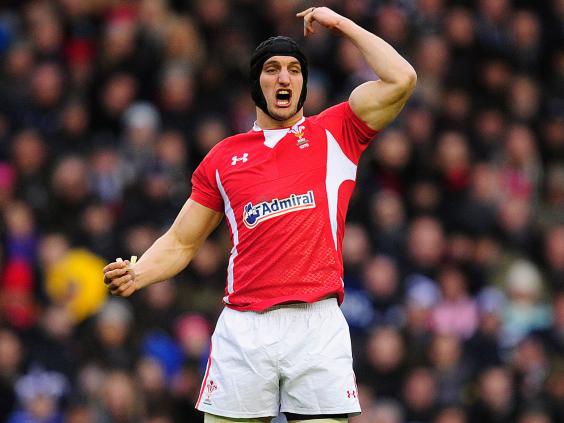 But no sooner than the when the Lions tour ended, heads immediately turn to the next major tournament or series, and in this case, it's the countdown to the 2015 World Cup, being held in England with the addition of the Millennium Stadium in Cardiff. It's something that Warburton has eyes for already, but reminds himself that it is two years away and a lot can happen in that time, with his inclusion being far from a certainty at this point.
"Having the World Cup in England will be as good as having a World Cup in Wales, it's going to be the closest thing to a home World Cup that Wales are going to have, especially with some games being at the Millennium Stadium," he admitted.
"The rugby world is in two year cycles and for me long-term wise, that is the next goal, to be able to play until the next World Cup, and I've had a few good years with Wales but I want that to continue. As a long-term goal, to play well over the next two years and get into that World Cup squad would be awesome because, you know Welsh fans will travel halfway across the world to watch us play, so across the bridge is nothing and I'm sure we'd have immense support there. So that'll be a great occasion to be a part of."
Indeed it will be, but for now, he can settle down to re-watch the series in the comfort of his home, and let it finally sink in that at 24 years of age, he has joined the ranks of John Dawes, Willie John McBride and Martin Johnson in an exclusive club of successful Lions tour captains.
Sam Warburton was speaking at the launch of the Official British and Irish Lions Film of the 2013 Tour of Australia