Sam Burgess is a ton-of-bricks tackler, Henry Slade has a passing game to die for, Calum Clark spends too much time getting on the nerves of the refereeing fraternity and Luke Cowan-Dickie's line-out throwing is approximately 100 per cent worse than the rest of his game. So what's new? The one thing England's quartet of previously uncapped World Cup challengers failed to deliver during their big night out at Twickenham was a "eureka" moment.
Indeed, the book of revelations published in the light of the national team's 19-14 victory over a competitive but depressingly unambitious France proved a very short read: even shorter than The Marxist Credentials of Liz Kendall or Charming Your Way to the White House by Donald Trump. If there was a must-read chapter, it was the one highlighting the crumbling foundations of England's set-piece play.
Slammin' Sam may be pretty damned good at smashing opponents into the middle of next month, in the distinctive style of rugby league masters down the ages – it will probably be September before Dimitri Szarzewski and Alexandre Dumoulin, two Frenchmen who volunteered to test the Yorkshireman's ability in this area, work out what the hell happened to them – but that defensive belligerence will not be worth a row of beans if the red-rose tight game continues on its southerly trajectory.
Both Wales and Australia will fancy their chances of sacking Twickenham during the World Cup pool stage if England continue to scrummage in this conciliatory fashion, and if the line-out keeps going wonky on them in the way it did on Saturday night. If so, the home nation will stand a worryingly good chance of being the first hosts in the history of the tournament to bow out ahead of the quarter-finals.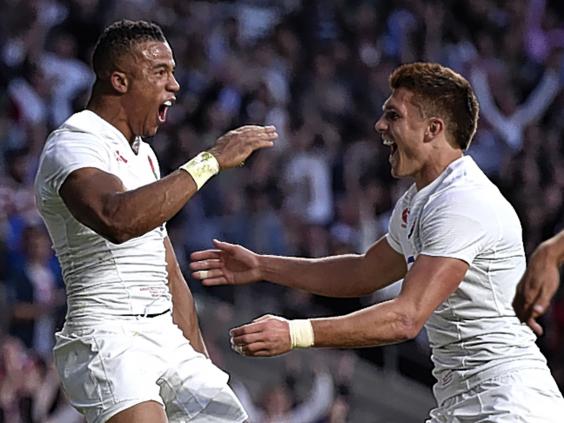 "I wouldn't say I was alarmed," said England's head coach, Stuart Lancaster, the alarm all too evident in his tone, "but I think we put ourselves under pressure and I was disappointed we didn't get more first-phase possession towards the end, because our backs had been going well. If you don't get ball off the top of the line-out, if you don't get decent scrum ball, you don't generate the kind of continuity that causes  opponents problems over a long period."
During the final quarter, with the French drawing on the sustenance of a close-range try from the flanker Fulgence Ouedraogo and threatening to win a game that had seemed entirely beyond them when Slade's exquisite passing in midfield helped create excellent scores for the wings Anthony Watson and Jonny May, three important line-outs went seriously awry. Cowan-Dickie was guilty of crooked throws at the first two; then, for variety's sake, he overthrew to the tail.
It was a grisly episode and it may well cost the Exeter hooker a place in the 31-man squad due to be named within a fortnight. Certainly, his uncapped rival, Jamie George, will have an opportunity to make a name for himself when England travel to Paris on Saturday. If the Saracens forward lives up to his reputation as one of the two or three most accurate throwers in the land, while holding it together at the scrum, inclusion will be an open and shut case.
England's frailties at the set piece were wide ranging. Mako Vunipola, eye-wateringly good around the field, was asked some very awkward questions by the Catalan strongman Nicolas Mas and struggled to come up with a full list of answers. As for the much talked about Kieran Brookes on the tight-head side of the scrum, suffice to say he will have more productive days at the office. The big winner at close quarters from the England perspective was Alex Corbisiero, who provided some much needed solidity just when things were turning to liquid.
Talking of which, the fluidity of England's back play in the opening exchanges was infinitely more positive. Watson's early tries both owed something to high-calibre distribution by Slade, whose quick hands allowed the Bath wing to make a fool of Brice Dulin en route to the right corner and whose long pass from the first receiver position sparked an even better attack involving Burgess, May and Owen Farrell. As for the Exeter midfielder's flick under pressure in the build-up to May's finish shortly after the interval… Watson, for one, was suitably impressed.
"Henry has unbelievable skills," he remarked. "Great passing game, great kicking game, great footwork – he's quality. I've been playing rugby with him since we were 15, so I wasn't really surprised by that performance. But he's had to wait a fair bit of time for his chance and I think it's made him hungrier. That display was a good reflection of what he offers."
Slade may have been wearing the No 13 shirt, but he performed the No 12 role whenever England had an attacking platform: a clever means of disguising Burgess's obvious deficiencies as a union playmaker while retaining the cross-coder's attributes in the wrecking ball department. Whether this is sustainable against teams who bring more to the midfield party than the French managed – a team like the Wallabies, for example – is the mootest of moot points, but the England coaches seem determined to give it a go.
Burgess had an interesting evening. If his first act was to put Szarzewski on his not inconsiderable front-rower's backside – a tackle replayed from a dozen different angles by broadcasters, who might as well declare their undying love for the man and have done with it – his second was to finish a distant second in a foot race against Rémi Lamerat. He also conceded three points by failing to shift his carcass sufficiently quickly at a ruck and spent 10 minutes in the cooler for obstructing Morgan Parra on a sucker-punch, tapped penalty routine.
Yet he emerged from his debut with honours even: no mean feat for a player who, this time last year, was still  playing an alien form of rugby in Australia. It is no easy thing to peddle a form of rugby league under union conditions and get away with it, so it would be churlish not to congratulate him on his resourcefulness, at least.
"Thankfully, the sin-binning didn't cost us the game," Burgess said. "I didn't realise it was an automatic yellow card, but I'll learn from it and won't be doing it again. Not that I'll lose too much sleep over it. I sometimes think there are people who've played union all their lives who still don't know all the rules. Man, there are a lot of rules."
Actually, the union game has laws rather than rules, but why split hairs? A tackle is a tackle in any form of rugby.