Jonny May's tumultuous try in the final quarter and a worrying injury to star No.8 Billy Vunipola were just two of the obvious highs and lows on a crazy afternoon of two red cards and four yellows at Twickenham, and a remarkable continuation of England's winning run in this calendar year.
Elliot Daly's sending-off in the fifth minute was a very early shock to England, whereas the Argentinean red for a violent stamp by their young replacement tighthead prop Enrique Pieretto came as the visitors ran out of ideas against a superbly indomitable and witheringly fit home side.
The match took on a changed complexion almost immediately when Daly became the first back, and the fifth player overall after Mike Burton, Simon Shaw, Danny Grewcock and Lewis Moody to be sent off playing in a Test for England.
The Wasps outside centre, making his second start of the autumn on the left wing, chased a box kick by Ben Youngs that was caught in in mid-air by the Argentina No.8, Leonardo Senatore. In the split second available to Daly to realise he would not be able to challenge for the ball he stayed grounded and made a grab for Senatore that caused the 6ft 3ins Pumas to flip over and land dangerously on his shoulder and neck.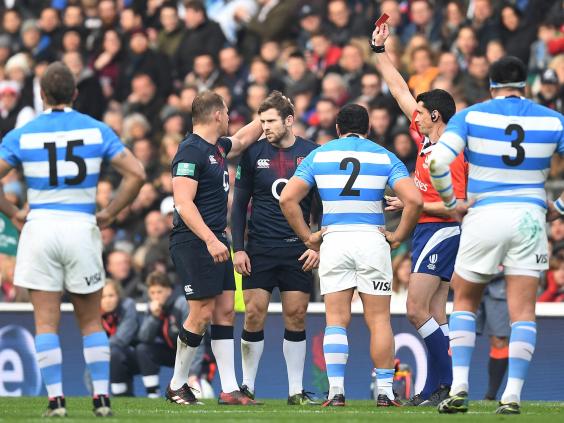 It raised no objections from England's players when Daly was shown the red card by French referee Pascal Gauzere, although a few in the crowd were booing the official a few minutes later when he awarded only a penalty against Juan Pablo Estelles for tackling May in the air. The difference was that May landed safely on one foot.
A general air of disorder in these initial stages was exacerbated by Senatore going off injured and Juan Martin Hernandez, temporarily, and Santiago Gonzales Iglesias permanently being removed for concussion checks.
No team would relish playing with 14 men for so long, but England and confidence and form in their favour, while the visitors had started without their first-choice fly-half and full-back, at the fag-end of a punishing year, and were denied a few top names unavailable at European clubs.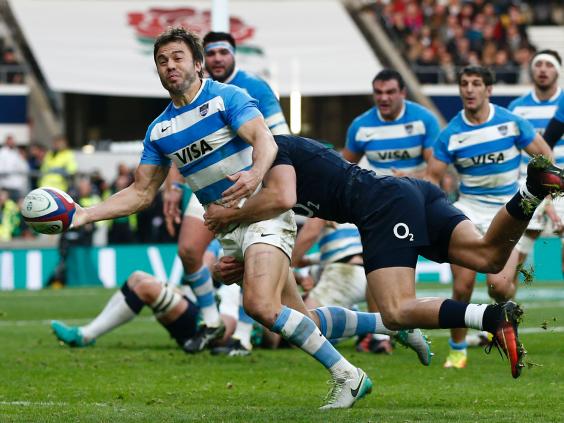 England adjusted quickly and admirably, as the forwards worked hard and cohesively to force a series of penalties at rucks, and contributed to an improbable lead of 16-0 after half an hour.
Owen Farrell kicked three penalty goals from four attempts and the inside centre also converted a penalty try conceded by Matias Orlando in the 29th minute, as the wing batted down a pass from Chris Robshaw to Tom Wood near the Pumas' goalline.
The position had been made by Farrell stripping Hernandez of the ball after Argentina ponderously ran out of ideas in a counter attack. The question was when England's defensive dam would break, and it came in a series of scrums and penalty awards as the first half dragged eight minutes over time.
England had suffered the sad sight of Billy Vunipola being carried away with an injured right knee – the expression on the mighty Saracen's face suggested a serious problem and the pack buckled repeatedly as the pressure came on. England's tighthead prop Dan Cole was sent to the sin bin before Senatore's replacement Facundo Isa eventually bundled past Youngs to score a try converted by Hernandez. Faced with 13 men at the start of the second half, Argentina belatedly became more adventurous and worked a lovely try through the hands, finished by the wing-turned-full-back Santiago Cordero, and converted by Hernandez.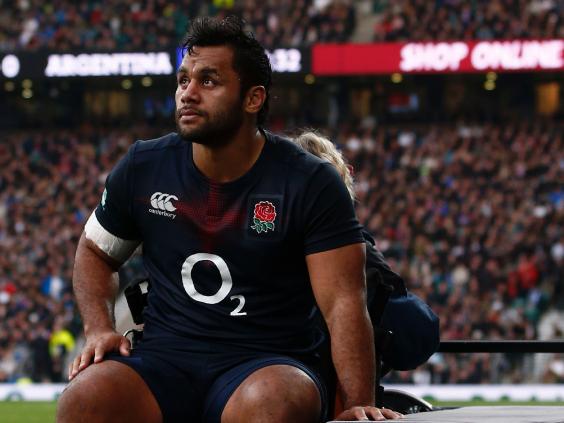 Cole rejoined the action, as England led 16-14, but with Vunipola's replacement Teimana Harrison among those still harrying the Pumas hard at the breakdown and at the scrum, three long-range penalties by Farrell yielded six points and  a near miss, and nudged the lead up to eight points with 63 minutes gone. Impressively, England grew stronger as they sniffed glory.  Argentina flanker Pablo Matera was shown a yellow card for collapsing a maul, which evened up the playing numbers even if Farrell's kick at goal slid wide.
And amost immediately, May went over at the left corner to add to his score two weeks ago against South Africa – this time on the end of passes by Ford, Wood and Jonathan Joseph as Argentina were outflanked from a ruck. Farrell's conversion took his strike rate to six from nine, and England into a 27-14 advantage. A rare Argentina attack ended with a penalty against Santiago Garcia Botta for grappling Cole round the neck.
Much worse followed, though, in an ugly incident between two of the front-row replacements, as England loosehead Joe Marler, while on his back, grabbed the leg of Pieretto. This mild provocation was met by an off-balance Pieretto stamping on the side of Marler's head, apparently drawing blood. The yellow card brandished to Marler was debateable; the red to the 21-year-old Pieretto was inevitable, and revived memories of the wild punch by a Pumas predecessor, Freddy Mendez, when he was sent off in this fixture 26 years ago.
England: M Brown (H Slade 75); J May, J Joseph, O Farrell, E Daly (red card 5); G Ford, B Youngs (D Care 70); M Vunipola (J Marler 60). D Hartley (capt; J George 60), D Cole (K Sinckler 74), C Lawes, G Kruis (C Ewels 79), C Robshaw, T Wood (K Sinckler 41+5-48), B Vunipola (T Harrison 39).
Tries: Penalty try, May; Conversion: Farrell; Penalties: Farrell 5
Argentina: S Cordero; M Orlando, M Moroni, S Gonzalez Iglesias (J de la Fuente 8), JP Estelles (G Ascarate 76); JM Hernandez (De la Fuente 4-8), T Cubelli (M Landajo 68); L Noguera (S Garcia Botta 64), A Creevy (capt; J Montoya 62), R Herrera (E Pieretto 62), G Petti, M Alemanno (T Lezana  64), J Ortega Desio, P Matera (Herrera 80), L Senatore (F Isa 5).
Tries: Isa, Cordero; Conversions: Hernandez 2
Referee: P Gauzere (France).
Attendance: 81,586.