More than anyone, Semesa Rokoduguni can see the funny side of rugby: when a man has spent time fighting the Taliban in some hellhole corner of Afghanistan and witnessed at first hand what happens to a colleague when he steps on a landmine, how can mere sport be anything other than an amusement? England's new wing has not been his usual, wisecracking self just recently, however.
"He's a different bloke here," reported Kyle Eastmond, his Bath team-mate who will stand alongside the Fijian-born soldier in the red-rose back division when the All Blacks come visiting tomorrow. "Back at the club, he's a bit of a joker. These last couple of weeks, he's been quite shy."
The change can be explained, at least in part, by his background: like most Pacific Islanders playing top-level rugby, he is a paragon of humility – especially when the environment is unfamiliar and he has yet to open his account.
There is also a gargantuan workload to consider. The 27-year-old strike runner has covered so much ground so quickly in closing in on a first international cap that few imagined he could possibly earn this side of the 2015 World Cup, he has spent the last fortnight digesting an enormous amount of fine detail.
According to head coach Stuart Lancaster, the man responsible for this unusually rapid promotion, Rokoduguni has been a model student. "He's been very composed, very calm and extremely diligent in getting to grips with the detail and understanding his role," Lancaster said. "His life experience has helped him in this regard. In terms of getting up to speed with a slightly different system... I haven't seen him make an error.
"There's only so much you can replicate on the training field and the proof will come at Twickenham this weekend, but he's come to this by a different route to most modern players and it's been of benefit to him."
Rokoduguni knows what it is like to play in front of a big Twickenham crowd, but there is a whole universe of difference between an inter-Services match and a meeting with the reigning world champions. But the fact that he is surrounded by Bath club-mates – Eastmond, David Wilson and Dave Attwood in the starting line-up; Anthony Watson, George Ford and Rob Webber on the bench – has worked wonders for his confidence levels. "I know when I'm going to get the ball," he said, with quiet assurance.
Watson, also uncapped, put Rokoduguni's approach into focus, even though the multi-tasking outside-back was talking about himself. "You can't go away from the way you play the game," he said. "If you do, what's left? What will you have that separates you from other players?"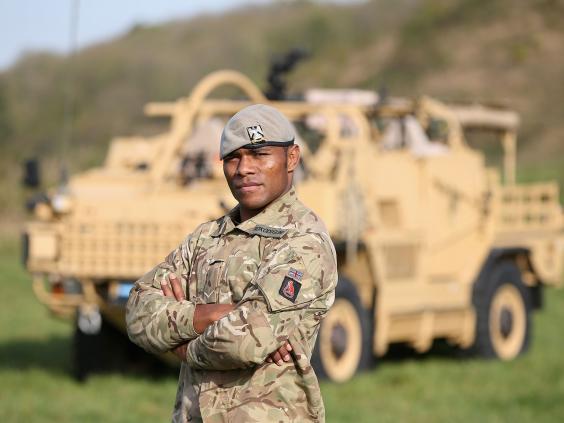 Rokoduguni will be told many things ahead of kick-off, the most important of which will be to remember why he was picked in the first place. "I want to treat this game as I would playing a match for Bath and I think I'll be able to, because all Bath matches are so important," he said. "It's a big step up from the Army-Navy fixture, definitely, but I'm really excited.
"Yes, it's happened quickly: when I was growing up in Fiji, I looked up to Apolosi Satala because he was an Army man who travelled the world playing rugby, but international union was never a part of my plan.
"The plan was to join the Army, earn a good living and send money back home to support my family. It was only after I joined Bath and coaches started giving me feedback from the England set-up that things slowly started to change."
Needless to say, the messages of support are already flooding in. "They've come from friends and family and especially from the Army guys," he said, "although some of the soldiers in my unit of the Royal Scots Dragoon Guards are asking: 'Why are you playing for them? You should be playing for Scotland." This is a reasonable point, although even the most Scottish of the Scots will surely feel just a smidgen of pride when they see their resident Lance Corporal squaring up to the New Zealand haka tomorrow.
Talking of which, how will Rokoduguni view that time-honoured piece of sporting theatre? Will he cast his mind back to the Fijian version he rehearsed as a child and imagine himself giving Julian Savea and the rest of them a taste of their own medicine?
Not a bit of it. "I have pictures with me of my two-year-old son, Elijah, and the rest of my family," he replied. "I'll be thinking of them, and of the importance of not letting them down by underperforming. I want to prove to them, and to the world, that I can be the best I can be. That's the most important thing to me."
Inside the England camp, the betting is on Rokoduguni holding his ground in the face of the most lethal attacking force in world rugby. "Nobody has worked harder," said Eastmond admiringly. "To come into this team, understand everything so quickly and be so good at it... I think it's unbelievable."
Reuse content