There may be a reason Stirling Mortlock is leaving his boots  behind as he travels to London for Thursday's legends match at Harlequins that is a charity precursor to the weekend's main event. Given the state of disarray of the Wallabies' backline, their redoubtable recent former captain might just be wary of getting a call to play against England at Twickenham.
Instead Mortlock, with 80 caps and many a ding-dong battle against the old enemy behind him, is content to be a spectator, albiet not at all happy that a talent such as James O'Connor, revealed as a London Irish signing yesterday, is among 11 first-choice backs unavailable to his country.
"I'm a bit mixed in my perspective, given my role on the board of the Rebels in particular," says Mortlock of the Melbourne club that, along with the Australian Rugby Union, have waved the 23-year-old O'Connor and his drink-related mishaps goodbye.
"The reality is, either way, at some stage, you've got to have more than just talent. I hope and believe that James will find his way back but he's not anywhere near the Wallaby team at the moment. The door hasn't been closed, but it's important he understands that when you're playing for your country you're a caretaker of that jersey, and there's a huge amount of honour and privilege that goes with that."
The privilege will be shared on the current tour – on which Australia are seeking only a second Grand Slam (wins over England, Ireland, Scotland and Wales) in their history – by a squad markedly different to the one that upset England at Twickenham a year ago, 20-14. In the backs alone, absentees include the injured Kurtley Beale, Anthony Faingaa, Kyle Godwin, Pat McCabe and Jesse Mogg plus Henry Speight (ineligible), O'Connor (sacked), Digby Ioane (out-of-favour), Berrick Barnes (playing in Japan) and Drew Mitchell and Matt Giteau, who are both at Toulon.
Mortlock was a goal-kicking centre who famously derailed the All Blacks with his interception try in the 2003 World Cup semi-finals. He epitomised the notion of a solid player maximising his gifts to his own benefit and that of his team. This is not to say he is  devoid of sympathy for O'Connor,  who will be unveiled by the Exiles at a press conference this morning, when he will be quizzed about being prevented from boarding a flight to Bali earlier this month as he had too many beers inside him.
"I definitely have sympathy because these guys are victims of circumstances to a certain degree," says Mortlock, who retired in 2012 but played four Tests with O'Connor, including the youngster's first start against Italy in Canberra in 2009, when he scored a brilliant hat-trick
"A lot of rugby players now are being identified and recruited before they've even left school. Think back to your childhood and going through that process of becoming a man. You do make errors and if you had your time again you probably wouldn't have done exactly the same thing.
"The reality is that with social media, everything is instantaneous. If these guys make a mistake, every single person in the world knows. Or every person who wants to know. And that's tough, really tough. These are young guys who have mates out doing things normal people do. If the Wallabies go out and do that, they're on the front page."
If this week's back pages are to be painted green and gold it may be down to another some-time maverick, Quade Cooper, the fly-half Mortlock praises for having his best performance in a Wallaby jersey against New Zealand nine days ago.
True, Australia's 41-33 defeat in Dunedin was the fifth in seven matches for the new coaching regime of Ewen McKenzie – wins over Argentina, in Perth and Rosario, alongside a series of blanks against the All Blacks and Springboks since Robbie Deans's reign ended with the Lions tour – but Cooper's flawless goal-kicking, three try-saving tackles and confident distribution represent some kind of anchor in stormy seas.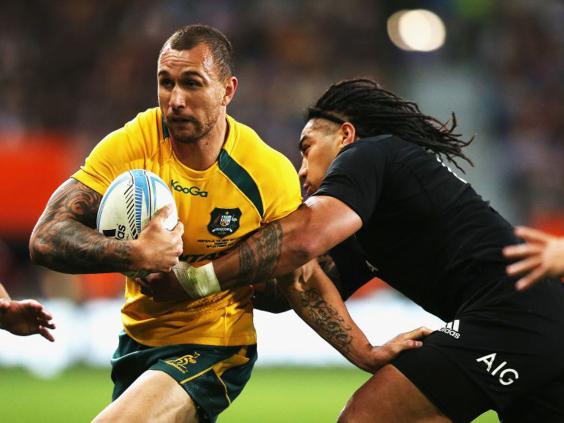 "In all honesty, Quade needed to do that," says Mortlock, who was on the field for Cooper's Wallaby debut in 2009. "Historically he has been a pretty mercurial fly-half but his ability to limit the errors in Test match rugby, which is so much more important at that level, has been a question mark.
"Ewen as a man manager who knows how to get the best out of Quade is a great combination. And we've seen Quade's combination with [Australia's scrum-half] Will Genia at provincial level – when those two are on song it's amazing to watch.
"What I have been impressed with Quade has been his defending in the front line again. I was never a fan of him being hidden away. Whenever he's in that game physically you know the rest of his game will flow from there. He's an attacking machine against unstructured defensive lines."
Mortlock has concerns over a lack of leaders to support Genia and James Horwill, although he applauds Ben Mowen's contribution. And he is pleased with McKenzie's "clean-slate approach" to picking on form.
"The scrum will be a huge area that you'd imagine the opposing teams on this tour will target," says Mortlock.
"We've seen positive signs in the set piece in the last two matches that the forwards have been more consistent than in the bulk of the domestic season. The team have certainly changed style from the Lions series. Rosario was the one match where they clicked and it all came together. Tevita Kuridrani is an excitement machine at outside-centre and he has taken his opportunity with both hands."
If Mortlock's penalty kick in a Marseilles quarter-final in 2007 had flown a few feet in a different direction, Australia might have knocked England out.
"I've had two massive defeats against England in World Cups and of course there was the one in 1995, which was before my time." But after a second's thought, the contrary Aussie reasserts himself. "Unless you want to tally up World Cups won [Australia's in 1991 and 1999 to England's one], I think we might have bragging rights in that regard. But only just. It is a great rivalry."
England Legends v Australian Masters at The Stoop is on Thursday evening, kick-off 7.45pm
Reuse content