The Countdown
Al Baxter (Australian prop): The build-up was special because we had been written off against the All Blacks [in the semi-final]. We knew it was do-or-die and winning that game was an extraordinary feeling. It was like the country had been holding its breath until then. After that it felt like the whole nation was behind us.
Ian Robertson (BBC commentator): England were packed with great players. Take the back row, Richard Hill, Neil Back, Lawrence Dallaglio – it was the best in the world. Then there was Martin Johnson, a tremendous bruiser, you didn't argue with him. It was the best pack in world rugby so the expectation was high.
James Gosling (England fan): Tickets were changing hands for thousands of pounds. I know people who ended up paying astronomical amounts, £2,500, £3,000.
Dave Reddin (England coach): Manly, where we were, became like an outpost of the British Empire. Every training session there would be a couple of hundred people cheering the team on to the bus. There was a huge sense of belief. At the team run the night before Backy was just saying [to the coaching staff], "Leave us alone, we're fine, we don't need to do anything more now." There was genuinely that sense that these guys could do it, and they would do it.
Baxter: The day before [there was] so much excitement, so many nerves, the adrenalin starting to kick in. A lot of the guys took sleeping tablets to help them get a good night's rest.
Reddin: The night before there was a lot of noise outside [the hotel], the Aussies doing their best to keep everybody awake.
The Day
Reddin: We got to the stadium two hours before the team. We drove over in a people carrier and you can see the stadium from quite a way away on the freeway. That's the moment when you had the goosebumps.
Baxter: When we walked out for our pre-match warm up I remember being struck by how many England supporters were there already.
Gosling: There was this sense of anticipation. We sat down an hour before kick-off just to soak it all in. There were lots of England fans...
Reddin: At the start of the week Clive [Woodward] had sat everybody down, players, coaches, everybody and said: "This is a week where you focus on your job and doing it better than you have ever done it before." In the dressing room there was calmness, confidence, belief. Jonno always used to say in his team talks: "Who would you rather have beside you than these guys?" It was complete trust.
The Match
By the time Jonny Wilkinson prepared to kick off the rain had relented. Wilkinson bent his body over the ball and then drop-kicked it deep into the Australian 22. The 2003 World Cup final was under way.
Robertson: In a World Cup final everything is multiplied by 1,000. Right from the start every moment gripped you.
Baxter: The memory from the early part was the noise, just the noise. It was unbelievable. And also it being really quick and never relenting. Usually in a Test match it gets into a rhythm; it starts quickly as both teams test each other out and then slows. We got to the 10-minute mark and I thought, "OK it will slow down now". It didn't. We got to the 20-minute mark and I thought, "It will slow down" And it didn't. We went into half-time and thought, "OK it has to slow down in the second half". It just didn't.
Australia struck first, Stephen Larkham spiralling a kick towards the corner where Lote Tuqiri, 6ft 3in, leapt above Jason Robinson, 5ft 8in, and crashed over.
Reddin: Some games you remember every detail but others just fly past. This was one of those. I remember getting to full time and thinking for a second, "Christ, what happens now?" It was that intense. It ebbed and flowed but even at the time when things were not going our way there was a sense we've been here before, we can cope, we'll be fine.
By half-time England led; Wilkinson landed three penalties and then Jason Robinson, following a break by Lawrence Dallaglio, skidded over for 14-5.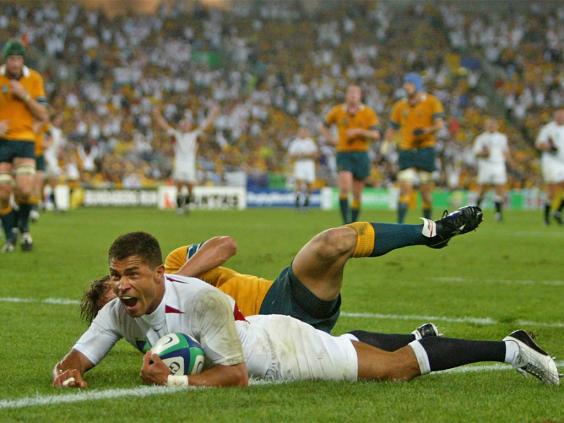 Gosling: We were right there in the corner where he went over, sat with his wife and kids, Martin Johnson's father in front of us. I went to the bar to get drinks – everyone wanted a drink because it was so tense.
In the second half Australia clawed back. Twice Elton Flatley converted penalties to leave England a score ahead at 14-11.
Gosling: The second half, wow. We were drinking at a ridiculous rate – not good for the health but you needed to calm nerves…
Baxter: It finally slowed a bit for the final 20 minutes because everyone was shattered. But it was a final so you kept going and going, both sides with this extraordinary feeling of just not daring to slow down. I remember Flats' kicks. We'd get the penalty, he'd line it up and then we'd chase it and watch it go over, again and again.
Robertson: From the start the English pack had the edge. Not that you would have known it from [referee] Andre Watson. He went into the dressing room beforehand and was asked: "Are we going to be allowed to scrum today?" He said: "I'm from South Africa, the scrum's the greatest part of the game. I won't blow the whistle – you can put my house on that." At one point one wag in the front row, when he gave another penalty against England, said: "Your house must be pretty shit."
As the clock ran down, Larkham kicked Australia into England's 22 and from the lineout Ben Kay fumbled. The first scrum collapsed and Johnson told Watson he had to "ping No 3 [Baxter]". The scrum reset and Watson penalised Trevor Woodman.
Andre Watson: My decision was simple, there was an infringement, Trevor Woodman infringed, penalty Australia. Sure I have made mistakes – and I made mistakes in that game and I put my hand up to them. But not that decision. I stand by that decision until the day I die.
Carefully, deliberately, Flatley lined the ball up from wide on the right and sent it through the posts: 14-14. Watson blew for full time.
The Moment
Wilkinson and Flatley exchanged penalties in extra- time but as the clock ticked into the final minute, the sides remained locked at 17-17. Then Lewis Moody won a lineout and England's pack rumbled forward.
Watson: Matt Dawson took a little gap inside the 22, won four or five metres. Then big Martin Johnson took the ball and won another four or five metres.
Baxter: We knew what was coming. We saw the English guys rolling forward and making yard by yard. We knew what they were trying to do – they're going to have a go, they're going to have a go – we've got to stop them. Jonny dropped back. We were desperately trying to smash into the ruck to disrupt their possession.
Gosling: You saw Jonny step back. Right, here we go. Seconds left.
Watson: It was almost like slow motion, he kicked the ball and it went wobbly, wobbly, wobbly.
Baxter: It went pretty much over my head. I tried to charge it down, launched myself off both legs but I'd had double calf cramps so I went nowhere fast.
Robertson: I said "Wilkinson" and then he dropped the goal right-footed – he never kicked right-footed – so as he struck it I suddenly thought is it Jonny? I picked up my binoculars and whacked them into my spectacles, knocking my head backwards. I kept talking. It could have been Mike Catt. There was a mild panic but it's instinct, isn't it? It had to be Jonny. Because I had the binoculars up the ball looked the size of Buckingham Palace. I said something like: "It's high, it's straight, it's got the distance… it's over." That was it.
Gosling: You couldn't believe it. You were watching the ball go up and up. And then over. The whole place went absolutely bananas. People falling over each other, it was crazy.
Reddin: After Jonny kicked the drop goal I was with Andy Gomarsall and we were pretty excited. I turned round and there was Clive shouting and screaming at everyone to get back into position. He still retained that presence and being in the right mental state to think about the detail right to the very end.
Australia restarted and a white wall surrounded the ball. It came back one last time and Catt kicked it dead. Watson blew his whistle. Australia 17, England 20.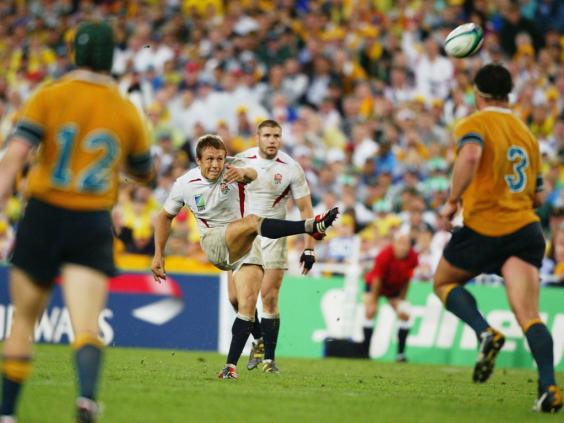 The Aftermath
Gosling: When we won it is beyond anything I have ever experienced at a rugby game. When Jonno lifted the trophy I tapped Mr Johnson on the shoulder and said: "What do you feel?" He turned round, grinning and said: "F'ing marvellous." It was just jubilation.
Baxter: You have gone so far and got so close… it wasn't a great feeling. But we knew we had given our all. There was a sense of satisfaction at what we did do, although that only came later. At the time there was just this massive, massive disappointment.
Reddin: Immediately afterwards it was a whole host of emotions. The dressing room was an incredible place to be, to be able to look around and see everybody and know that everybody had contributed to that. There was a bit of relief, but above all a huge feeling of emotion that just didn't subside. I honestly spent three days with a permanent smile on my face, day and night. There wasn't much sleep involved for those three days.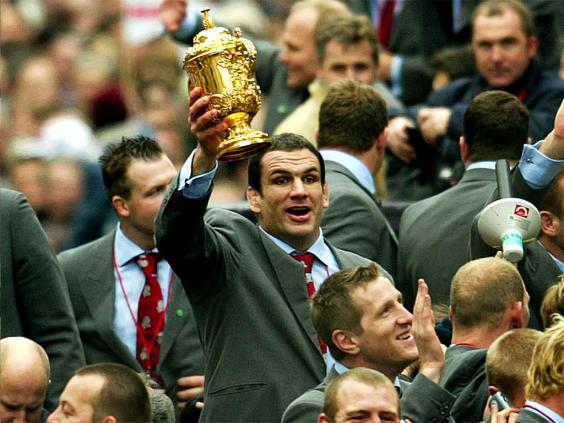 The panel: Then and now
The player Al Baxter – capped 69 times by Australia. Now an architect in Sydney and a director of the NSW Waratahs.
The coach Dave Reddin – one of Clive Woodward's coaching team. Worked for the British Olympic Association during London 2012.
The commentator Ian Robertson – former Scotland international and still the BBC's rugby correspondent. Will commentate on Scotland v Australia on Saturday.
The referee Andre Watson – refereed his second World Cup final in 2003. Now manager of referees for the South African RFU.
The fan James Gosling – England fan who watched the semi-final and final in 2003. Now 38, he lives in Dubai.
Reuse content