Confrontations between tribal enemies can be body-shattering, but when Saturday's final whistle goes at Twickenham two men will seek each other out no matter what.
In Jonathan Sexton's eyes Owen Farrell is a player with unlimited potential who doesn't back down when tempers flare and has taken his game to another level since they toured with the Lions last summer.
The Irishman makes no effort to hide his admiration for the England fly-half who will eyeball him for 80 minutes, because he sees much of himself in the 22-year-old and, dare we say it, envies the career that is opening up in front of Farrell.
It seems a nonsense when you think back to Sexton's top-dog status on the Lions tour. The memory remains fresh of the way the former Leinster fly-half tore on to Leigh Halfpenny's offload to score the try which broke Australia's resistance in the third Test. Sexton still enjoys dissecting that try on a laptop, admitting that the goosebumps never fail to rise when he sees it.
Naturally the competitor in him was not happy to be substituted for Farrell 10 minutes after his moment of glory, but he can now raise a smile for his friend. The joke on the Lions tour was that Farrell's preference for the company of the Irish players over his compatriots was down to the Saracen's eagerness to avoid the five Leicester players.
But Sexton and Farrell got to know each other on a level that went beyond the dressing-room schtick. Kicking sessions after training meant many car journeys together back to the team hotel where they would be put through the recovery regimes before grabbing a coffee as the hours ticked by.
Both men were aware of their privileged positions in sport but spoke often of the pressures that surround fly-halves on and off the pitch.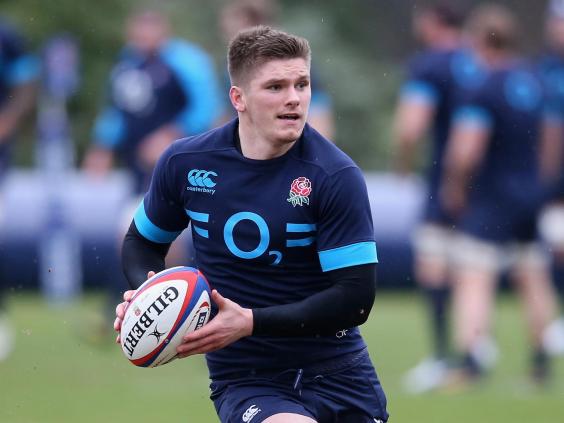 "Obviously you talk about different moments in your careers where I've asked him how he copes with the pressure," admits Sexton. "In England they're under more scrutiny than we are in Ireland or Wales. We spoke about everything really, he's got a very similar temperament to me and I kind of admire that because he's so competitive.
"I remember Paulie [Ireland captain Paul O'Connell] speaking about him after one of the first games about how he was leading the charge [in a confrontation]. That's something I admire in him, and for some reason people criticise it.
"Sometimes people say he gets involved with things that he shouldn't, but that's what makes him a great player, that fire in the belly and it's better to have someone you need to control than someone you have to kick up the backside to get him going. I can't speak highly enough of him."
That spark is familiar to Sexton, who has often played with a chip on his shoulder. It was clear in his breakthrough moment in the 2009 Heineken Cup semi-final when he taunted Munster's Ronan O'Gara (now his Racing Metro kicking coach) after Gordon D'Arcy scored for Leinster.
A few weeks later, at the age of 24, Sexton won the first of his three Heineken Cups and, despite his club success, you suspect his late start is why he looks at the man six years his junior, a Premiership winner and Lions tourist, and is envious of where he might go next.
"I think because he's so young and he's had so many experiences that he'll just keep improving and he's taken his game to a new level this year," says Sexton, who knows what it's like as a young fly-half trying to establish himself.
"I found that at Leinster where Felipe Contepomi and Isa Nacewa were two top-class players in my position and I was a young lad. I was always looking at them and trying to prove to the coaches that I could do what they could, rather than looking after myself and trying to get picked for who you are.
"You do doubt yourself and you do want to show the coaches you're just as good. That can have a bad effect on you, and it did."
Today Farrell stands in the way of Ireland's Triple Crown aspirations, an achievement that Sexton believes could prove a springboard for a group of Irish players who have underachieved for close on four years now.
As a spectator, Sexton saw Ireland beat England five times out of six between 2004 and 2009; now as player he is in the middle of a three-game losing streak to the old enemy. The team named by Ireland coach Joe Schmidt may trump their opponents for experience (724 caps to 302 in the starting XVs), but eight of the visitors have losing records against England, including Sexton.
"There's a massive void there. We've had great days in green jerseys but there's guys there who have won nothing like Cian Healy, Peter O'Mahony, Chris Henry, Mike Ross," he sighs. "I think they are desperate to do something in a green jersey. There's been great days but not enough consecutive great days to reward us with something to show for it. Hopefully this week we'll get something small and then something bigger to follow."
And as for his old mate Farrell? "We still stay in touch and I hope he has a good game at the weekend but ends up on the losing side."
Winners and losers: England v Ireland
Eight of this Ireland side don't know what it is like to beat England:
Jamie Heaslip Four defeats
Cian Healy Three defeats
Mike Ross Three defeats
Jonathan Sexton Three defeats
Rob Kearney Three defeats
Conor Murray Two defeats
Peter O'Mahony Two defeats
Chris Henry One defeat
... whereas seven of England's squad have perfect records against Ireland:
Mike Brown Two wins
Owen Farrell Two wins
Courtney Lawes Two wins
Chris Robshaw Two wins
Joe Marler One win
Joe Launchbury One win
Billy Twelvetrees One win
Reuse content