Six months ago Dave Attwood was just about the last man on England's list of serious second-row contenders for World Cup duty. Now he is the last man standing.
If Stuart Lancaster, the head coach of the national team, is thanking heaven for small mercies as orthopaedic trauma continues to sweep through his squad ahead of the Six Nations opener with Wales on Friday night, it is because a very large man from the West Country has spent the first half of the season in the form of his life.
It is difficult for a single individual to compensate for the fact that engine-roomers as accomplished in their different ways as Joe Launchbury, Courtney Lawes, Geoff Parling and the uncapped Ed Slater (who would be well and truly capped by now but for long-term injury) have been rendered off-limits simultaneously. But Attwood is trying, bless him.
The quality of his rugby during the autumn Test series at Twickenham put him in the top echelon of red-rose performers and turned the pecking order on its head. If all his rivals were fit and firing, there is no guarantee any of them would succeed in ripping the white shirt from his back.
Unsurprisingly, the slimmed-down, more mobile, more multifaceted Bristolian is high on confidence right now. If life is sweet in the England context, it is positively honey-like at club level with Bath – the Premiership team of the campaign to date, by a distance best measured in light years.
But the notion of crossing the Severn Bridge to face the magnificent Alun Wyn Jones without the support of a partner who knows what it is to start an international contest is surely enough to make him go weak at the knees.
"Is it dispiriting? Not at all," Attwood responded defiantly. "I speak from experience here, because I've been on both ends of it: in rugby, it's an unfortunate fact of life that for 99 per cent of players who get a chance to make a step up, that chance arises through injury to someone else. When you're the one given the opportunity, the hunger is massive. Whoever takes the field against the Welsh will see it as an unbelievable opportunity.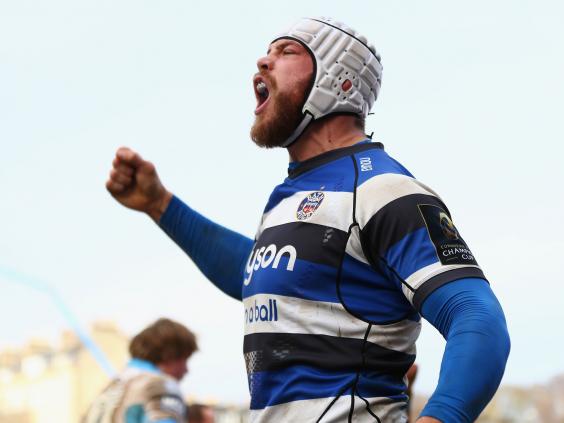 "We've taken a few dents, certainly, but this England squad isn't vastly different from the one that spent the autumn together so I'm not expecting any great change of dynamic. Anyone involved with the set-up for a period of time shoulders his share of the responsibility, not just in terms of decision-making on the field but in how the group goes about its business on a daily basis." In other words, the relative newcomers play by the same rules as the old hands, thereby building a sense of continuity.
The boilerhouse unit of the scrum is an area of strength for England, who, having lost four quality operators, can still whistle up the young Saracens lock George Kruis, who made his first Test appearances off the bench in November, and Graham Kitchener, whose recent contributions at Leicester have been off the scale. "It's as I say: George did a great job in the autumn while Graham has been a hair's breadth away from being involved," Attwood remarked. "There are a lot of positives."
That being said, it is hard to see a Friday night game in Cardiff, with all the sound and fury and general hullabaloo it entails, as anything other than a mighty negative.
England's last visit to the Millennium Stadium – uncharted territory for Attwood – was a gruesome affair, ending in a record trouncing and a lost Grand Slam opportunity. Yet the Bath man believes the lessons have been well and truly learnt.
"I think it showed the importance of not getting fixated by the scoreline, of thinking that because we've fallen behind we have to do something about it now," he said. "It seemed in that game that people allowed things to get fast and loose, and it grew worse and worse as a result. There's a big emphasis now on making good decisions with a view to working our way back into a contest.
"We know the Welsh are a passionate bunch, that they have incredible pedigree in a pack full of Lions Test forwards and have lots of guys who have proved they can stand up to be counted. By comparison, we'll be a little fresh-faced. But I'm confident we'll find a way to do what needs to be done – and that it won't just be a matter of weathering the Welsh storm. I believe we'll bring an intensity of our own to the match."
All of which sounded fine and dandy, but it is one thing to talk the talk ahead of a first appearance at one of the more intimidating grounds in world rugby, and quite another to walk the walk.
Happily for England, their new senior lock has spent a good deal of time thinking his way through the challenge ahead and putting those thoughts in some kind of order.
"If you let yourself be dazzled by the starlight, it gets you nowhere," he said. "There are players who really love the emotional buzz surrounding a game like this one, with everybody talking about the rivalry and the passion, but I don't find it helpful to get absorbed in the sideshow. It doesn't help me get my head in the right place.
"I remember playing a Heineken Cup match for Bath against Leinster in Dublin – a really big match for us – and focusing on all the stuff around it, and then finding we'd lost by 50 points. The lights, the noise, the face-painting... it's entertaining enough for the supporters, but it doesn't win you the game."
The one place that moves Attwood in mind, body and spirit is Twickenham.
"I was saying to James Haskell just the other day," he recalled, "that when you run out there and feel that level of support behind you – that really is a good feeling, and it makes you want to be there always."
Did he really manage to say so much to the ever-talkative Wasps captain without being interrupted? "I have to admit," he replied, "that James was wearing his headphones at the time."
Reuse content