Philippe Saint-André surprised himself as he said it and when he finished, he shook his head sadly. "It sounds unbelievable, but in France we have no wings." No wings? In the country that gave Patrice Lagisquet and Eric Bonneval to the world; that blessed us with Christophe Dominici and Philippe Bernat-Salles and – how could we forget? – the wondrous Saint-André himself, scorer of the "try from nowhere" at Twickenham in 1991 and architect of the "try from the end of the earth" in Auckland three years later? We may as well talk of an Ireland with no writers or a Liberal Democrat party with no sex scandal.
The former national captain was appointed head coach of Les Bleus after the 2011 World Cup, the end of the Yachvili/Servat/Harinordoquy era, and charged with rebuilding the side in time for the next one in 2015 – a project that cannot be said to have gone entirely to plan, given that France finished bottom of the Six Nations table last time out. Reasons? There are many, some of them structural and others merely temporary. But when Saint-André says that 70 per cent of the wings in the elite Top 14 club tournament are from "Fiji or Tonga or New Zealand", he puts his finger on the most pressing of his problems: a massive imbalance between home-produced talent and foreign imports.
It remains to be seen whether this particularly savage form of selectorial straitjacketing undermines Saint-André when his Tricolores take on England in Paris in the opening round of Six Nations fixtures a week today, but there were times at the official tournament launch in London when he appeared to be fearing the worst. As well as bemoaning the poverty of his wing reserves, he also expressed concerns over the scant resources at tight-head prop – "We are lucky that Rabah Slimani has come through so quickly at Stade Français because, until recently, we had no one behind Nicolas Mas," he said – and admitted that international class No 10s were also thin on the ground. He has no goal-kickers, either.
You can see his point. At the last count, using squad lists filed by each of the top-flight teams at the start of the current campaign, more than 43 per cent of players come from somewhere other than France, and while a proportion are keen to qualify as French through residency, the majority have either already played representative rugby for their homelands or have plans to do so. Toulon, the European champions, are more than 50 per cent foreign and frequently play major matches with a dozen imports in their starting XV and plenty more on the bench. Clermont Auvergne do not have a French outside-half specialist; the Basques of Bayonne have no French centres. At Bordeaux-Bègles, there is no French wing in sight.
Saint-André has been grappling with the effects of this mercenary internationalism since succeeding Marc Lièvremont as coach and is accustomed to getting a rough ride from those who point out that during his successful club stint with Toulon, and before that with the Premiership club Sale, he was not averse to signing from abroad – and signing big. Luke McAlister, the All Black midfielder, materialised in Greater Manchester when the Frenchman was in charge there, as did Fernandez Lobbe, the magisterial Argentine loose forward, and several big hitters from the Top 14. When he moved to the Côte d'Azur, in came the Wallaby centre Matt Giteau and the Springbok lock Bakkies Botha.
He tackles the issue head-on. "When Sale won the Premiership title, there were a lot of English players in that side – players we had brought on rather than bought in," he said. "When I worked in Toulon – and I want to say that I am proud of my association with the club – the chairman was extremely ambitious and wanted to win things very, very quickly. So I said, 'OK, we sign Giteau and Botha.' When you sign players such as these, you don't wait five years for success. But this does not change the fact that there is a big debate to be had in France.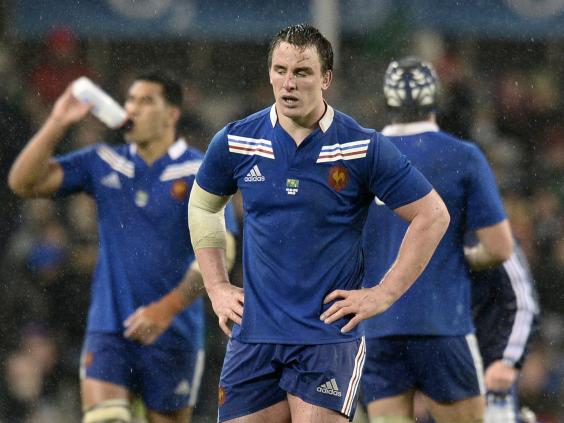 "At least we have made some progress in other areas: the new agreement between the Top 14 league and the French Federation means that for the first time, the Test squad will have limits on the amount of rugby they play and can prepare properly for a Six Nations over a period of two weeks. Last season, people were going into the tournament after playing eight games in succession, sometimes for the whole 80 minutes. This recent development is vital for French rugby. I believe it holds the key to our future success at Test level, along with making sure more players make the step from academy rugby and are given time on the field in the Top 14."
Yet even this is not without its controversy. No sooner had the French version of England's "elite player squad" deal been struck than Guy Novès, the long-serving boss at Toulouse and undeniably one of the great men of European rugby, lobbed in his six euros' worth. "What is the point today for a club to develop a young player with international potential, knowing that if you get him there, he will be pinched from you by the Test team and you won't have him any more?" he asked, rhetorically. "I find it odd that the broadcasters and supporters are asked to pay more for their club rugby when we see the best players on the field less and less."
Novès – and yes, he also played on the wing for his country – went straight to the heart of matters with that little outburst. Club rugby across the Channel is booming and while rugby administrators elsewhere in Europe believe, and indeed hope, that the French union economy is overheating and will burn itself out, a new broadcasting deal worth the fat end of £60m a year to the Top 14 means the high temperatures can be sustained for quite a while to come. When you think that a line drawn north-east from Bordeaux through Clermont-Ferrand and Lyons and all the way down to Provence marks the boundary of the biggest rugby market anywhere in the world, there is no obvious reason to think that the union game will contract any time soon.
England have it in them to prevail in Paris next weekend, but there are bigger games being played on the far side of the Channel, by businessmen and broadcasters and movers and shakers who are pursuing a far richer prize than a mere Six Nations victory over the enemy from over the water. Saint-André's battles are only just beginning.