England's first Grand Slam in 13 years will never erase the bitter memory of being knocked out of their own World Cup just five months ago, but as a magnificent start to a new era under head coach Eddie Jones it was easily enough to have ecstatic choruses of "Swing Low, Sweet Chariot" ringing round Paris.
The circumstances were bizarre in another way as a groggy Dylan Hartley, the England hooker whose appointment as captain for this Six Nations was a symbolic shot at redemption by Jones after a notorious series of suspensions, returned to the field for his moment of trophy-lifting glory at the end. With 67 minutes gone, and England mad-keen to hold on to a 25-21 lead, Hartley drove low into making a tackle in the French half and appeared to be immediately knocked out. After a few minutes of medical attention, the skipper who turns 30 next week, was lifted gently onto a stretcher and taken off.
Neverthless Hartley had succeeded these England have loved as a Grand Slam winning captain in recent memory - Martin Johnson in 2003, Will Carling three times in the 1990s and dear old Bill Beaumont in 1980. This new-old team, with the galloping youngster Maro Itoje among Jones's post-World Cup introductions, revelled in the moment, and rightly so.
France began with a clear intent to move the ball and their Fijian-born wing Virimi Vakatawa into the game, and England very early on appeared unable to generate the speed in their defensive line they might have liked. Maxime Machenaud, the France scrum-half, kicked his team into a 3-0 lead after two minutes, and would go on to strike three more beautiful penalty goals before half-time. It may be picking holes in a champion team, but at that stage England's flankers Chris Robshaw and James Haskell were having struggles at the breakdown, conceding penalties. And you sometimes wonder watching the angles Owen Farrell runs off Jonathan Joseph whether the two centres are on the same wavelength.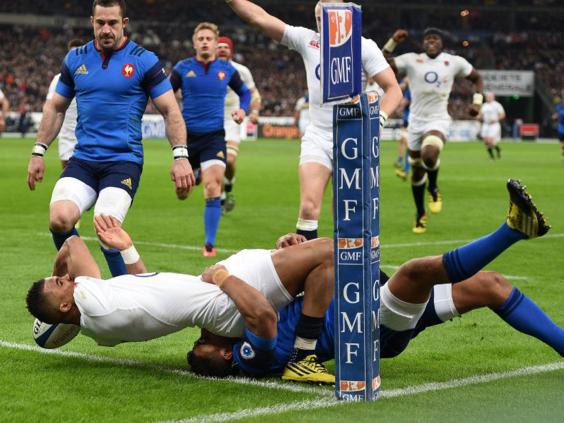 But Farrell's defence as a reluctant No.12 has been important alongside George Ford, whose selection as the starting fly-half was a fairly gutsy call for this Championship by Jones, given Ford's iffy form for his club Bath this season. Farrell's excellent goal-kicking has been crucial to England's cause too. With his first five points the 24-year-old Saracen became England's all-time second highest points scorer, passing the 400 of Paul Grayson – just the 770-odd to go now to catch up on Jonny Wilkinson. The excellent order of the Farrell boot in last weekend's Twickenham over Wales was somewhat overlooked amid the many incidents.
Farrell quickly levelled Machenaud's opening score, and England settled any nerves they may have felt on the threshold of history when Danny Care grabbed a lovely individual try with 11 minutes gone. The Harlequins scrum-half had already one close to a run-in, if only his club-mate Mike Brown hadn't fired a possible scoring pass over his head after a sharp break. When France got caught without proper guards at a centre-field ruck 40 metres from their goalline, Care did not hesitate. A dab of a hand-off took him clear of the prop Jefferson Poirot and sheer pace did the rest, although it helped that France's full-back Scott Spedding was out of position.
France 21 England 31 player ratings
France 21 England 31 player ratings
1/30 France: Scott Spedding - 7 out of 10

Linked up well with Vakatawa twice in the first half to put England in danger. Looked a big threat with ball in hand and his long-range touch kicking meant he could punish England when other they fell on the wrong side of the law.

2016 Getty Images

2/30 Wesley Fofana - 6 out of 10

The centre, shifted out to the wing, saw significantly less of the ball than he's used to, and at times he looked disinterested.

2016 Getty Images

3/30 Gael Fickou - 7 out of 10

Targeted from the kick-off by Farrell but coped well to force England into going long. Tried to make a physical impression on opposite number Joseph, and was somewhat underused by the French.

2016 Getty Images

4/30 Maxime Mermoz - 6 out of 10

Brilliant turnover of Watson relieved his side of mounting pressure late in the first half, but he could have taken on more responsibility with the ball in hand to give France options.

2016 Getty Images

5/30 Virimi Vakatawa - 8 out of 10

France's most threatening player – if only he could pass to an opponent or remain in touch. Looked to struggle with the reduction in space compared to his sevens experience, but gave Nowell a mountain of problems in the first half. Nearly broke to score immediately after the break, was it not for an incredible tackle by Nowell. Only fault is not taking his chances.

2016 Getty Images

6/30 Francois Trinh-Duc - 6 out of 10

Suffered a nasty looking ankle injury early on that cruelly forced him out of the match without having any chance to make an impact. Replaced by Jules Plisson

2016 Getty Images

7/30 Maxime Machenaud - 8 out of 10

Precise with the boot to keep France in touch with seven faultless penalties and a 100 per cent record, but not even he can overhaul three England tries.

2016 Getty Images

8/30 Jefferson Poirot - 6 out of 10

Kept the England scrum at bay very well and posed problems for Cole. Quiet in the loose and could have offered more of the hard yards.

2016 Getty Images

9/30 Guilhem Guirado – 6 out of 10

Could not hit a blue shirt in the line-out for life nor money, such were France's troubles against the likes of Kruis and Itoje. Coped better in the scrum though and just about edged Hartley.

2016 Getty Images

10/30 Raboh Slimani – 7 out of 10

A wonderful scrummager that saw off Mako Vunipola by half-time though the introduction of Joe Marler stopped his domination on the front-row. Gave away a needless penalty in his own half, but tackled well and didn't put a foot wrong otherwise.

2016 Getty Images

11/30 Alexandre Flanquart - 5 out of 10

Taught a lesson in the line-out by his opposition and was taken off by Guy Noves with France chasing the game.

2016 Getty Images

12/30 Yoann Maestri – 5 out of 10

Struggled just as much as Flanquart as Kruis dominated him in the air. Guilty of conceding a penalty late on that allowed Farrell to put the game beyond the French.

2016 Getty Images

13/30 Damien Chouly -6 out of 10

Switched from No 8 to the blindside, resulting in a reduction of his ball carrying impact and prominence in the loose. Hit his tackle and looked to support the wide men whenever possible though.

2016 Getty Images

14/30 Bernard Le Roux – 7 out of 10

Fantastic in defence as he snaffled a number of turnovers, usually by isolating one of the England wide men. Rarely fell on the wrong side of Nigel Owens' whistle, which is no easy feat.

2016 Getty Images

15/30 Loann Goujon – 6 out of 10

Brought into the back-row and struggled to match his opposite number. His carrying was nowhere near the level that Louis Picamoles has set in recent years, and he was half-a-yard behind when it came to the breakdown.

2016 Getty Images

16/30 England: Mike Brown – 5 out of 10

Not his best game as he made a couple of poor decisions, ignoring Watson on his outside when the try-line beckoned and being charged down when electing to kick despite having an overlap to his left.

2016 Getty Images

17/30 Anthony Watson - 8 out of 10

Struggled to find clean ball in the first half, though danced his way out of trouble when on his own line. Brilliant finish after collecting Youngs' grubber kick saw him score in the corner and take the game away from France at a crucial moment.

2016 Getty Images

18/30 Jonathan Joseph – 6 out of 10

Shackled by the aggressive Fickou and more often than not was double-teamed. Should have offered more help for Nowell in marking the dangerous Vakatawa, but in the end the French wing failed to trouble the English line.

2016 Getty Images

19/30 Owen Farrell – 8 out of 10

Composed with the boot to put the game beyond doubt, and kept his emotions in check throughout despite his natural hot-head approach. Offered Ford a second option when under pressure and threw some delightful passes to the wide-men.

2016 Getty Images

20/30 Jack Nowell – 7 out of 10

Coped as well as he could in marking Vakatawa which included an unbelievable try-saving tackle. Ran with drive and determination that saw him carry much, much bigger men than him backwards.

2016 Getty Images

21/30 George Ford – 6 out of 10

His form since the start of the World Cup has deserted him, and while this was not his worst performance of the Six Nations, he is still yet to convince as a suitable fly-half. Missed two shots at a drop-goal, though he can't be blamed for the first after a poor pass from Youngs.

2016 Getty Images

22/30 Danny Care - 7 out of 10

Brilliant awareness saw the recalled scrum-half burst through a gap and score the opening try. Didn't do a lot wrong and his delivery to Ford was precise, yet replaced by Ben Youngs three minutes after the break.

2016 Getty Images

23/30 Mako Vunipola - 5 out of 10

Couldn't get the better of the impressive Slimani in the scrum and his carrying lacked the desired impact, and he was replaced at half-time by Joe Marler with Eddie Jones clearly unimpressed.

2016 Getty Images

24/30 Dylan Hartley - 7 out of 10

Deadly accurate in the line-out and carried well. Suffered a bad head injury 13 minutes from time and was carried off on a stretcher, having been replaced by Luke Cowan-Dickie. Thankfully he was given the OK to join his team-mates for the celebrations.

2016 Getty Images

25/30 Dan Cole – 7 out of 10

Looked as surprised as a tighthead prop can be when he barrelled over to score England's second try, and he got the better of Poirot in the scrum – just. Turned over twice, but that says more about the support play than his efforts.

2016 Getty Images

26/30 Maro Itoje – 8 out of 10

Another composed and impressive display from the emerging talent, who has taken to international Test rugby like a duck to water. Posed the French line=out so many problems that they almost had to abandon the set-piece late on, and always made progress with the ball in hand.

2016 Getty Images

27/30 George Kruis – 9 out of 10

England's new line-out guru has gone from World Cup contender to forward lynchpin in the space of a year, and he tore the French line-out to shreds all evening. Unlucky to miss out on the man of the match award, and not afraid to do the dirty work when needed.

2016 Getty Images

28/30 Chris Robshaw – 7 out of 10

Less prominent in his new role at six and was guilty of holding on twice to concede frustrating penalties.

2016 Getty Images

29/30 James Haskell – 7 out of 10

Does a lot of the work that no-one wants to in carrying around the fringes, with his sheer size usually taking him forward. Much cleaner in the breakdown and still a force come the end of the match, such is his match fitness.

2016 Getty Images

30/30 Billy Vunipola – 9 out of 10

Another commanding performance from the No 8 who is rapidly emerging into a candidate for play of the year. He starred with the ball in hand to keep the momentum with those in white, and was much better in defence as he held on in the tackle.

Getty
England's XV had 533 caps between them  – the most experienced team side since the abject World Cup quarter-final defeat to these opponents in Auckland in 2011. It was a French win here in 2014 to consign England to one of a run of four second-placed finishes in the Six Nations.
Another indication it would be different this time was Dan Cole's try in the 21st minutes for a lead of 17-6. The prop's second in 61 Tests was subject to the briefest of reviews by referee Nigel Owens, with French fingers pointing at a block by Mako Vunipola on Guilhem Guirado, but Owens was not having it and Farrell's second conversion sailed serenely over. The position had been made by a deft cross-kick from Ford to Anthony Watson, and the latter and his fellow wing Jack Nowell was constantly searching for positions to stretch the French. The Mako let-off added to the ankle twist that had removed fly-half Francois Trinh-Duc in the 14th minute contributed to an inexorable sense of white-jerseyed fortune holding sway over the blue; Care's try had come from a slightly bungled England line-out. Then Machenaud's clumsy knock-on in first-half added time allowed England a scrum and a penalty but Farrell missed for the first time on an angle that was as tricky as the buffeting breeze he was facing.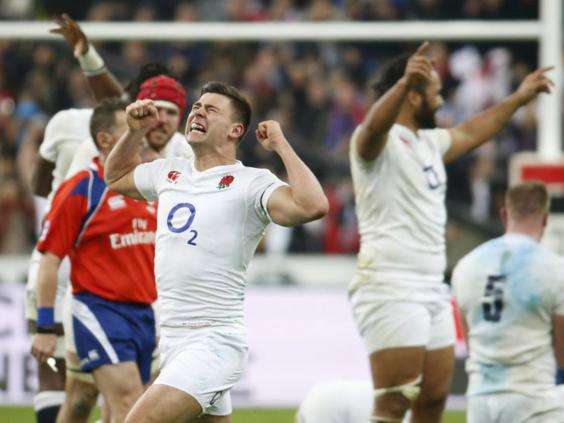 Two penalties from Machenaud – the second against Hartley as he scrambled backwards – to one by Farrell in the opening 10 minutes of the second half had England ahead by 20-18.
Even against the serially disjointed French team of recent seasons, though, breasting the tape in the Six Nations in Paris was clearly not going to be done at a saunter. Everyone knows the sad litany of England sides stumbling with the Slam in sight – Cardiff in 2013, Dublin in 2011 and 2001, Edinburgh and Wembley, 2000 and 1999, in recent memory alone.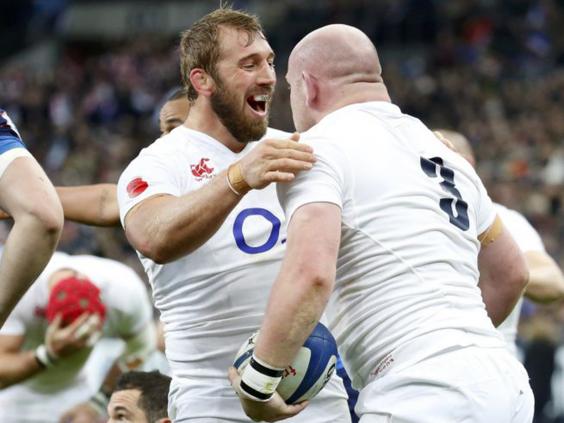 That history looked like bunk to Watson as he cleverly stopped and then shot forward in an instant to wrongfoot the French and dot down England's third try after 55 minutes. Billy Vunipola, another star of this Six Nations, had rumbled away from a maul and Ben Youngs, on for Care, dabbed a kind of soccer pass sideways for Watson to run on to.
Farrell's conversion missed from wide out, and France hit back yet again with a seventh penalty by Machenaud – an individual total never conceded before by England in a Championship match.
Hartley's injury held up play; England had to gather their thoughts and wits, with Farrell taking over as captain and landing a brilliant kick for 28-21 from 50 metres' distance after Youngs was tackled high by replacement lock Paul Jedresiak. There were steals of the ball by George Kruis at a French line-out, and Itoje in open play. A yellow card to Xavier Chiocci and Farrell's fourth penalty adding up to 16 points for him in the match finished it all off.
Reuse content