Last week I wrote about how there are games and moments in your career that stick in you mind. That defensive end against Ireland, the third best team in the world, in the second half last weekend is one of those that will be rooted in the minds of every player on that pitch, the press guys writing about it and the fans in the stands and watching at home. Personally, I think it's a moment that will stay with me for ever.
In the dressing room afterwards, in many ways it was like we'd lost the game as everyone was just so absolutely shattered that, despite being totally stoked, we couldn't really cheer too much. Looking back, it was a magnificent moment.
Much has been made about Shaun Edwards' impact and rightly so. It's funny, but genuinely Shaun actually feels like an extension of our defensive line. He's always had the ethos that if we make a mistake, he makes a mistake. He's so passionate about coaching and about the game as a whole.
As players we were really pleased for him. He's a guy that obviously wears his heart on his sleeve – we've all seen that – but our discipline as players is all the better for him.
I know a lot has been made about his contract coming to an end after the World Cup and I hope he stays on. He's been the only defensive coach I've known for my entire international career. I've got to know him well: he's a great coach and a great motivator as well.
I didn't see out the game, with Scott Williams coming on for me, which I can't complain about. It proved to be the right decision, Scott coming on with fresh legs and scoring that try moments later.
I took a stinger to my shoulder but also a blow to my head. There was no concussion – nothing like that – but I'm likely to start Saturday's match with a completely blackened and bruised ear. I look like a second-rower – maybe something to do with my short stint in the back row, with Sam Warburton in the sin bin!
But personally I just feel lucky to be starting the game against Italy. This is about the most nervous I've ever been about selection, with having come off the field to be replaced by Scott and the try-scoring game he subsequently had.
I thrive on that pressure for your jersey – that's when you play better. But I have to embrace that and deliver. I have to repay the faith Warren Gatland and the other coaches have shown in me and deliver for Scott on the bench and my team-mates.
For myself and the rest of the squad the Ireland game was one of those games that take a day longer to recover from – it was an intense game of rugby. It was incredible to be part of it, really.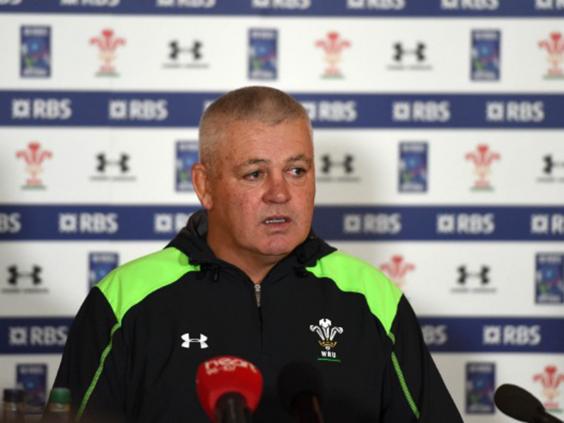 In the aftermath, I had a few hours in the stadium with my family before a black-tie do at the Hilton with the Irish lads before heading out. We celebrated a bit but it wasn't late, with such a big week ahead of us. We've no right to over-celebrate with a job still to be done. We've challenged ourselves to improve.
It's got reverberations of 2013 in the manner in which we started and it all coming down to the final weekend.
The feeling in the group is fantastic. Everyone's enjoying everyone's company and we've shown great mental strength to bounce back after the way we began the tournament with the England defeat.
The most important part on Saturday is to go out and enjoy it. We need to try to enjoy keeping the ball in hand for as long as possible against Italy.
I've heard it said that the pressure is off us with how things stand in the table but I don't buy that. The pressure is on, as realistically we need to win by 30 to 40 points – and that's an achievable goal. If we play to our potential, we can do that.
We have to put pressure on ourselves and improve on last weekend. That's a big ask.
I genuinely think the first quarter of an hour against Ireland was flawless and we already had 12 points on the board. That was just superb. We'd dearly like to start like that in Rome.
OK, a few opportunities went begging and there were even defensive shortfalls, like Paul O'Connell making a couple of line breaks when we were guilty of over-reading things.
People have also been focusing too much on how many points we have to score against Italy. But the more pertinent thing is that for every point Italy score we have to score two for the points difference.
There's no point us chucking the ball all over the place for a 50-20 scoreline when 30-0 would have exactly the same effect. Obviously, we want points but we need to stop them scoring and we need to be patient. They're a quality side and, in the past, it's taken us a good 60 minutes to break them.
As for the trophy not being there, that's the way it goes sometimes. I understand where the trophies are in situ, in Twickenham and Murrayfield, with how the current points difference stands. But I'm sure we can get our hands on a plastic trophy at a local Roman supermarket!
I know we're at a post-match function in some palace but I'm sure there will be televisions for us the watch the subsequent two games. It's nice to go out first and put a strong stall out, and then rest up and watch.
After the 29 points that France scored against Italy, I think it will be a close game at Twickenham.
Then Scotland will obviously want to avoid a whitewash and the wooden spoon, and I can't see Ireland's trip to Murrayfield being a massively high-scoring game either.
We've just got to concentrate on our own job. Hopefully, we can lean on the other two and put pressure on them by what we do in Rome.
Player of the tournament
Luke Charteris and Alun Wyn Jones
I'd have to go for two. I know he didn't start the Six Nations but Luke has been immense for us – although no more than Alun. The amount of work they get through is phenomenal; to make that many tackles and rucks too.
Newcomer of the tournament
Scott Baldwin and George Ford
For his maturity, all-round ability and performances as a hooker. Outside Wales, it's George, who's come in with a nice competitive edge for England, and an attacking one at that.
Try of the tournament
Dan Biggar
I know I might be accused of being Welsh-centric but for me it was Dan's try against France. I enjoyed that – it was a team effort. With where the game is right now it's hard to score tries at all.
Personal moment of the tournament
Keeping Ireland out
That defensive set against Ireland was special. Rugby's about putting your body on the line and defending your try-line, and we did that time and time again.

NatWest are proud to support Rugby. Current account customers can win exclusive rugby experiences. It's not who you know, it's who you bank with. Visit natwest.com/rugbyreward
Reuse content