Let's take a moment and let the dust settle
We came into the World Cup hoping to make history, and we have. Sadly, it's a horrible, unwanted, embarrassing slice of history – England have become the first host nation to exit a World Cup in the pool stages.
The calls will now come for Stuart Lancaster to be sacked, and for his coaching staff and the captain, Chris Robshaw, to go too. I would urge a little caution; I don't think this is the time to throw the baby out with the bathwater.
In 1999 we lost to South Africa in the quarter-finals and many wanted Clive Woodward to be sacked. The RFU stuck with him, we became the best side in the world and everyone knows what happened in 2003.
We should let the dust settle, and then analyse whether Lancaster can do the same. 
But today I am sad. This is a disaster not just for the nation but the tournament as a whole. Both emotionally and financially, I am not sure if this Rugby World Cup can recover.
On-form France look like a real threat
I am intrigued to see Frederic Michalak back at fly-half for France, and when he performs as he did against Canada on Thursday night there is no arguing that he remains a phenomenal player.
I remember how we did a job on him in that World Cup semi-final in 2003, but I have a sneaking suspicion that he and France will do rather well this time round.
France have turned it on in six of the seven World Cups to date, and no matter the mess they find themselves in, they seem able to raise their game when it really matters. After an underwhelming four years under Philippe Saint-André, I suspect they may go a long way in this tournament.
Balance is the key in back row partnership
A lot of people have asked me this week what I make of Australia pairing David Pocock and Michael Hooper, two openside flankers, in the back row, wondering if I'd have liked England to do the same during my playing days.
My answer is that we did: Richard Hill was to all intents and purposes an openside flanker who just happened to wear No 6 on his back. We complemented each other really well, and there was an understanding between us that Pocock and Hooper appear to have. But a back row is all about balance.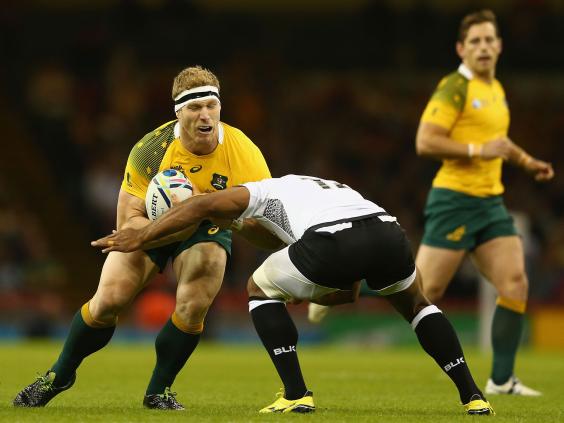 If you picked two players such as myself in the same back row you would lose out in both the scrum and line-out. If your back row is around 40kg lighter than the opposition, then it makes a massive difference. Richard and I worked well in part because we had Lawrence Dallaglio anchoring things from No 8 .
There is also the issue of the line-out. Australia will be aware they don't have the same options with Pocock and Hooper – two relatively small men in the rugby world – as they would if they had chosen larger players.
Tournament needs to get timings right
Wales only had a five-day turnaround from the England game before playing Fiji, and it showed. I was impressed at how energised Wales were early on, but they were absolutely knackered in the second half.
Bar England, who have absolutely no excuses as a result, every side are having to deal with a quick turnaround at some point during this tournament. 
I don't know what the solution is if we don't want to make the tournament any longer than six weeks.
And it is astonishing how much of a difference there is between a five-day and seven-day turnaround. 
If Wales had been allowed a week to prepare, I have no doubt they would have got a bonus-point victory rather than the slightly fortunate win they ended up with on Thursday.
Bergamasco deserves all our admiration
I thought I did well to play in three World Cups, so I am frankly astonished by Mauro Bergamasco's achievement in featuring in five. The dedication and sacrifice that must have required is beyond comprehension, and what makes it even more remarkable is that he has done so in a team that has more often than not been on the losing side in the big games.
Mauro is a genuine rugby legend, he wears his battle scars well and I salute him. Unfortunately for him, though, I fear Italy will have another pool- stage exit confirmed today by a defeat against Ireland. 
Minnows biting back is to be welcomed
A theme of this tournament has been how well the minnows have done against the big boys. Japan's win over South Africa was the standout moment, but the likes of Canada have really impressed me. 
It just demonstrates how much the standard of rugby has improved all over the world, and these teams now all have players competing at the highest levels for their club sides. It means our game is developing and getting ever stronger. The days of a team scoring 140 points in a World Cup match are over now, and we should be thankful for that. 
Neil Back was a member of England's 2003 World Cup-winning squad and earned 66 caps for his country and five for the British  and Irish Lions
Reuse content