A pair of unsuspecting tennis players had the surprise of their lives on Sunday when Serena Williams stopped by their court to ask if she could take on the winner.
The recreational players were reaching the end of their game when the 23-time-champion spotted them while on an evening stroll in San Francisco with finance Alexis Ohanian and her dog, Chip.
The exchange was captured in a video posted to Williams' Snapchat account. 
"Just having a stroll at night and I'm thinking about asking these guys if I can hit with them just to see their reaction," Williams can be heard saying as she approaches the court. 
The players immediately recognise the tennis star and make their way over, managing exclamations of "holy crap" on the way.
Despite wearing big fluffy boots rather than her usual trainers, the champion was soon on the court. 
While the rally wasn't captured on camera, Williams presumably took the winning point over the friends.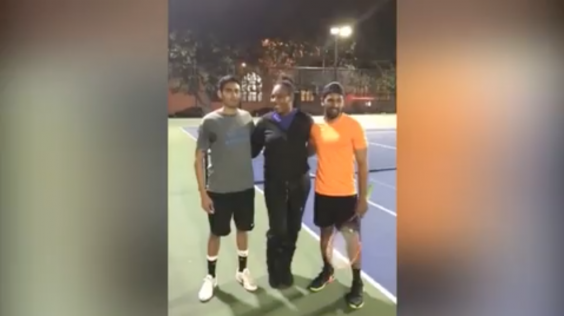 She jokingly announced she was "still undefeated" as she hung out with the duo afterwards. 
"So the moral of the story is, you never know when I'm going to come to a tennis court near you," Williams said, addressing the camera and giving hope to tennis fans everywhere. 
Reuse content