He has played 22 matches in four different countries in the last 36 days, during which time he has flown some 15,000 miles and on occasions driven himself to the point of exhaustion, but Andy Murray has finally reached his destination. The Scot's emphatic 6-3, 6-3 victory over Grigor Dimitrov here at the Paris Masters ensured his qualification for the Barclays ATP World Tour Finals for the seventh year in a row.
It is a remarkable achievement, especially in the light of his struggles earlier in the year after his comeback following back surgery. Murray failed to reach a Grand Slam final for the first time since 2009 and last month dropped out of the world's top 10 for the first time in more than six years. After the US Open he was also in 11th position in the "Race to London". The places in the eight-man field at the O2 Arena go to the men who have won the most ranking points during the year.
Now fifth in the London qualifying list, Murray could not resist the chance, having secured his place in the season-ending championships, to respond to those who say he has had a disappointing season. After beating Dimitrov, who knocked him out of Wimbledon this summer, Murray wrote "Bad Year!" on the camera lens.
"It wasn't a jibe, it was a bit of fun," Murray said later. "People ask me all the time why I've had such a poor year by my standards, so you're allowed sometimes to say something in response to that. I don't tend to do that often but look, it's been a hard year, a tough year, but it hasn't been a bad year.
"It could have been a lot worse," he added. "Coming back from a surgery is not easy at all, and I learnt that. The first few months of this year it was very difficult, and I had to dig deep at the end of this year in some ways to salvage the year. It's been a good year – not my best, but I think I would have signed up for being in this position when I had the surgery last year."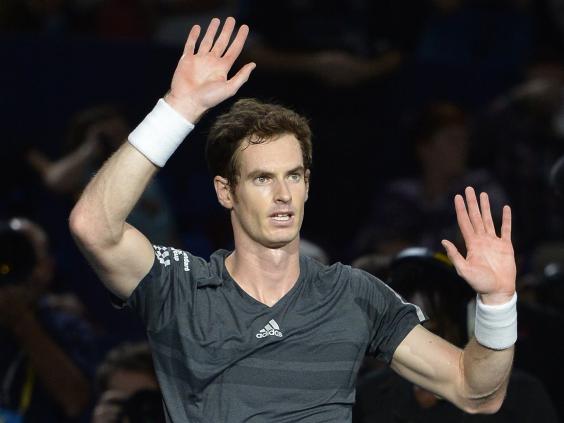 Murray said that dropping out of the top 10 had made him realise he had to change his playing schedule, which had been geared to the days when he was ranked in the top four. "It was time to start winning again, get my head down and start to win the less glamorous events," he said. "It's worked out well, thankfully."
The world No 8 said that what pleased him most was the fact that he had stood up to the test of playing so many matches over the last six weeks. "My body has felt good," he said. "I've recovered well from long matches. I've kept going. It would have been easy after some of the weeks and some of the matches to have waited to see what everyone else was going to do and not played here or whatever. The last few weeks have been tough, but I've had some good wins."
Murray, who in Friday's quarter-finals will face the winner of the match between Novak Djokovic and Gaël Monfils, is the fifth player to secure his spot in London. Djokovic, Roger Federer, Stan Wawrinka and Marin Cilic were already guaranteed their places, while Rafael Nadal gave up his because of an impending appendix operation. Kei Nishikori, Tomas Berdych, David Ferrer and Milos Raonic, who all won their third-round matches, are in contention for the remaining three places, which will be decided by results here.
Whenever his Paris Masters finishes, Murray will have some time at home before the World Tour Finals start on Sunday week. But he thinks it unlikely that he will watch his mother, Judy, perform on Strictly Come Dancing.
"It's been a long six weeks so I'm quite looking forward to getting back and being in my own bed and my home for quite a few days, rather than watching some very average dancing," he smiled.
Murray said his mother loved taking part in the show but had found it very demanding. "She's doing six hours of dancing three days a week to get ready and then they do the show," he said. "Being in heels and stuff, she doesn't normally wear them. She's normally in trainers. So for her it's quite tough physically, which I don't think she was really expecting."
Reuse content