A fired-up Andy Murray can be the most dangerous of opponents, as Tomas Berdych discovered to his cost here today in the semi-finals of the Australian Open. By beating Berdych 6-7, 6-0, 6-3, 7-5 in a feisty semi-final, Murray gave himself the chance to become the first man in the Open era to win the title here after losing his first three finals.
While Murray has always insisted that there was no rancour in last month's parting of the ways with his assistant coach, Dani Vallverdu, the Venezuelan's defection to Berdych's camp seems to have given him extra motivation. In the early stages of the match in particular Murray frequently shouted out in the direction of his opponent's player box.
The Scot also appeared to get upset when Berdych said something to him at the end of a gruelling first set, which the Czech had taken by winning the tie-break 8-6 after an hour and 16 minutes. Murray subsequently came out with all guns blazing to take the second set in just half an hour and turn the match around.
Video: Watch Murray's match-winning ace
Murray's opponent for his eighth Grand Slam final on Sunday will be the winner of tomorrow's meeting between Novak Djokovic, the world No 1, and Stan Wawrinka, the defending champion. It will be Murray's fourth appearance in six finals here following his losses to Roger Federer in 2010 and to Djokovic in 2011 and 2013.
Murray paid tribute to his coach, Amelie Mauresmo. "A lot of people criticised me for working with her and I think so far this week, women [have shown they] can be very good coaches as well," he said. "Madison Keys, who reached the semis here and had her best tournament, is also coached by a woman – Lindsay Davenport – and I see no reason why that can't keep moving forward like that in the future. I'm very thankful for Amelie for doing it. It was, I would say, a brave choice for her to do it and hopefully I can repay her in a few days."
Berdych had knocked out Rafael Nadal in the previous round, ending a record-equalling run of 17 successive defeats to the Spaniard. However, he might now reflect on the fact that the last five players to lose to Nadal in a Grand Slam tournament have all lost their next match. Berdych has lost five of his six Grand Slam semi-finals, his only success having been when he reached the 2010 Wimbledon final before losing to Nadal.
Murray had won only one of his previous five matches against top 10 opponents in Grand Slam competition, which was a reflection of the difficulties he has had ever since undergoing back surgery towards the end of 2013. At this tournament, however, he has rediscovered much of his old form and added a new dimension to his game with his determination to dictate points rather than counter-attack.
The weather has been decidedly cool in recent days and by the time the players walked into Rod Laver Arena for the 7.30pm start the temperature had dropped to 18C. There was also a stiff breeze at times.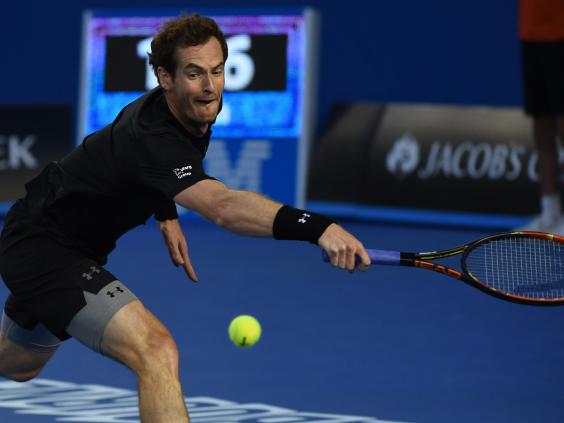 Forty-eight hours earlier the vast majority of the crowd had been behind Murray's opponent, the local hero Nick Kyrgios, but on this occasion the majority of the support was for the Scot. The four local lads who have led Murray's cheerleading here in recent years had been shouted down by Kyrgios' supporters, but on this occasion they were loudly cheered.
Over the years we have grown used to seeing Murray scream at his entourage during matches, but on this occasion, especially in the early games, he appeared to direct most of his ire at Berdych's player box, with Vallverdu presumably the target.
Berdych, who had won six of their 10 previous meetings, was aggressive from the start and regularly attacked the net. The Czech won 16 of the first 18 points on his own serve, while Murray was taken to deuce in his first three service games and was broken in his fourth. Murray had been tentative in the early stages, but the jolt of losing his serve sparked him into action.
When Berdych served for the set at 5-3 Murray hit some damaging returns and broke back after the Czech netted a forehand at the end of a superb rally. It was the first time in 50 service games here that Berdych had been broken.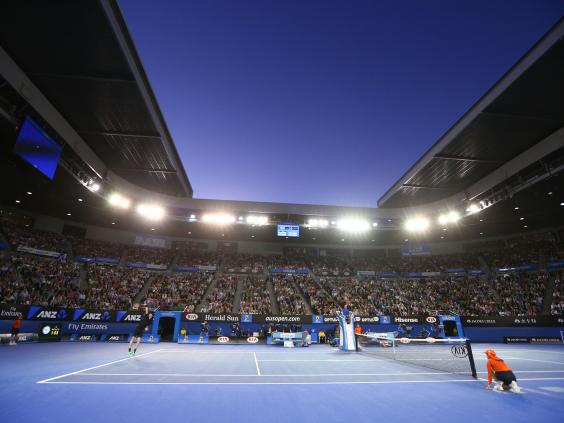 Murray missed relatively easy forehands on two break points when Berdych served at 5-5, which the Scot was to regret after the set went to a tie-break. Berdych saved a set point at 5-6 in the tie-break and two points later took the set when Murray netted a forehand.
At the end of what had been a gruelling set Berdych said something to Murray as the two men walked back to their chairs. Murray appeared to complain to the umpire, Pascal Maria, who in turn spoke to Berdych. Whatever was said Murray did not look happy about it, but the words seemed to give him the motivation to come out bristling with aggression at the start of the second set.
Murray had a steely look in his eye and struck the ball with real venom while Berdych, curiously, seemed to go into his shell. After winning his first 16 sets, the Czech lost his 17th to love in just 30 minutes.
Berdych did well to recover his poise at the start of the third set, but when the world No 7 served at 40-0 in the sixth game he imploded. Two successive double faults put Murray back in contention and the Scot converted his second break point when Berdych missed a forehand. Murray served out to take the third set with an ace.
The fourth set was tight. When Murray served at 2-3, Berdych forced his first break points since the first set, but Murray hung on. At 5-5 the Scot made the decisive break, after which he served out to secure his first victory in a Grand Slam semi-final since his Wimbledon triumph two summers ago.
Asked how he had turned the match around, Murray said: "I changed tactics a little bit but also I was getting more comfortable with the conditions and also Tomas's ball. He hits the ball extremely hard and in the beginning I felt quite rushed.
"I started to get used to that towards the end of the first set and then in the second set I just tried to play very aggressive on his service games and made him do most of the running in that set, which was important because after losing a tough set like the first, it was important to get the momentum back."
He added: "I knew that when I was dictating the points and I was getting the first strike in, I was winning the majority of those points. I was trying to do that more and more as the match went on. And I think I managed to do it quite a bit at the end."
Murray admitted there had been "a little extra tension" in the match. He explained: "It's  obviously a big match. Obviously a lot was made of Dani, my ex-coach, working with him. Me and Dani have been friends since I was 15 years old and I felt that was a little bit unfair and unnecessary. This is sport. There's more to life than just sport and I thought it was a bit unfair and maybe created a bit of extra tension. It was definitely there at the beginning but I think everyone calmed down after the start of the match."
Reuse content