So what next for Andy Murray? He is the same age as Novak Djokovic, 27. One has two grand slam titles, the other eight. This was Murray's fourth final in Melbourne and his fourth defeat. Djokovic has won all five of the Australian Open finals contested. In other words the outcome conformed to an established pattern.
Professional athletes are a species wired to look for upward trends in the career trajectory. Murray endured a torrid 2014 after back surgery. This was his first grand slam final appearance since his victory at Wimbledon against Djokovic in 2013.
It comes after intense training camps in Miami and Dubai, so yes, he sees it as a step in the right direction, towards a period of further grand slam bounty. 
There were no tears this time. The smile on the face of Murray did not reflect crushing disappointment. For the best part of three hours of a compelling encounter, there was not a fag paper between him and the world No 1.
At 2-0 and a break up at the start of the third set having just taken the second to level the match, Murray was in the ascendency. Matches at this level between players of broadly similar technical gifts will always play out on a tight rope with momentum shifts a matter of fractions.
Then, seemingly from nowhere Murray began to unravel, claiming just one of the next 12 games and suffering the ignominy of the bagel in the fourth set. This was the kind of mental disintegration that characterised his tennis in the pre Ivan Lendl period. His association with the Czech appeared to stiffen his resolve, giving him the belief in tight exchanges that he would overcome.
Australian Open men's final - in pictures
Australian Open men's final - in pictures
1/12 Australian Open men's final

Murray's girlfriend Kim Sears wore this top in response to being caught swearing in his semi-final win over Tomas Berdych

Getty Images

2/12 Australian Open men's final

A member of security (bottom) prepares to pull down a banner displayed by protesters (wearing white shirts) in the stands. Two women were later arrested

GETTY IMAGES

3/12 Australian Open men's final

Murray's coach Amelie Mauresmo looks on in shock as the Briton falters in the fifth set, going down 6-0

GETTY IMAGES

4/12 Australian Open men's final

Djokovic celebrates Championship point

5/12 Australian Open men's final

A distraught Murray takes a seat after his match

6/12 Australian Open men's final

Djokovic holds his trophy next to runner-up Murray

GETTY IMAGES

7/12 Australian Open men's final

Murray looks on as Djokovic is presented with the title

8/12 Australian Open men's final

Djokovic poses with his trophy - winning the Australian Open title for the fifth time

9/12 Australian Open men's final

Djokovic's coach Boris Becker applauds from the stands

10/12 Australian Open men's final

A downbeat Murray talks to the press

11/12 Australian Open men's final

Djokovic raises a celebratory toast in his press conference

12/12 Australian Open men's final

Djokovic is all smiles in the locker room
It was precisely that iron stare from Lendl that Murray needed yesterday. Djokovic looked broken at the start of the third. Granted no player beyond the football arena has managed to recover so dramatically from the point of apparent physical collapse. Yet to fall away so radically suggests in this company that Murray could just have reached his level.
It should be pointed out that if Murray were not to win another title he has had a magnificent career, just not one enjoyed by the greats. He has mixed among arguably the greatest simultaneous three-ball in the history of tennis.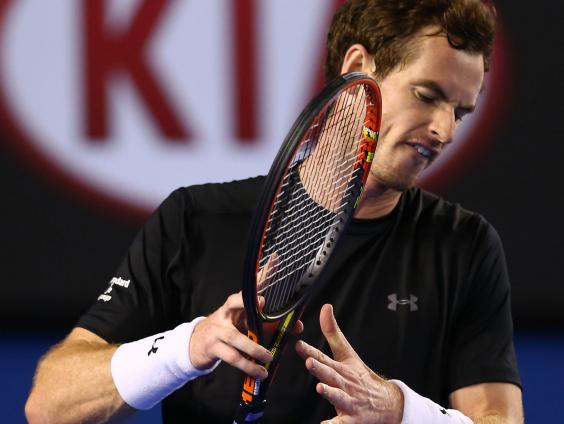 Djokovic is a hall-of-famer, keeping admirable company with Rafa Nadal and Roger Federer. In any other era Murray might have profited more. His relationship with Amélie Mauresmo has shown encouraging signs of improvement. That aching passivity that used to claim him appears a thing of the past.
He was down early in the opening set of his fourth round match against Wimbledon nemesis Grigor Dimitrov, but wrestled the initiative back impressively to win in four. In the semi-final he surrendered the opening set to Tomas Berdych, a player against whom he has a losing record, before coming back aggressively to win. These were matches Murray might have lost in another life.
But he could not force the knife home against Djokovic when the demand was at its height. Again, not many can. Murray's work ethic cannot be faulted. It is fair to assume that the fault is not fitness. Therefore it comes down to mentality. In critical episodes during the third set he was engaged in an internal dialogue during the changeovers that would have had Sigmund Freud rubbing his hands.
Thus battling on two fronts, against himself as well as Djokovic, the challenge became too great and he quickly fell apart. Djokovic has a past littered with flaky moments that are evoked during crisis points. But they were cauterised a long time ago. A change to a gluten-free diet helped and he learned how to win earlier in the process than Murray.
Six defeats in grand slam finals are hard to turn around at this point. Though Federer is nearing the end and Nadal is increasingly fragile, Djokovic shows no signs of slowing. And there is a talented group of irreverent thrusters eager to establish their own credentials, led by Dimitrov, Milos Raonic and Australian teenager Nick Kyrgios.  
Murray will doubtless repair to the bosom of his evolving team to process the outcome and focus on the "positives". Defeat will be seen as a step towards nirvana not the exhaustion of potential. Fair enough and we wish him well, but he must accept that is not how it looks to neutral observers.
The Liverpool team of Rafa Benitez that won the FA Cup and Champions League in 2005 posted third place finishes in the Premier League in the following two seasons and in 2009 closed to within a point of champions Manchester United.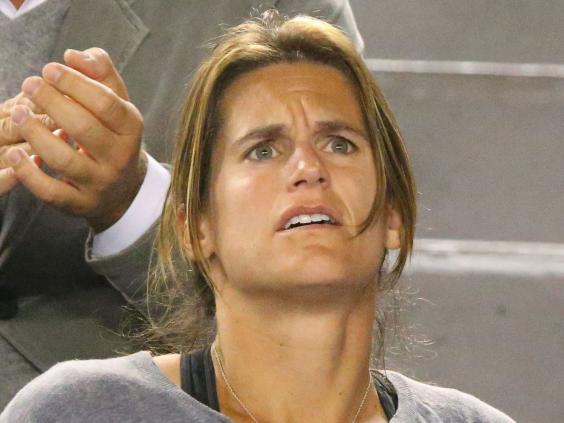 The line of progression was obvious, leading, at least for the Liverpool fan, to the ultimate end. A first league title in more than two decades would be theirs in 2010. The logic was unanswerable. Not for one minute did the great Liverpool diaspora believe that potential had been exhausted. It had. Liverpool fell to seventh the following year. A cycle had come to an end for that group. 
In Murray's case the evidence points to a similar end. He is, it seems, falling into a bracket that includes the likes of Pat Rafter, Marat Safin, Goran Ivanisivic, Illie Nastase, Stan Smith − substantial players good enough to claim grand slams on their day but ultimately a gear short of the titans of the game.
There is a rung above them on to which Murray might climb but he still has a distance to travel to mix with the alpha plus boys. Stefan Edberg has six, Mats Wilander seven, John Newcombe seven, John McEnroe and Lendl eight. All five are legendary figures yet must doff their caps to the likes of Bjorn Borg, Pete Sampras, Nadal and Federer.
Djokovic has demonstrated the quality required to join history's high table. The French Open would give him the full set. Whatever Murray does next, as good as he is, he is not in that league.
Reuse content