Andy Murray's major concern since he arrived here at the Australian Open has been the well-being of his heavily pregnant wife, Kim, who is at home in Britain, but last night the Scot's focus turned to the health of his father-in-law.
While Murray was on his way to a 6-2, 3-6, 6-2, 6-2 third-round victory over Portugal's Joao Sousa in Margaret Court Arena, the match in the adjacent Rod Laver Arena was suspended for nearly an hour after Nigel Sears, Kim's father, collapsed while
Sears, who left on a stretcher and was taken to hospital, where his condition  was later described as "stable", had been watching the player
watching Ana Ivanovic, who he coaches, in her third-round match against Madison Keys.
Murray's entourage quickly became aware of Sears' plight, but the news was kept from the world No 2 until he left the court and was met by his mother, Judy. Still in his tennis kit and with his racket bag slung over his shoulder, Murray left the stadium immediately to go to the hospital. His scheduled on-court post-match interview and press conference were cancelled.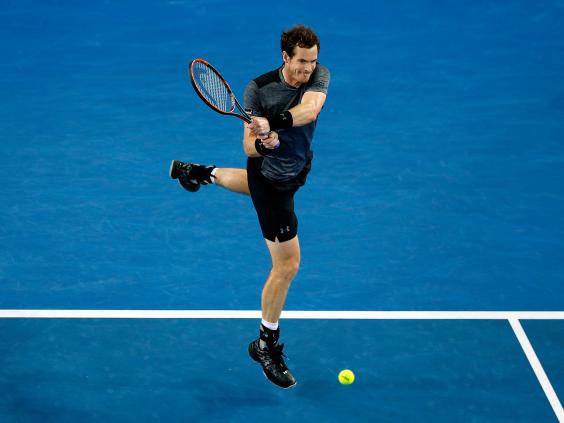 His brother, Jamie Murray, had learned of Sears' collapse during the match and went to the tournament director's office. He reported that Sears was "conscious, talking and sitting up".
Sears, aged 58, reportedly told other members of Ivanovic's coaching entourage shortly before he collapsed that he had been feeling unwell. Paramedics were quickly on the scene, where it was later reported that there was blood on the ground.  He was taken away on a stretcher bare-chested and apparently being given oxygen. At the hospital he was treated by a cardiologist.
The Wimbledon referee, Andrew Jarrett, who is an assistant referee here, was quickly on the scene and went with Sears in the ambulance. "It was worrying to begin with and when I saw him lying on the steps he looked grey facially," Jarrett said.
"They gave Nige an ECG in the ambulance and another when he got to hospital. The results of both of those were fine. Now they are doing some blood tests on him, which will more accurately determine what the problem is, but I was a lot happier when I left the hospital than when I arrived. He was conscious and talking normally. All he wanted to know was how Ana's match was going.
"I'm not sure how all the blood ended up on the steps. I saw no sign of Nigel cutting his head, but the sleeve of his tracksuit was bloodied and maybe the medics pushed something into his arm."
Play had been halted immediately in Rod Laver Arena, Ivanovic was given the option of not continuing but the match resumed after nearly an hour. The former world No 1, who had just won the first set and also led 3-0 in the decider, was eventually beaten 4-6, 6-4, 6-4.
Sousa, meanwhile, said it had been "kind of weird" that he and Murray had been among the only people unaware of the drama that had played out.
"We were competing, trying to give our best to win," Sousa said. "I just heard that Andy went direct to the hospital. I think it's good that he is conscious, that he is speaking, so we hope it's nothing bad. First thing is the family and the health, so it's good that Andy went to be with him."
Murray would no doubt have been concerned about what effect the news might have on his wife, who is due to give birth to their first child next month. This is the first Grand Slam tournament for several years that she has not attended and Murray has said repeatedly that he would return home immediately, whatever the stage of the tournament, if she went into labour early.
The Scot's relationship with Kim has been helped by the fact that she grew up understanding what life was like for tennis players and coaches and their families. Her father has been a leading coach for many years, having made his mark working with Amanda Coetzer and Daniela Hantuchova before being appointed head of women's tennis at the Lawn Tennis Association. He is in his second spell coaching Ivanovic.
Leon Smith, Britain's Davis Cup captain, was with Murray's entourage. Asked about Murray's plans, Smith said he expected "business as usual" if Sears was given the all-clear, but added that the player "needs to find out what exactly happened".
Smith said that Sousa had been a "really tough competitor" and added: "It was a really good match for Andy to get at this stage. I think it was a real sharpener and Andy came out of it really well."
Murray, responding to an official from the Association of Tennis Professionals, said: "I thought I struggled. At the beginning I think he was extremely aggressive, very intense. He was getting into position to dictate a lot of points with his forehand. Once I started to hit the ball a bit cleaner I was able to dictate more points. At the end I was hitting the ball well. It was good to get through that one."
Murray is tomorrow due to play the world No 17, Bernard Tomic, who beat his fellow Australian John Millman 6-4, 7-6, 6-2.