Men's tennis will peer into the future in London next week. For the first time since 2001, Roger Federer will not be playing at the Barclays ATP World Tour Finals, having absented himself from the game since Wimbledon because of a knee injury. With Rafael Nadal also missing from the year-end showpiece, which begins on Sunday, it will be a chance to assess the health of the sport without the two men who have been its biggest draws for more than a decade.
In the circumstances, tournament organisers will be more than happy that there is more at stake at the O2 Arena than usual. As well as the prestige and prize money that goes with the most important tournament outside of the Grand Slam events, next week will also decide who finishes the year as world No 1.
Andy Murray ended Novak Djokovic's 122-week reign at No 1 when he went to the top of the rankings on Monday, but the Serb could reclaim top spot in London. Although the situation could change according to the number of round-robin matches they both win, the equation is in theory quite simple. If Djokovic wins the tournament without losing a match he will return to No 1; if Murray equals or betters Djokovic's results the Scot should end the season on top.
After practising at the O2 Arena Murray said that rising to No 1 had not changed much in his world. "It didn't feel much different when I woke up on Monday morning," he said. "Maybe when you step on the court you have a little bit more confidence and feel a bit better about yourself when you are hitting balls."
Nevertheless, there will be other differences for Murray at a tournament where he has rarely played his best in recent times, either because he has been carrying injuries or focusing on other targets, such as last year's Davis Cup final.
For the first time the Scot will be staying at his Surrey home rather than at the official hotel in central London. After practising at the O2 Arena on Friday he headed home to be with his family, having declined the chance to watch England take on Scotland at Wembley.
Murray has also never gone into the year-end finale in such good form. He has won his last four tournaments in a row and indeed has won 46 of the 49 matches he has played since the French Open. Djokovic, meanwhile, has won just 17 matches out of 22 since Roland Garros, where he became the first man for 48 years to hold all four Grand Slam titles at the same time.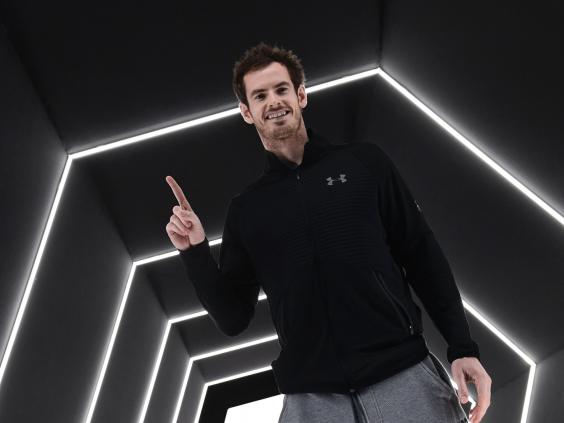 The Scot likes the look of the playing surface at the O2 Arena. "The court is definitely a bit faster this year," he said. "It's quicker than it has been in the past so that changes the way you play the matches a little bit, but I think that's a positive thing. At the end of the year when a lot of the players have played a lot of tennis, to have it on the slowest court and having really long rallies is tough, so it will shorten the points and maybe make for some better tennis."
Murray has been back working this week with his coach, Ivan Lendl, for the first time since the US Open. Lendl phoned Murray last weekend to congratulate him on becoming world No 1, but the two men have been focusing on the future.
"We didn't chat too long about the last few months," Murray said. "He'd obviously watched quite a few of my matches but when we got here it was just back to work and the things we're trying to improve and get better at. I like that. It's good. I don't need to be discussing what happened the last few months too much. I need to keep trying to improve, keep getting better. That's what I've always done when we've been working together."
The draw has put Murray in what looks a significantly tougher round-robin group. Djokovic starts against Dominic Thiem on Sunday and then plays Milos Raonic and Gael Monfils. Murray plays his first match against Marin Cilic on Monday and then faces Stan Wawrinka and Kei Nishikori. "Our group has more experience, so it isn't going to be easy," Nishikori said.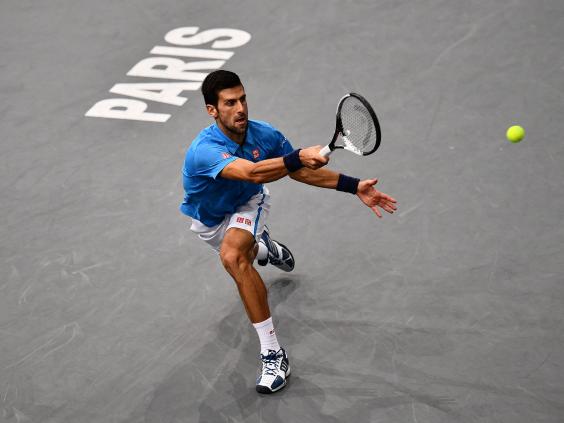 Djokovic baulked at a suggestion that he had not been "his normal self" of late. He insisted: "I think I've had a good couple of months. Maybe it hasn't been up to the standard of results that I'd had in the 12 to 15 months before that, but that's sport.
"You can't always expect to win. And of course the high standard of results and success that I've had in the last couple of years has probably taken its toll a little bit. I guess I didn't get to recover as fast after the French Open to be ready to compete at the highest level after that."
Djokovic said that Murray fully deserved to be world No 1 after his "incredible run", while Cilic paid tribute to the Scot's achievements over a longer period. "He's been unbelievable since he came on the tour," Cilic said. "He has been around the top of the rankings for the last eight or nine years. But what I have seen [in the last six months] is that he has been a little bit more motivated when it came to 'smaller' tournaments. He really wants to win every match."
Reuse content