If at first you don't succeed, try, try again. The proverb might have been written with Stanislas Wawrinka in mind after the 28-year-old Swiss lost 14 matches in succession to Novak Djokovic, but on Tuesday his perseverance was finally rewarded. Wawrinka caused the biggest upset of the men's tournament so far here at the Australian Open when he beat Djokovic 2-6, 6-4, 6-2, 3-6, 9-7, dashing the world No 2's hopes of winning the title for the fourth year in a row and ending his remarkable record of 14 consecutive appearances in Grand Slam semi-finals.
Wawrinka, who will face Tomas Berdych in the semi-finals after the Czech beat David Ferrer 6-1, 6-4, 2-6, 6-4, has long lived in the shadow of Roger Federer, his fellow Swiss, but this result brought further confirmation that he is becoming a significant figure in his own right.
Victory was achieved with a mixture of aggressive hitting and mental strength. Djokovic, who never knows when he is beaten, fought back to level a high-quality contest at two sets apiece and made the early breakthrough in the final set, but Wawrinka held firm to secure the biggest victory of his career.
"He's so tough to beat," Wawrinka said afterwards. "He's an amazing champion. He's always fighting. He's always finding a solution."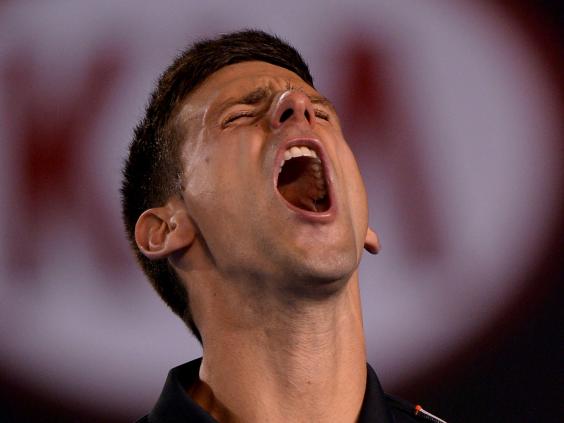 Wawrinka enjoyed the best year of his career in 2013, reaching the Barclays ATP World Tour Finals for the first time. Nevertheless, the world No 8's best performances in Grand Slam tournaments ultimately ended in disappointment.
Two five-set defeats to Djokovic were especially heart-breaking: Djokovic won arguably the match of the year when he beat Wawrinka 12-10 in the deciding set after five hours in the fourth round here last year and won another marathon in the semi-finals at the US Open after the Swiss had beaten Andy Murray in straight sets in the previous round.
Wawrinka, however, drew confidence from his progress. "I came on the court tonight with a lot of confidence in myself, knowing that if I play my best game I always have a chance against him," he said.
"It's always tough, especially against Novak. I was tired, I was cramping a bit, I was nervous too. I had to fight within myself to fight against him and try to keep my line during the game. Last year was really tough, this year it's a new year."
Djokovic had won 25 matches in succession here and 28 matches in a row in all competitions, his previous defeat having come in September at the US Open final. So much for Boris Becker, who became the Serb's head coach only last month and has become a major focus of media attention ever since.
Defeat here will be especially hard to take for Djokovic. The Australian Open was the last Grand Slam title he held and this defeat means that Rafael Nadal will open up a large gap over him when the world rankings are updated next week. Nadal is playing Grigor Dimitrov in the quarter-finals on Wednesday, with Murray's match against Federer to follow in the evening session.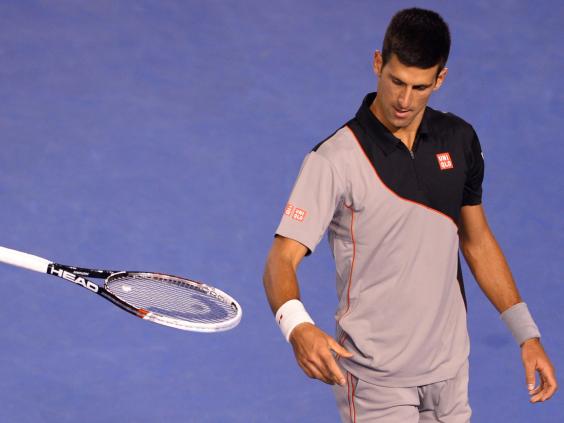 Wawrinka appeared to have taken charge of Tuesday's match when he led by two sets to one but Djokovic, celebrating his most significant  winners with raucous roars, levelled at two sets apiece and then made the first break in the decider. Wawrinka broke back, however, and as the set wore on the pressure of serving second seemed to get to Djokovic.
A short delay for rain only added to the drama, while Wawrinka started to suffer with cramp. When Djokovic served at 7-8, Wawrinka seized his chance. Djokovic's missed backhand created match point and the Serb subsequently fluffed what should have been a routine volley.
"I had the feeling that I had to stay really aggressive," Wawrinka said. "I had to push him a lot, because to be ahead in the score, it's always an advantage, especially here when it's quite fast and windy conditions.
"It was a really tough battle. I started to cramp a little bit in the middle of the fifth set, so I had to deal with that. I had to relax a little bit more. I was returning well. I had to  do more with my serve, mixing more, and stay really aggressive."
Djokovic said Wawrinka had deserved to win. "He served extremely well from the beginning to the end," he said. "Every time he was in trouble, he was coming up with big serves."
Wawrinka said it had not been easy to compete in an era dominated by four great champions in Federer, Nadal, Djokovic and Murray, but added: "Last year I took a lot of confidence from those matches with Novak. They were really close and I was playing well. We always have some great battles. I came on the court tonight with a lot of confidence in myself, knowing that if I play my best game, I always have a chance."
At last year's US Open Wawrinka went further in a Grand Slam tournament than Federer for the first time. Depending on results over the next few days, Wawrinka could become Swiss No 1 for the first time when the rankings are updated next week.
A popular and modest figure, Wawrinka nevertheless rejected the suggestion that he might now be the best Swiss bet for the title. "We all know that if Roger is playing his best tennis, he can beat everybody here," Wawrinka said. "With me, it's not the case. I have to play my best tennis. I have to hope that Novak is not in his best  form, Rafa is not in his  best form or Roger is not in his best form. It's completely different."
Australian Open 2014: The best images from Melbourne
Australian Open 2014: The best images from Melbourne
1/75 24 January 2014

Dominika Cibulkova pictured ahead of the Australian Open final

GETTY IMAGES

2/75 24 January 2014

Roger Federer talks to the press following his semi-final defeat to Nadal

GETTY IMAGES

3/75 24 January 2014

Rafael Nadal grimaces at his hand during his semi-final win over Federer

GETTY IMAGES

4/75 24 January 2014

Federer pictured during his semi-final defeat to Nadal

GETTY IMAGES

5/75 24 January 2014

Nadal pictured during his semi-final with Federer

GETTY IMAGES

6/75 24 January 2014

Rafael Nadal celebrates his victory over Federer

GETTY IMAGES

7/75 23 January 2014

Roger Federer of Switzerland trains in a practice session as his coach, Stefan Edberg watches

GETTY IMAGES

8/75 23 January 2014

Stanislas Wawrinka of Switzerland celebrates beating Tomas Berdych of the Czech Republic in their semi-final meeting

GETTY IMAGES

9/75 23 January 2014

Tomas Berdych of the Czech Republic pictured in his semi-final defeat to Stanislas Wawrinka of Switzerland

GETTY IMAGES

10/75 23 January 2014

Stanislas Wawrinka of Switzerland pictured during his victory over Tomas Berdych of the Czech Republic in their semi-final meeting

GETTY IMAGES

11/75 23 January 2014

Stanislas Wawrinka of Switzerland pictured during his victory over Tomas Berdych of the Czech Republic in their semi-final meeting

GETTY IMAGES

12/75

Winner Dominika Cibulkova of Slovakia (L) applauds as her opponent Agnieszka Radwanska of Poland (C) leaves after their women's singles semi-final match

GETTY IMAGES

13/75 23 January 2014

Dominika Cibulkova celebrates after beating Agnieszka Radwanska to progress to the Australian Open final

GETTY IMAGES

14/75 23 January 2014

Na Li of China hands a ballboy a towel in her semifinal match against Eugenie Bouchard

GETTY IMAGES

15/75 23 January 2014

Winner Li Na of China (L) shakes hands with Eugenie Bouchard of Canada after their women's singles semi-final match

GETTY IMAGES

16/75 23 January 2014

Eugenie Bouchard of Canada is silhouetted on the court during her loss to Li Na of China in their women's singles semi-final match

GETTY IMAGES

17/75 22 January 2014

Former Oasis frontman Liam Gallagher tests his tennis skills in Melbourne

GETTY IMAGES

18/75 22 January 2014

Andy Murray pictured during his defeat to Roger Federer

GETTY IMAGES

19/75 22 January 2014

Roger Federer strikes a forehand during his match against Andy Murray

GETTY IMAGES

20/75 22 January 2014

Fans of Roger Federer watch on during his quarter-final with Andy Murray

GETTY IMAGES

21/75 22 January 2014

Andy Murray shows his frustration in the quarter-final against Roger Federer

GETTY IMAGES

22/75 22 January 2014

Rafael Nadal of Spain pictured during his quarter-final match against Grigor Dimitrov

GETTY IMAGES

23/75 22 January 2014

Rafael Nadal of Spain celebrates winning his quarter-final match against Grigor Dimitrov

GETTY IMAGES

24/75 22 January 2014

Belarus's Victoria Azarenka (L) walks on court during her women's singles match against Poland's Agnieszka Radwanska

GETTY IMAGES

25/75 22 January 2014

Slovakia's Dominika Cibulkova celebrates after victory in her women's singles quarter-final against Romania's Simona Halep

GETTY IMAGES

26/75 22 January 2014

Slovakia's Dominika Cibulkova celebrates after victory in her women's singles quarter-final against Romania's Simona Halep

GETTY IMAGES

27/75 21 January 2014

Serbia's Novak Djokovic reacts during his men's singles match against Switzerland's Stanislas Wawrinka on day nine

GETTY IMAGES

28/75 21 January 2014

Novak Djokovic of Serbia gets changed in his quarter-final defeat to Stanislas Wawrinka

GETTY IMAGES

29/75 21 January 2014

Stanislas Wawrinka of Switzerland sits down during a rain delay in his quarter-final match against Novak Djokovic of Serbia

GETTY IMAGES

30/75 21 January 2014

Ana Ivanovic of Serbia speaks to the umpire during her quarter-final defeat to Eugenie Bouchard of Canada

GETTY IMAGES

31/75 21 January 2014

Eugenie Bouchard in action during her Australian Open quarter-final victory over Ana Ivanovic

GETTY IMAGES

32/75 21 January 2014

Ana Ivanovic of Serbia reacts to a point to Eugenie Bouchard of Canada during her defeat at the quarter-final stage

GETTY IMAGES

33/75 21 January 2014

Na Li of China is interview on court after winning her quarterfinal match against Flavia Pennetta

GETTY IMAGES

34/75 21 January 2014

Czech tennis star Tomas Berdych beat third seed David Ferrer to move into the Australian Open semi-finals

GETTY IMAGES

35/75 20 January 2014

Roger Federer of Switzerland plays a forehand in his fourth round win against Jo-Wilfried Tsonga

GETTY IMAGES

36/75 20 January 2014

Andy Murray celebrates his Australian Open victory over Stephane Robert

GETTY IMAGES

37/75 20 January 2014

Andy Murray gives away his racket which he broke during his victory over Stephane Robert

GETTY IMAGES

38/75 20 January 2014

Rafael Nadal progressed to the Australian Open quarter-finals with victory over Kei Nishikori

GETTY IMAGES

39/75 20 January 2014

Maria Sharapova crashed out of the Australian Open in a shock loss to Dominika Cibulkova

GETTY IMAGES

40/75 20 January 2014

Victoria Azarenka breezes past Sloane Stephens in the Australian Open fourth round

GETTY IMAGES

41/75 19 January 2014

42/75 19 January 2014

Serena Williams reacts during her defeat by Ana Ivanovic at the Australia Open on Sunday

GETTY IMAGES

43/75 18 January 2014

Comedian Jimmy Carr celebrates the victory of Andy Murray of Great Britain over Feliciano Lopez of Spain

PA

44/75 18 January 2014

Andy Murray of Great Britain signs autographs after winning his third round match against Feliciano Lopez of Spain

GETTY

45/75 18 January 2014

Andy Murray of Britain changes his shirt during a break in his match against Feliciano Lopez of Spain

EPA

46/75 17 January 2014

Officials dry the court after a rain delay stopped play during the third round match between Samantha Stosur of Australia and Ana Ivanovic of Serbia

GETTY IMAGES

47/75 17 January 2014

Novak Djokovic of Serbia serves in his third round match against Denis Istomin of Uzbekistan

GETTY IMAGES

48/75 17 January 2014

Serbia's Ana Ivanovic reacts after victory in her women's singles match against Australia's Samantha Stosur on day five of the 2014 Australian Open

GETTY IMAGES

49/75 17 January 2014

Dustin Brown of Germany in action in his first round doubles match with Gael Monfils of France against Pablo Carreno Busta of Spain and Guillermo Garcia-Lopez of Spain

GETTY IMAGES

50/75 17 January 2014

Na Li of China serves in her third round match against Lucie Safarova of the Czech Republic

GETTY IMAGES

51/75 17 January 2014

An Australian fan watches on during the third round match between Casey Dellacqua of Australia and Jie Zheng of China

GETTY IMAGES

52/75 17 January 2014

Serena Williams celebrates her third round victory over Daniela Hantuchova at the Australian Open

GETTY IMAGES

53/75 16 January 2014

Lightning strikes over Melbourne Park during a first round doubles match

GETTY IMAGES

54/75 16 January 2014

The courts at the Australian Open are so hot that you can boil an egg on the surface

Twitter/@sunriseon7

55/75 16 January 2014

Victoria Azarenka of Belarus plays a forehand in her second round victory over Barbora Zahlavova Strycova of the Czech Republic

GETTY IMAGES

56/75 16 January 2014

Maria Sharapova calls for clarity over the extreme heat ruling that saw play at the Australian Open suspended

GETTY IMAGES

57/75 16 January 2014

Sharapova celebrates her victory over Karin Knapp in the Australian Open second round

GETTY IMAGES

58/75 16 January 2014

Jamie Murray (L) suffered from heat stroke following his victory with doubles partner John Peers (R) over Matt Reid and Luke Saville at the Australian Open

GETTY IMAGES

59/75 16 January 2014

Rafael Nadal celebrates his second round victory over Thanasi Kokkinakis at the Australian Open

GETTY IMAGES

60/75 15 January 2014

Ross Hutchins (R) and Colin Fleming (L) progressed to the second round of the Australian Open on the former's return to Grand Slam action after his battle with cancer

GETTY IMAGES

61/75 15 January 2014

Serena Williams progressed to the third round of the Australian Open via a 6-1 6-2 victory over Vesna Dolonc

GETTY IMAGES

62/75 15 January 2014

Novak Djokovic celebrates his second round victory over Leonardo Mayer

GETTY IMAGES

63/75 15 January 2014

Stanislas Wawrinka, who has no connection to a betting investigation taking place in Melbourne, walks out onto court at the Australian Open

GETTY IMAGES

64/75 14 January 2014

A ballboy faints in the heat, as Melbourne heads towards 43 degrees celsius during day two of the 2014 Australian Open

GETTY IMAGES

65/75 14 January 2014

Spain's Rafael Nadal (L) comforts Australia's Bernard Tomic after his retirement from their men's singles match on day two

GETTY IMAGES

66/75 14 January 2014

Andy Murray celebrates his straight-sets victory over Go Soeda in the first round of the Australian Open

GETTY IMAGES

67/75 14 January 2014

Roger Federer eases into the second round of the Australian Open via a 6-4 6-4 6-2 victory over Australian wildcard James Duckworth

GETTY IMAGES

68/75 14 January 2014

Defending Australian Open champion Victoria Azarenka comes through in straight-sets against Johanna Larsson to move into the second round

GETTY IMAGES

69/75 13 January 2014

Laura Robson of Great Britain leaves the court after losing her first round match against Kirsten Flipkens of Belgium

GETTY IMAGES

70/75 13 January 2014

A general view of Showcourt 2 during the first round match between Daniela Hantuchova of Slovakia and Heather Watson

GETTY IMAGES

71/75

Heather Watson of Great Britain wipes her face in her first round defeat against Daniela Hantuchova of Slovakia

GETTY IMAGES

72/75 13 January 2014

Novak Djokovic celebrates a point in his first round victory against Lukas Lacko of Slovakia

GETTY IMAGES

73/75 13 January 2014

Stefan Edberg was the centre of attention on Monday at the Australian Open as he returned to court in a coaching role with Roger Federer

GETTY IMAGES

74/75 12 January 2014

Andy Murray takes a much-needed drinks break during training at Melbourne Park

Getty

75/75 11 January 2014

Defending champion Novak Djokovic shows off his trophy before the tournament gets underway
Reuse content