You would have thought that Eugenie Bouchard would be happy to look back on her achievements last year. The 20-year-old Canadian began 2014 ranked No 32 in the world, but by October had become the first player from her country – male or female – to reach the game's top five. She won her maiden title on the women's tour and crowned a superb Grand Slam season by becoming the first Canadian of either sex to play in a Wimbledon singles final. With her good looks and dynamic game, she ended the campaign as one of the hottest properties in women's tennis.
However, as Bouchard took a break from her first tournament of the new season, the last thing she wanted to do was to dwell on last year. "I don't want even to think or talk about it," she said last week. "For me everyone talks about my great year in 2014. The way I look at it I lost every week except for one [when she won the title in Nuremberg]. I'm so not satisfied and I hate losing so much that while I know I had a good year and I'm proud of what I did, I know I can do better."
Bouchard was talking in a quiet area beneath the stands at the Perth Arena, where she played in the Hopman Cup. Wearing a T-shirt and shorts and looking as chilled as a Canadian beer straight out of the fridge, she did not give the impression of someone daunted by the prospect of living up to the formidable reputation she has quickly established. This week she is practising here in preparation for Monday's start of the Australian Open, where a run to the semi-finals marked  her big breakthrough 12 months ago.
Bouchard will have significant ranking points to defend, but she insisted: "Everyone talks to me about defending, defending, defending and I think that's so much the wrong mentality to have. Whether I actually defend points the week I made them last year or the week before or the week after, it doesn't matter. You get a total number of points at the end of the year and as far as I'm concerned you start at zero again the following year. I've got many other things to worry about on the court and with my game, so that's the last thing on my mind."
She added: "Of course I know I'm in a different position this year. Last year I was more hunting and now I'm more like the hunted. I probably have a bit more of a target on my back. But I see that as motivating. As they say, it's hard to get there but even harder to stay there. So that's my challenge."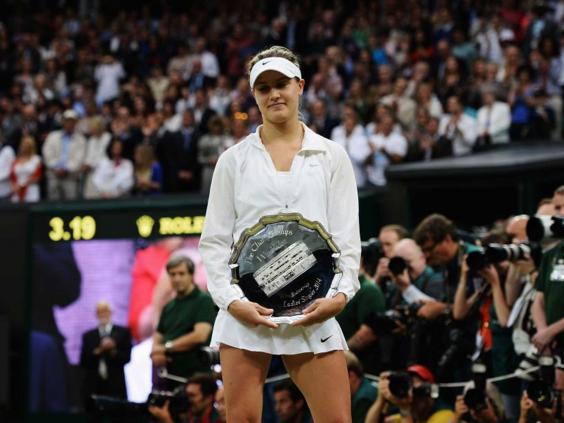 Few players are as resolutely ambitious as  Bouchard. Despite enjoying an outstanding 2014, at the end of it she sacked her coach of the previous eight years,  Nick Saviano, and signed up with a new management company. For the moment she is being coached by Diego Ayala, who worked with her in her junior days.
Having had such a great year in 2014, why did she change things? "I guess I can see how people might see it as a surprise, but sometimes when someone helps you, you feel like you might have got everything you can out of them. You just want to look for a new voice. I'd been with Nick since I was 12 and I just felt it was time for a change.
"I know that moving on to the next level will be really tough. I want someone who is maybe experienced in that area and can help me achieve my ultimate goal of winning a Grand Slam.
"The change may be a bit scary, but even in my short life I've noticed that change is a good thing. I think it will be good for me. Maybe there will be some bumps along the road, but I think it will be for the better."
The trend in the men's game has been for players to be coached by former greats, like Ivan Lendl, Boris Becker and Stefan Edberg. Now women players are starting to do the same. Martina Navratilova is coaching Agnieszka Radwanska, while Lindsay Davenport is helping Madison Keys.
Might Bouchard take a similar route? "I think having former players as your coach is a very interesting approach," she said. "I definitely want someone who has been there, winning Grand Slams, whether on the court or beside it, or getting to No 1. It's so hard to get to that level that it would be good to get someone with that experience. Not many people have it."
News that Bouchard was also looking for new management sparked a flurry of interest before she eventually signed with WME/IMG. You can see why she is in such demand. Not only does the youngest player in the world's top 20 have Hollywood-style looks, but she also brims with self-confidence and appears totally at ease under the spotlight. She is huge in Canada, where she is the face of Coca-Cola, and has rapidly become known around the world.
Her handling of the media at Wimbledon last summer was a master class as she talked about her family's affection for British royalty – she was named after Princess Eugenie – and playfully batted away questions about her soft spot for Justin Bieber.
"I think I'm getting more used to the media attention, though I don't know if you can ever be used to being in a restaurant and seeing your face on TV or having people come up to you just randomly to ask for pictures away from a tennis environment," she said. "But I always knew it would be part of a life in tennis. When I was younger I would watch players being interviewed or at press conferences. I was totally fine with accepting that.
"I'm actually flattered by it. It must mean I'm doing something good on the court if there are requests to speak to me off it or if there's interest in me. I really try to see it in a positive light. I think it's good for me and it's good for everyone in the sport. I just try to embrace it. There are worse things in life than people  asking you for an interview."
While Bouchard always wants to keep in touch with her supporters – and not just the Genie Army who follow her around the world – through social media, she tries not to read anything about herself during tournaments.
"I think it's a bit off-putting for me if I've just played a match and then I read how one journalist thinks I played and how I should play the next day," she said. "I really try not to read anything and stay in my bubble. I think I did it well during Wimbledon. We had a house there. We just went back to it and relaxed. I would just watch other tennis matches on television because I love watching them. I'm a tennis fan."
Appearing in last year's Wimbledon final is the highlight of Bouchard's career so far, even if she was swept away by an awesome display from Petra Kvitova.
"I was more nervous for the final than for any of the other matches, but I think that's normal," Bouchard said. "You need nerves to get going. But once I got on the court I really tried to block it out. I tried my best. It doesn't always go your way. And my opponent played great. It was such an experience. They were amazing moments. I felt like I was just walking in my dream because I've dreamed about that."
She added: "I remember walking on to Centre Court, holding the flowers while a ball girl was holding my bag. It was all a little bit different. Before the final a lady came to talk to us to tell us how it would go. That's when I realised: 'Wow, this is a big deal.' Just walking out on to Centre was such a special feeling. Even though I lost, I still have great memories from  it. I just hope to get that  feeling again."
When Bouchard returned home to Montreal the day after the Wimbledon final she was stunned to find up to 1,000 fans waiting for her at the airport. Her reaction was typical.
"People were cheering, but I felt like I didn't deserve it because I had lost," she said. "I didn't bring home the champion's trophy. Everyone else said: 'Look you've had a good two weeks.' But I was like: 'I don't deserve this yet, guys. Wait till I come back with the real one'."
Reuse content