Dr Anita Biswas, one of the country's top sports doctors, is refreshingly devoid of the usual squeamishness which accompanies discussions of menstruation.
"In sport we talk about it," she says. "It's something we know can impact on someone's ability to perform at their best. It wouldn't make sense to address everything else – getting an athlete stronger, faster, eating the right things, thinking the right way – and not look at menstruation. It's part of the whole package."
In the changing rooms and on the training grounds of elite sport, Biswas is not alone in her matter-of-fact approach.
But for a significant number of athletes, both aspiring and established, periods and their impact on performance remain, as the former British tennis No 1 Annabel Croft said, sport's "last taboo".
Croft was speaking after the country's women's No 1, Heather Watson, crashed out of the Australian Open in the first round. During the match she had needed attention from a doctor and said afterwards she had felt light-headed and low on energy.
Asked by a reporter whether a busy playing schedule last week had affected her condition she said: "I don't think so. The last couple of days I felt fine. I think it's just one of these things that I have, girl things. It just happens."
Perhaps illustrating Croft's point, not much more was said, but the meaning was taken. Speaking to BBC Radio 5 Live later, Croft said that Watson had been "pretty brave" even to allude to the topic.
"Women's monthly issues seem to be one of those issues that are swept under the  carpet and are big secrets," she said.
Biswas, who has 20 years' experience in sports medicine and has worked with Olympic rowing and cycling teams, as well as being chief medical officer for the British Sailing Team, said that, to a great extent, this is society's taboo, not sport's.
"In the elite environment, it is talked about, it's just not advertised particularly," she said. "Partly because half of the population don't understand because they don't go through it. Those sort of discussions around girls and menstruation aren't happening very publicly. It's not just around athletes, but generally."
For some time the evidence around the impact of menstruation on sporting performance was sketchy, but it is now generally accepted that for some women – but by no means all – it can have an impact.
The premenstrual stage of the cycle can be accompanied by abdominal pain, headaches and fatigue – all of which could affect sporting performance. The mood changes associated can also affect energy levels and motivation. Some studies have suggested that reaction times could be slower for some women in this stage and during the period itself, while others have indicated that muscles and ligaments are more vulnerable to injury halfway through the menstrual cycle, when oestrogen levels drop.
There is also the inconvenience of the bleeding itself – a particular worry for sports in which regulation kit can make this more obvious.
While it might be taboo for some, for top athletes it is widely discussed, and is sometimes meticulously managed by planning their sporting calendar or using contraceptive pills to avoid periods at the most inconvenient times.
"Some women suffer very badly and others don't," said Dr Roger Wolman, consultant in sports exercise at the Royal National Orthopaedic Hospital. "But the ones that do need be aware of it and to map out their competition season, so that they can manipulate their menstrual cycle and know they are not going to be most symptomatic at the time of a major competition. That could be making use of oral contraceptives or other hormonal implants, which regulate the period."
Of course, not all athletes will want to do this.
"If an athlete finds that having a period is really inconvenient during competition – swimming for example, might be particularly inconvenient – they may use the oral contraceptive pill to control when that period occurs," said Biswas. "But I've never heard of a coach insisting on it."
Diet could also be a factor and athletes that suffer from premenstrual syndrome are also advised eat less salt, sugar, red meat, coffee, tea, and to increase their fish, poultry, vegetable and fibre intake.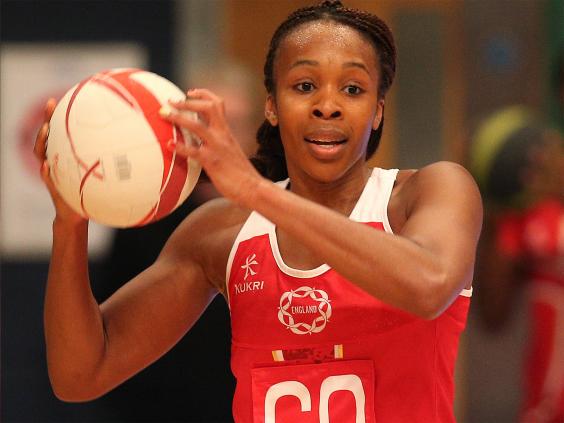 "It affects people differently. Everyone deals with it in their own individual way," said Pamela Cookey, England's netball captain. "Some people have bad ones and have to take medication but we've never had an incident where it's really had an impact on performance levels – or at least it's never been attributed to that.
"We've been told that at different times of the month you're more susceptible to injury depending on where you are in your cycle, but it doesn't affect our training regime. Maybe it should, but it's not something that's formed part of the decisions of our training programme – we're a squad of several girls, you couldn't fit it in to every individual's cycle."
The Women's Sport and Fitness Foundation and Sports Coach UK both recognise menstruation as something "often overlooked by coaches for a variety of reasons".
In national guidance for the country's coaches they cite "embarrassment" and "fear of causing offence" as reasons for this.
Ruth Holdaway, chief executive of the national body Women in Sport said that a woman's biochemistry could have "a clear, and sometimes decisive impact on female athletes' performance".
"Research conducted in 2010 by Women in Sport and Sports Coach UK highlighted that in some circumstances, reduction in aerobic capacity and strength have been exhibited," she said. "It is important that sport understands and is sensitive to the potential impacts of the menstrual cycle for female athletes. This is not an issue that should be taboo for sport and is undoubtedly a subject which would benefit from greater understanding and openness."
Reuse content