The new year has only just begun but Roger Federer is already looking forward to his end-of-season break. Although the Australian Open starts in Melbourne on Monday, the opening Grand Slam tournament of 2015 feels like the end of a season for the world No 2 rather than the beginning of a new one.
"The off-season didn't seem like an off-season, to be quite honest," Federer said as he looked back over his busy time at the end of last year. "I only had eight days off. Then I went back into practice. I went to India for two days [to play in the International Premier Tennis League]. I went to practise with Thanasi [Kokkinakis] in Dubai and I went back to Switzerland to play a charity match with Stan [Wawrinka] for my foundation.
"I had Christmas at home and then I went back to Dubai and practised with [David] Goffin and then came to Australia. It was a bit of everything – a bit of [exhibition play], a bit of practice, a bit of relaxation – and then straight into Brisbane. So my year-end will come after the Australian Open. I can't wait for it to come around."
Although Federer will take a short break after his Australian Open is over – he has a three-week gap before he reappears at the Dubai Championships – it would be wrong to think he is slowing down. The 33-year-old Swiss played and won more matches than anyone else on the men's tour last year and has already given himself a punishing schedule at the start of the new campaign.
Less than 18 hours after winning the Brisbane International, where his victory in last Sunday's final was the 1,000th match win of his career, Federer was dashing around Sydney Harbour in a speedboat in a promotion for the "Fast4 Tennis" exhibition he played later that evening.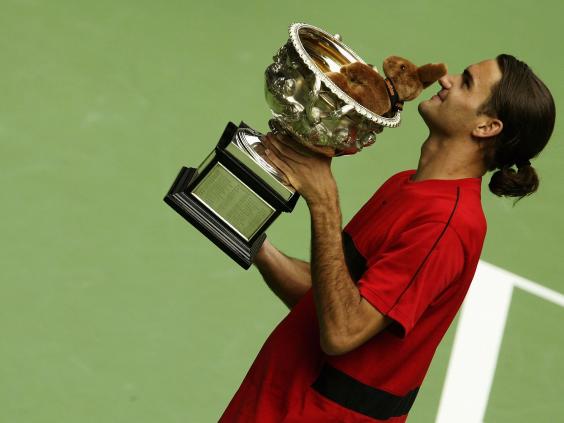 Even at the end of another demanding day, Federer looked fresh and at ease as he wound down in a hospitality room at Sydney's Qantas Credit Union Arena. Nevertheless, in looking ahead to his Australian Open preparations he admitted that he needed "to relax a little bit" and would "for sure take a couple of days off". He added: "It's really important to recover now rather than practise, because the game's there."
By Thursday, however, Federer was back on court practising for his 16th consecutive appearance at the Australian Open. Today he was also due to be the headline act at "Kids Tennis Day" at Melbourne Park, where he was featuring in an exhibition mixed doubles match with Ana Ivanovic, Eugenie Bouchard and Nick Kyrgios.
Federer has enjoyed more consistent success here than at any other Grand Slam tournament, having reached the semi-finals or better on his last 11 visits. "Usually I've played great at the Australian Open," he said. "I've usually felt pretty good and confident going in because I often had good finishes to the previous season.
"Last year was different because I had come off a tough 2013. I had a new racket, Stefan Edberg had joined the team and [I had had problems with my] back. In the end I played much better than I thought I would be able to. So I feel better going into the tournament this year, though that doesn't mean a thing. For all the guys [everything] starts from scratch."
Federer is pleased to be going into the tournament with his 1,000th victory behind him, as there had been much talk about the approaching milestone. He is only the third player to have recorded 1,000 match wins at tour level after Jimmy Connors (1,253) and Ivan Lendl (1,071).
He described 1,000 as "a crazy number". He still has clear memories of win No 1, which came in Toulouse in September 1998 against France's Guillaume Raoux, who, as the world No 45, was ranked 843 places above his 17-year-old opponent. It was Federer's second tournament on the main tour and followed his first-round defeat to Argentina's Lucas Arnold Ker on his debut in Gstaad two months earlier.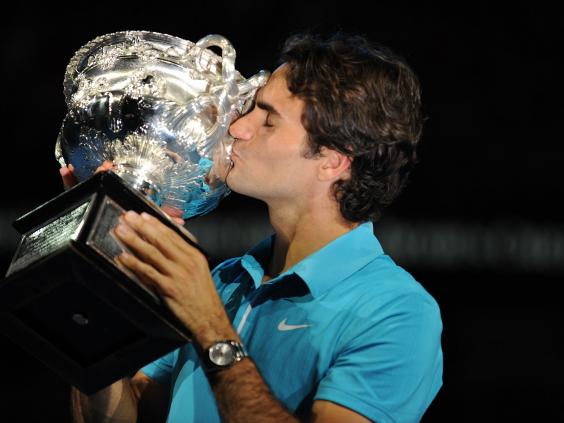 "I remember it quite vividly," Federer said. "I qualified in Toulouse in 1998 and played Guillaume Raoux in the first round. He had come from playing in the Davis Cup in Israel. I remember he was totally tired. I had played great in qualifying and I beat him 6-2, 6-2. He looked so tired and I totally took advantage of it.
"I played my second match against Richard Fromberg. I also had chances against [Jan] Siemerink in the quarters. So that was a breakthrough tournament for me after I'd played at Gstaad earlier in the year.
"Then a little later I played [Andre] Agassi in Basel, my hometown. It was a very interesting period of my career because I was bouncing around between juniors and professionals.
"I played the US Open final in the juniors in that spell. I lost to [David] Nalbandian. So I remember [the first win] very clearly. It was a great match. I certainly wouldn't have guessed that it would be the first of 1,000 wins."
Was overtaking Connors and Lendl now a target? "It was never a goal of mine to reach 1,000 wins," Federer said. "It feels very special now and the last thing I'm going to do is think of those guys, what they did, and having to match them or pass them. It's totally beside the point. They did great things, they were unbelievable players, they had incredible longevity and those are inspiring numbers, no doubt about it. But it's not a goal of mine."
Did one victory stand out against the other 999? "Maybe my first Wimbledon final. Beating Mark Philippoussis in 2003 at Wimbledon was clearly so magical in so many ways. The disbelief of actually being Wimbledon champion was at the same time a very cool and a great feeling, as well a big relief. There had been a lot of pressure. I handled it well and played a great final."
As for the future, Federer expects the Big Four – himself, Novak Djokovic, Rafael Nadal and Andy Murray – to remain a force this year, despite the breakthroughs made by the likes of Marin Cilic, Kei Nishikori and Milos Raonic in 2014.
"It's not because we didn't play well that we maybe dropped a bit," Federer said on behalf of the old guard. "We have had some injuries. Rafa had his issues, Murray had surgery on his back, I had a tough year in 2013.
"The only guy who was really consistent was Novak at the end of the day and he took care of it and took advantage of it to some extent. He was still there when it mattered the most. But Rafa was still there again on clay, I was consistent last year and I think Murray is on his way back. It's still a bit early to say. We'll see again what's going to happen this year."
Reuse content