Andy Murray remembers what it was like to be a young man making his way on the tour. He remembers those players who went out of their way to make him welcome and those who tried to give him a hard time.
Today, as an established player, the Scot is one of the good guys. Two players who have benefited from his support and advice will meet in the second round of the French Open here, with a match against the world No 3 himself the likely prize.
If Murray beats Portugal's Joao Sousa, who has not won a set in their previous five meetings, he will then face the winner of the encounter between Britain's Kyle Edmund and Australia's Nick Kyrgios.
Murray was in the stands supporting Edmund in the 20-year-old's final qualifying match and his first-round victory over France's Stéphane Robert, who was impressed by both his opponent and his famous supporter.
"The Brits are right in supporting their players," Robert said. "They don't have that many players so they have to encourage them. If he's got the support from the country's No 1, of course he's going to be happy. 
"[Edmund] is so strong mentally. He's very solid. I think he is one of the future hopes of tennis."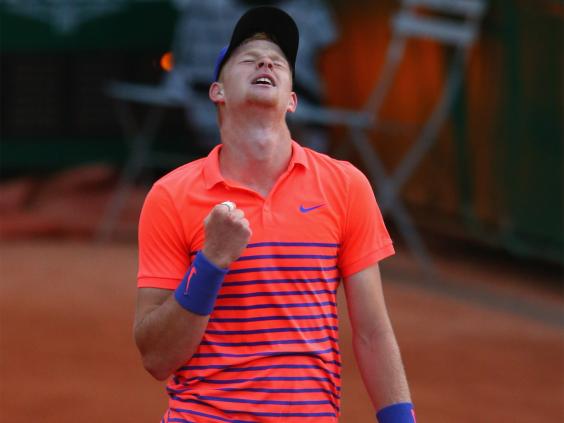 Murray has twice invited Edmund to join him at his pre-season training camp in Miami. He has also spent time practising with Kyrgios and Thanasi Kokkinakis, two exciting young Australians. "A lot of the [younger players] are really nice guys with fun personalities," Murray said. "I think it's good to try to help them if you can or to practise with them. I enjoy it."
The Scot recalled how Jonas Bjorkman, who is now part of his coaching team, and Tim Henman had gone out of their way to make him welcome in his early days on the tour. However, others were less kind.
"There were a few guys who would maybe swear at you when you were passing – not in the locker room, but on the court," Murray said. "Some of them were just not very nice to you. In the locker room, they would laugh at you or make jokes about you. If someone did it to me now, you are fine to say something back. But when you are first on the tour, you don't take it that well, because you look up to these guys.
"But there were also a lot of guys who were extremely nice. Jonas was actually one of them. I remember that well. Tim is obviously someone who was great with me when I first came on the tour. He used to take me out to dinner and practise with me and spend time with me at the courts. If I was having lunch, he would always come over. It just helps.
"I think when other players see that someone like Tim, who is very well respected on tour, likes spending time with you, then they become a little bit more open to chatting with you."
Murray added: "Now I would rather try to be one of the guys that the young guys look up to and say, 'Yeah, he was nice to me when I was coming up'."
Reuse content