In all the talk of Novak Djokovic's pursuit of the missing jewel in his Grand Slam crown and of Rafael Nadal's attempt to win his 10th Roland Garros title, we had forgotten Stan the Man. Stan Wawrinka, who last year became only the second player since 2005 to break the stranglehold of the "Big Four" on the sport's four major prizes, was barely mentioned as a contender in the build-up to this French Open, but the 30-year-old Swiss claimed his second Grand Slam title here last night with a stunning display of attacking tennis.
Djokovic had been a hot favourite to lift the Coupe des Mousquetaires for the first time after beating Nadal and Andy Murray in his previous two matches, but was floored by a barrage of blows from Wawrinka, who won a memorable final 4-6, 6-4, 6-3, 6-4.
Wawrinka described it afterwards as "the match of my life", while Djokovic refused to blame his defeat on the after-effects of his momentous victories in the quarter-finals and semi-finals. The world  No 1 said Wawrinka had been the better player and had played "some courageous tennis".
It is arguable whether anyone hits the ball as hard as the new world No 4, whose majestic single-handed backhand is one of the great shots of modern tennis. Twelve months after he lost here in the first round, the 2014 Australian Open champion's relentless aggression eventually ground Djokovic into the red dust of Court Philippe Chatrier.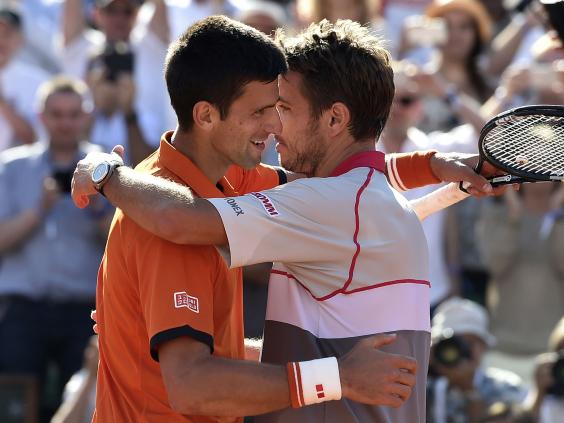 Until recently such a scenario would have seemed impossible. Wawrinka had been struggling on the court and his home life was in  turmoil after a very public parting from his wife around the time of the Monte Carlo Masters in April. Even on the eve of Roland Garros he was berating the tournament website for publishing an article about his private life.
"I'm still surprised that in two months I can win the French Open, because I wasn't in good shape after Monaco," Wawrinka said. "It was a tough, tough moment for me. To say that I have won the French Open now is completely crazy."
Wawrinka, who draped a pair of his gaudy tablecloth-style shorts – which will be given pride of place in the Roland Garros museum – in front of the press conference microphone, added: "I'm not as strong as the Big Four. They are winning everything. I'm strong enough to win some big titles, but I don't find the way to play my best game at every tournament."
Djokovic had been looking to become the eighth man in history to win a "career Grand Slam" of the sport's four major titles, but this was his third defeat in the final here in the last four years following his losses to Nadal in 2012 and 2014. It ended his 28-match unbeaten run and was his first defeat since October at Masters Series level or higher.
The Serb had won 16 of his previous 17 matches against Wawrinka, but the record was deceptive. Their last four Grand Slam encounters had all gone to five sets and Wawrinka had beaten Djokovic en route to his Australian Open title.
Nevertheless, on a gloriously sunny Parisian afternoon there was little hint of the drama to come when Djokovic took the first set with something to spare. Wawrinka saved break points in the first and fifth games, but at 3-3 he gifted Djokovic a break with three uncharacteristic backhand errors followed by a double fault.
Wawrinka, however, began to make inroads into Djokovic's service games and from the start of the second set the momentum tilted towards the Swiss, who was stepping into the court and hitting some huge shots. Djokovic saved break points in three successive service games and finally cracked in the next one when he put a backhand long on Wawrinka's first set point. The Serb smashed his racket on the ground in frustration, for which he was given a code violation.
Djokovic saved three break points in the second game of the third set but by now Wawrinka was flying. In the sixth game he broke to love with stunning forehand and backhand down-the-line winners followed by a successful pursuit of a drop shot.
Wawrinka served out for the third set, but Djokovic proved his own fighting spirit by going 3-0 up at the start of the fourth. Wawrinka, however, was not to be denied and broke back when Djokovic netted a forehand at the end of a gruelling 30-shot rally. The Serb looked up towards his entourage with despair written all over his face.
At 3-3 Djokovic saved two break points, the second of them with a superb volley off Wawrinka's thunderbolt backhand passing shot. In the following game it was Wawrinka's turn to cling on as he held serve from 0-40 down. At 4-4 he made his final breakthrough. Djokovic saved one break point with a bold serve-and-volley attack but on the second Wawrinka hit a winning backhand pass down the line.
When Wawrinka served at  5-4 Djokovic saved a match point with another brave rush to the net and created a break point of his own with a sensational backhand half-volley. Three points later, however, Wawrinka secured victory  by cracking yet another backhand winner down the line. It was his 60th winner of the match, double Djokovic's total.
At the presentation ceremony a prolonged ovation for Djokovic from the crowd took the Serb to the brink of tears. Djokovic talked of the "great respect" he had for Wawrinka, who in turn told his friend: "I'm sure one day you will win Roland Garros. You deserve it."
Reuse content