Ernests Gulbis, who will face Roger Federer here at the French Open on Sunday in his first appearance in the fourth round of a Grand Slam event for six years, insists he is a changed man. However, ruffling feathers still appears to come naturally to the Latvian maverick.
Asked on Friday about his two younger sisters, Gulbis said: "Hopefully they will not pursue professional tennis careers. Hopefully. Because for a woman, it's tough. I wouldn't like my sisters to become professional tennis players.
"A woman needs to enjoy life a little bit more, needs to think about family, needs to think about kids." His comments, predictably enough, produced a storm on Twitter, though you can never be sure how serious Gulbis is being. A character in the mould of his friend, Marat Safin, he was the centre of attention here 12 months ago after accusing the top players of being boring in their media interviews. 
He won the Nice Open last week, is currently at his highest position in the world rankings and should fancy his chances against Federer, having beaten the Swiss on clay in Rome four years ago.
"Basically I'm jumping on the last train," Gulbis said after his 6-3, 6-2, 7-5 victory over Radek Stepanek. "I'm 25, so I think this was my last  opportunity to be really successful."
Gulbis said he used to make "a lot of bad decisions career-wise". He explained: "I used to do three months of consistent work, but then something happened or I got sick or went to Latvia and took 10 stupid days off, doing nothing."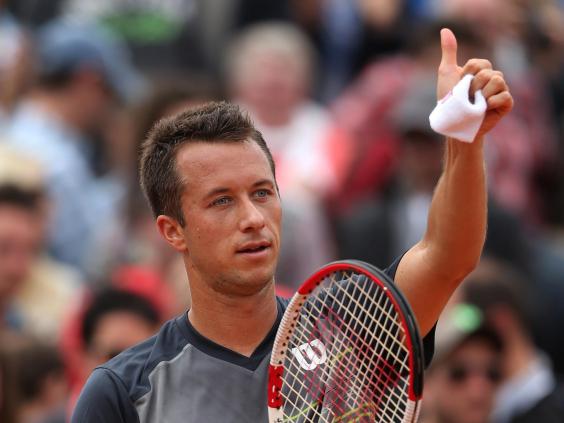 Recalling how Novak Djokovic had been the more diligent worker when they trained together as teenagers in Germany, Gulbis laughed: "How can I push myself to practise when I had so many different opportunities? I had my PlayStation. I had my TV. It was just a part of my character. I was never about hard work at that age."
Andy Murray's third-round meeting with Philipp Kohlschreiber on Saturday is a reminder of one of his less auspicious days on court.
The world No 8's only previous meeting with Kohlschreiber was at the 2010 Monte Carlo Masters, where the German won 6-2, 6-1. Murray was jeered off the court by spectators after a performance which he admitted was "just rubbish". It was Kohlschreiber's last victory over a top 10 opponent. In 13 years as a professional the 30-year-old German has won only five tournaments. His triumph in Dusseldorf last week was his first for two years. Nevertheless, the world No 24 has had his moments, including beating Djokovic in the third round here five years ago.
Three of Kohlschreiber's five titles have been won on clay, a surface on which Murray has never even reached a final. The German said clay would be the surface on which he would choose to face Murray but said the Scot would start as favourite. "If he's fit and mentally strong, he's unbelievably tough to play."
Reuse content