Heather Watson, the British No 1, enjoyed one of the best wins of her career when she edged a gruelling three-set encounter with the world No 12 Dominika Cibulkova to advance to the third round of the Rogers Cup in Montreal.
Watson, who lost in straight sets to the Slovakian at the Australian Open earlier this year, bridged a 45-place gap in the singles rankings to win 6-2, 6-7, 7-6.
Watson flew out of the blocks in the opening set, with Cibulkova never even getting close to making inroads on her serve. After that she tightened things up and the pair were virtually inseparable as they went toe-to-toe in the final two sets.
However, the 10th seed fell just short in the winner-takes-all final tie-break as Watson set up a third-round match with Victoria Azarenka.
Andy Murray, meanwhile, has spent more than a month away from competition but it was clear on his return that he has been working on his game with all his usual dedication.
Playing his first match since his quarter-final defeat by Grigor Dimitrov at Wimbledon, Murray swept aside Nick Kyrgios, beating the Australian 6-2, 6-2 to reach the third round of the Toronto Masters.
Kyrgios produced one of the shocks of the year when he beat Rafael Nadal at the All England Club, but he never looked like troubling Murray. The 27-year-old Scot, who is aiming to win this title for a third time, quickly settled into a rhythm and completed his victory in 54 minutes. He next meets France's Richard Gasquet, who beat Ivo Karlovic 5-7, 7-6, 6-3.
Everything about Murray's game looked in good order, with his serve particularly impressive. He lost only one point on his first serve in the whole match and did not have to defend any break points. Moving freely around the court and playing with his customary variety, he had Kyrgios in trouble from the start.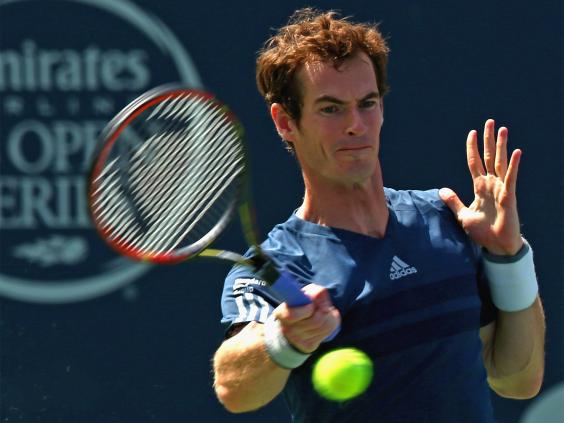 Murray never looked back after making an early break in the first set. Kyrgios started the second set reasonably well, but from 2-1 up the teenager lost five games in a row, Murray completing victory with his seventh ace.
Amélie Mauresmo, Murray's coach, looked on approvingly and after the match the Scot gave an indication of the way his game might develop under her. "I tried to play with a lot of variety, which has always been my game really," he said. "I've maybe got away from that a little bit at some points over the last year or so. But that's when I play my best tennis and it worked today."
Murray, whose return this year following back surgery has been steady if unspectacular, said that he had benefited from some hard physical work at his recent training camp in Miami.
"I've worked extremely hard physically – by far the hardest I've worked since my surgery and the hardest I've worked in the last couple of years," he said. "My legs are strong and I'm moving well around the court. That's a big positive for me.
"The last couple of months, at Wimbledon and the French Open, my back felt very good, the best it had this year, so it was time after Wimbledon to get back training to how I was before the surgery and get in tip-top shape so that you can last in all of the long rallies and you don't have to pull the trigger too soon in rallies.
"It makes a big difference to me mentally. When I feel strong physically I feel strong in the head too."