Another of the phrases beginning with the words "not since Jo Durie" has been erased from the record books. Durie had been the last British woman to occupy a place in the world's top 10 (in September 1984), but Johanna Konta, continuing her stunning progress of the last 18 months, has joined the elite thanks to her results at last week's China Open, where she reached the final before losing to Agnieszka Radwanska.
The 25-year-old Briton's run has also taken her into one of the qualifying positions for the prestigious and lucrative end-of-year WTA Finals in Singapore, which start in 13 days' time, though she could yet be dislodged as the regular season comes to a close with the final tournaments this week and next.
Konta, who plays in Hong Kong this week, has made the most remarkable rise through the rankings of any of the world's current top 20. In April last year she was ranked No 146 in the world, but after 18 months in which she has reached the semi-finals of the Australian Open, twice made the fourth round of the US Open, won her first title on the main tour and claimed a succession of big-name scalps, she is up five places to No 9 in the WTA's latest updated list.
"It's obviously something that's really humbling and really nice to hear," Konta said when told she had made the top 10.
Konta said the China Open, where she played in the final of a Premier mandatory tournament – the most important on the regular tour – for the first time, was an event she would "definitely remember for a very, very long time".
She added: "I kept improving every match that I played. I really tried to build on the previous one constantly. I will have a lot of things that I can build on and improve on."
Konta's victories in Beijing over Karolina Pliskova and Madison Keys were her sixth and seventh over top 10 opponents this year. "That's obviously a wonderful stat to see against top 10 players, but I think it's more my application against every player I play," she said.
"I think that's what's been able to give me the consistency that I've had and what I continue to work towards to be able to have a long and healthy career. I don't necessarily separate top-10 wins from my other wins."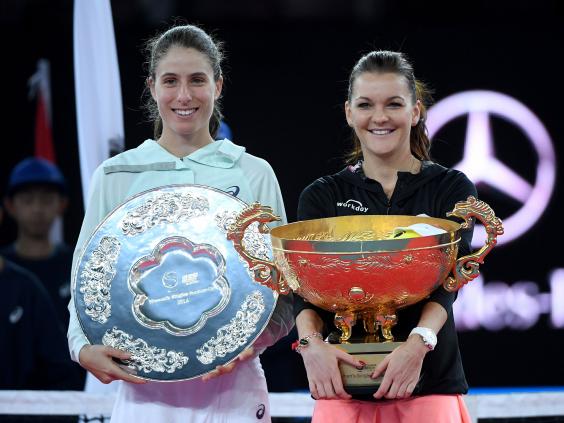 Durie reached a career-high position of No 5 in the world rankings, which were established 41 years ago. The only other Britons who have made the top 10 are Virginia Wade, who reached No 2, and Sue Barker, who made No 3.
Konta said she had not spoken to Durie about her achievement. "I look forward to the opportunity when I will get it," she said. "I know I've achieved something good whenever I'm mentioned in the same sentence as her."
Now Konta has the chance to cement her place at the WTA Finals, where the field comprises the eight players who have earned the most ranking points in the calendar year. The Briton currently fills the last spot but still has work to do to secure it, with Dominika Cibulkova just 10 points behind her. Carla Suarez Navarro and Svetlana Kuznetsova could also catch Konta, though both would need to make up considerable ground in the next two weeks.
Konta, who meets her fellow Briton Naomi Broady in the first round in Hong Kong on Tuesday and could play Heather Watson or Caroline Wozniacki in the quarter-finals, is not entered into any tournaments next week.
Cibulkova and Suarez Navarro are both playing in Linz in Austria this week and in Moscow next week, while Kuznetsova has entered only Tianjin this week. Keys, who is just 72 points ahead of Konta, is playing only in Linz this week. However, any of those players who have not entered any tournaments next week could yet seek wild cards.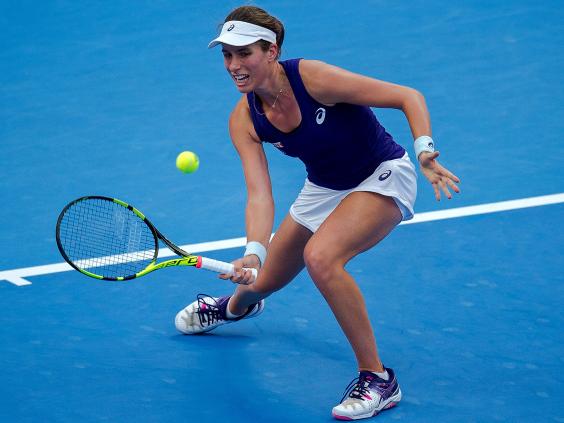 The same number of ranking points, with 280 awarded to the winner, is available at Hong Kong, Tianjin, Linz and next week's event in Luxembourg, but substantially more will be on offer in Moscow, where the champion will earn 470 points.
Whatever happens in the next fortnight it seems certain that Konta will go to Singapore. It remains to be seen whether Serena Williams will take up her place – the world No 2 has not played since the US Open and has had injury issues – and two alternates go to the tournament anyway in case of late withdrawals.
Konta has always insisted that she has not thought about Singapore but admitted that it would be a great achievement if she made the elite field. "It would be incredible, but even if I didn't make it I still feel pretty proud of my year," she said.
As for her chances of qualifying, Konta said: "Not all of it's under my control. It also depends on how the other players do. From what I'm understanding and hearing, quite a lot of us are very close together. I think it will be what it will be once the deadline comes."
ROAD TO SINGAPORE LEADERBOARD:
The field for the WTA Finals comprises the eight players who have won the most ranking points in 2016
1 Angelique Kerber (Germany) 7995 pts
2 Serena Williams (US) 7050 pts
3 Agnieszka Radwanska (Poland) 4975 pts
4 Simona Halep (Romania) 4728 pts
5 Karolina Pliskova (Czech Republic) 4100 pts
6 Garbine Muguruza (Spain) 3677 pts
7 Madison Keys (US) 3527 pts
8 Johanna Konta (GB) 3455 pts
9 Dominika Cibulkova (Slovakia) 3445 pts
10 Carla Suarez Navarro (Spain) 3061 pts
11 Svetlana Kuznetsova (Russia) 3000 pts
12 Petra Kvitova (Czech Republic) 2715 pts
Reuse content