Johanna Konta is hoping to appoint a new coach before the end of the year after parting company with the Spaniard who guided her into the world's top 10. In one of the most surprising coaching developments of the current off-season, Konta has split with Esteban Carril less than two months after becoming the first British woman to break into the world's top 10 for 32 years.
Konta began her pre-season training programme at the National Tennis Centre in Roehampton this week and will be working with a number of different coaches with a view to recruiting one of them before she heads for China just after Christmas for her first tournament of the new season.
The 25-year-old Briton confirmed her split with Carril in a statement but did not go into the reasons for it. "After two and a half successful years working together we have mutually agreed to explore new options," Konta said. "I'm looking into these with my team and once things are confirmed we will share the new set-up."
Juan Coto, a Spanish "mind coach" based in London, had also become an important member of Konta's team but the player was shocked to learn last month of his sudden and unexpected death. A friend of Carril's, Coto had worked with Konta when she was in the country and also talked to her on the phone when she was away at tournaments.
Whoever heads her coaching team will have a hard act to follow given the progress Konta made after appointing Carril as her coach in the summer of 2014. She was the world No 150 at the end of that year – and was still No 147 at the start of the 2015 grass-court season - but her career has since taken off.
After reaching the fourth round of the 2015 US Open following a run of 16 successive victories Konta finished the year at No 47 in the rankings, an improvement of 100 places in just seven months.
Konta has built on that progress this year, which she began by reaching the semi-finals of the Australian Open. She was the first British woman to make the last four since Sue Barker in 1977 and the first British woman to play in any Grand Slam semi-final since Jo Durie at the 1983 US Open.
After winning her first tour title at Stanford in the summer Konta went on to reach the fourth round again in New York, made the final of the China Open in Beijing and broke into the world's top 10. Konta also went within a whisker of earning a place in the elite eight-woman field at the year-ending WTA Finals in Singapore and was voted the most improved player on the Women's Tennis Association tour in 2016.
Konta's Spanish connection dates back to an 18-month stay at the Sanchez-Casal academy in Barcelona when she was a teenager. She had left Australia, the country of her birth, in search of a training base in Europe when she was 13.
After her family settled in Eastbourne, Konta trained at Roehampton, but in the summer of 2014 she linked up with Carril and another Spanish coach, Jose-Manuel Garcia, who are based in Gijon. Carril, who had worked with Konta when she was a teenager, became available after parting company with Roberto Bautista Agut, the current world No 14.  Since linking up with Carril, Konta has often split her training time between Gijon and Roehampton.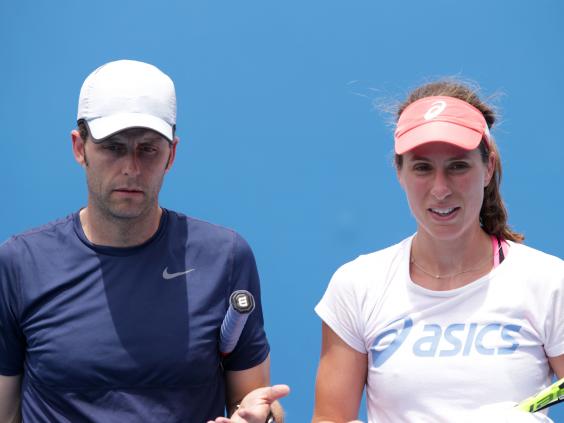 A calm and thoughtful coach, Carril worked hard on Konta's mental approach. The Briton has always been a fine athlete and good ball-striker, but nerves had often got in the way of her progress. Under Carril's guidance, she became calmness personified on court and her results quickly improved.
Konta will need to hit the ground running next month if she is to stay in the world's top 10. In the first two weeks of the new season she plays tournaments at Shenzhen in China and at Sydney before heading to the Australian Open, where she has semi-final points to defend.
The close season often brings changes in coaching personnel, but what is surprising this year is the number of players, like Konta, who have made changes after highly successful seasons.
Milos Raonic, the world No 3 and Wimbledon runner-up, has parted company with Carlos Moya, who had formed a two-man coaching team alongside Riccardo Piatti, with some help from John McEnroe.
It remains to be seen whether Raonic will bring in support for Piatti, but David Goffin is apparently one player who has decided that one voice is better than two. The world No 11 will continue working with his regular coach, Thierry van Cleemput, but has parted with Thomas Johansson, who had joined his team as a consultant at the start of the year.
Meanwhile Madison Keys has stopped working with Thomas Hogstedt and Elina Svitolina has parted company with Iain Hughes, her British coach. Kristina Pliskova and Petra Kvitova have effectively swapped coaches. Jiri Vanek, who split from Pliskova last month, is to work with Kvitova. Pliskova has teamed up with David Kotyza, whose seven-year partnership with Kvitova ended at the start of this year.
Reuse content