The scene: the Syma Centre in Budapest, a vast arena in which there were often more players and officials than spectators. The time: February 2014, with the Hungarian capital in the grip of winter. The competition: the Fed Cup's Europe Africa Zone Group One, with Britain needing to beat the host nation to make progress.
Representing your country brings its own stresses, but, given the environment, Johanna Konta was hardly in a high-pressure situation as she faced Hungary's Timea Babos.
However, she twice blew her chances. After failing to serve out when a set and 6-5 up, Konta squandered a 5-1 lead in the tie-break. After losing the deciding set she was in tears and all but inconsolable. 
It is hard now to imagine that this was the same player who reached the Australian Open semi-finals here last week, the first British woman to make the last four of a Grand Slam singles event for 33 years. 
These days, the 24-year-old Briton's physical prowess – demonstrated by her powerful ball-striking, her speed and athleticism around the court and her ability to handle the toughest conditions – is matched only by her mental strength.
In claiming five scalps here, including those of Venus Williams and Ekaterina Makarova, and even as she lost in the semi-finals to Angelique Kerber, Konta barely changed her facial expression. The British No 1 remained focused on her task and there was hardly a moment when she selected the wrong shot, let alone allowed emotions to get the better of her.
Pressure never seems to get to her these days. When Konta admitted last week that she had little idea what interest her performances had generated back home – "The UK is a number of thousands of miles away and in a completely different time zone, which in this case might be quite nice" – she insisted that "whatever pressure or whatever buzz there is outside, it only affects me as much as I let it". Those comments were typical of Konta's public utterances ever since she started to take the world rankings by storm last summer, climbing from No 147 to her projected position next week of  No 28. She is generous with her media time and treats questioners with respect, but any journalists hoping for a quick and easy headline are usually disappointed.
When she talks tennis, Konta tends to deal in mantra: "I'm taking it one day at a time", "I don't judge myself on my rankings", "I don't live or die by my wins or losses", "It's very much a process". She is too intelligent simply to repeat the words of her mind coach, but when Juan Coto was asked last week what had suddenly "clicked" in her game  he replied as you might have imagined Konta would have done.
Coto, who has been working with Konta for 15 months, said: "There is not one thing. It is a process… the stability of her environment, her coach, the people around her, the consistency and routines have been important."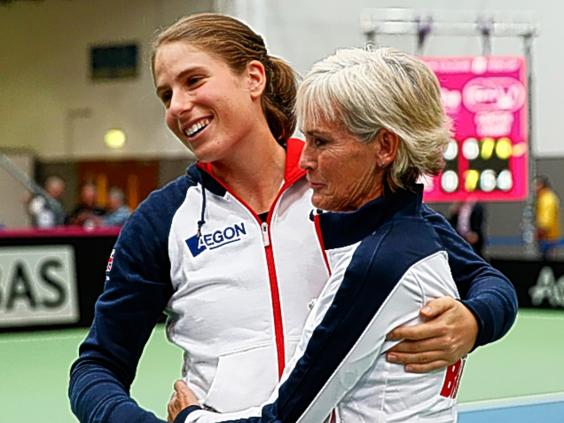 Judy Murray, Britain's Fed Cup captain, believes Konta has benefited from the calming influence of her entourage. Konta splits her time between northern Spain, where her coaches Esteban Carril  and Jose-Manuel Garcia are based, and the National Tennis Centre in Roehampton. 
"Esteban brought a calm to her tennis life and she started to travel more with her boyfriend, who brought a calm in a different way," Murray said. "I think Jo used to really struggle with managing anxiety at key points in matches, or managing anxiety when something was expected of her, for example when she was playing somebody she was expected to beat, someone maybe much lower-ranked or much younger."
Konta has handled calmly questions from Australian reporters about her nationality. She spent the first 13 years of her life Down Under but has since lived in Britain and now has a British passport to go with her Australian and Hungarian ones. She joked last week that she is "the Jason Bourne of tennis".
Nevertheless, you sense Konta might be concerned about any underlying message she might be putting across. When asked to name her favourite tennis court, she immediately said Wimbledon before admitting that the US Open was her preferred Grand Slam event.
Konta has happily revealed to the media what she did on her winter break (hiking in the Forest of Dean), the car she drives (a Peugeot 208 Roland Garros edition supplied by an Eastbourne dealership), her favourite Melbourne eating place (a fish restaurant), her breakfast choice (eggs, passion fruit, toast and Chia Pods), the film she wants to see next ("Joy"), her musical tastes ("If I had a house I would mortgage it to see U2") and how she does her share of the domestic chores ("No cooking dinner, just breakfast, but I definitely do my share of washing up").
However, Konta also seeks a level of privacy some might consider unrealistic for a sportswoman in the public eye. When asked by a reporter here for her boyfriend's name, Konta said she would continue to refer to him only as "the boyfriend". When asked what her boyfriend's job was, she replied with a laugh: "That's his business." Konta, nevertheless, has posted on Instagram photographs of the couple together. 
Konta was also asked for the name of her sister, who travelled here from her home in Sydney. Konta would say only "her surname is the same as mine". It will be interesting to see how she copes with the public interest at Wimbledon this summer.
Reuse content