Nick Kyrgios provided much of the entertainment but it was Andy Murray who showed most of the quality as the Scot won his opening match at the US Open. Although Kyrgios won a set for the first time in their four meetings, Murray ran out an emphatic winner to secure a second-round encounter with France's Adrian Mannarino.
On a hot and humid evening which left both men bathed in sweat, Murray won 7-5, 6-3, 4-6, 6-1 after two and three-quarter hours. Kyrgios showed many flashes of his mercurial talent, but Murray was a model of consistency. Although he lost the third set after playing a mediocre service game at 4-5, the world No 3 turned on the style in the fourth, breaking serve three times.
"It was a tough match," Murray said afterwards. "It was hard for me to go out there and be really aggressive or play the way I wanted to, because it's very hard against him. He's a very powerful guy. He goes for unpredictable shots. You don't know exactly what to expect each point.
"A lot of the time I felt like I was just reacting and ended up having to do quite a bit of defending and running because of that. But against him, you're going to have to play that way at times."
Much of the pre-match hype had focused on Kyrgios' misdemeanours and especially his vulgar comments directed at Stan Wawrinka in Montreal last month. Here he was given a warning for an audible obscenity, but for the most part he was on his best behaviour.
The Australian kept the crowd entertained with a succession of spectacular shots. After retrieving one lob with a through-the-legs "hot dog" he cracked a huge forehand winner, after which he milked the crowd's applause. He regularly went for broke on his forehand, though he also showed some finesse, hitting some exquisite drop shots.
Nevertheless, his game was also littered with mistakes. He barely made contact with the ball on one attempted smash, after which he laughed when he watched a replay of himself on one of the big screens. He missed a through-the-legs half volley after making a poor choice at a crucial moment and let rip with too many shots that hit the net or flew beyond the lines.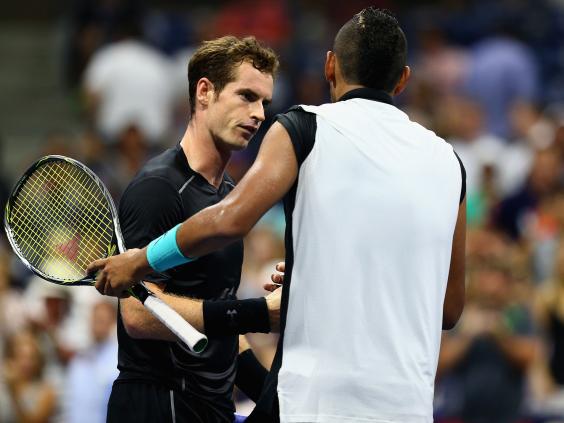 Kyrgios hurled his racket at one Murray winner that sped past him and on another occasion the racket flew inadvertently out of his hand and across the back of the court as he played a shot. At one changeover Kyrgios slumped back in his chair and appeared to fall asleep. "I guess I was just taking a nap," he said afterwards. "It's good for you."
There were moments which also brought smiles to Murray's face, but the Scot kept his focus throughout. He struck the ball with power and accuracy, delivered his usual clever mix of pace and spin, defended superbly and served particularly well. Murray converted seven of his 15 break points, compared with Kyrgios' rate of just three from 14.
Kyrgios has been without a coach since before Wimbledon, but Lleyton Hewitt has been helping him recently. The former world No 1 watched intently - and for the most part impassively - from the front row of his player box, despite having played earlier in the day, when he benefited from the retirement of Aleksandr Nedovyesov in the third set to earn a meeting with his fellow countryman, Bernard Tomic.
Christos Kyrgios, the world No 37's brother, was also in his player box and regularly jumped up out of his seat. At the other end of the court Murray's mother, Judy, and his father-in-law, Nigel Sears, who is coaching Ana Ivanovic again, watched in more sedate fashion.
The match kicked off the evening session on the main show court, but Arthur Ashe Stadium was less than a quarter full at the start. Murray hit three aces in the opening game, one of which saved a break point. The Scot was in trouble again on his serve two games later and this time a missed backhand gave Kyrgios the break. Murray, nevertheless, broke back immediately.
When Kyrgios served at 4-5 the Australian saved a first set point with an audacious drop shot. A smash saved a second two games later, but on the third Murray stepped into the court to crack a thunderous backhand return winner.
Murray made the only break of the second set in the sixth game, but Kyrgios fought back in the third. Although Murray again retrieved an early break, he dropped his serve again when he served at 4-5. Having double-faulted to go 0-40 down, the Scot put a forehand in the net on the next point.
Once again, however, Murray's response could not be faulted. He broke to love at the start of the fourth set, upon which a frustrated Kyrgios was warned for an audible obscenity. The Australian double-faulted on break point four games later and put a half-volley beyond the baseline when he served to stay in the match at 5-1.
Kyrgios said he thought he had "hung tough out there" but added: "He's probably in the best form of his life. He can go really well and potentially win [the title]."
Murray's next opponent, Mannarino, a 27-year-old Frenchman, beat Russia's Konstantin Kravchuk 7-6, 6-4, 6-1. Murray beat the world No 35 in straight sets in their only previous meeting in Indian Wells six months ago.
Reuse content