Novak Djokovic and Roger Federer have been the best players on the planet in the latter half of this year and the Serb and the Swiss will stage a rematch of their Wimbledon final when they meet in the climax of the Barclays ATP World Tour Finals on Sunday night.
The two men had coasted through their round-robin matches, but both were taken to deciding sets in semi-finals that were in strict contrast to the one-sided contests that dominated the group stage. Federer fought back from a set down and saved four match points before beating his friend and fellow Swiss, Stan Wawrinka, 4-6, 7-5, 7-6 in the match of the week after two and three-quarter hours. Djokovic recovered from a mid-match lapse to beat Kei Nishikori 6-1, 3-6, 6-0.
Wawrinka and Federer will join forces this week as Switzerland attempt to win their first Davis Cup when they face France in the final in Lille, but no quarter was given here. For long periods it seemed that Wawrinka might deny his compatriot a shot at his seventh year-end title as his big hitting from the baseline stopped the world No 2 dominating the rallies in the way he had against Andy Murray 48 hours earlier.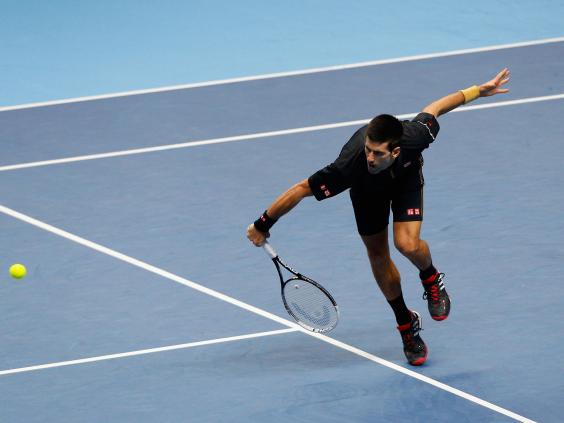 Federer had not dropped his serve in any of his group matches but was broken twice in the opening set. The second went with serve until Wawrinka played a dreadful game at 5-6. Having gone 0-40 down when he netted a smash, he then missed a backhand on Federer's first set point.
Wawrinka broke in controversial circumstances at the start of the third set. Federer did not hear the umpire overrule a line call in Wawrinka's favour - video replays showed the original "out" call had been correct - and was unable to recover from 0-40 down.
When Wawrinka served for the match at 5-4, Federer saved three match points. He saved another in the tie-break, which he eventually won 8-6, converting his first match point with a splendid stop volley.
Nishikori became the first player to take a set off Djokovic this week but faded badly in the final set. The 24-year-old Japanese has suffered with a wrist problem all week, for which he again needed on-court treatment, and the injury may have contributed to his downfall as Djokovic won his 31st indoor match in a row to keep a third successive title here in his sights.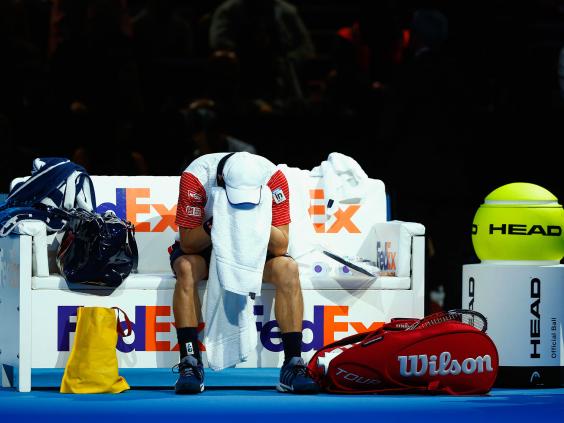 Djokovic took the first set in only 23 minutes, but Nishikori played some superb tennis in the second to level the contest. The crowd sided with the world No 5, who is a flamboyant shot-maker, though Djokovic did not do his cause any good when he gave sarcastic applause after some spectators cheered when the Serb dropped serve with a double fault.
"It's sport and they wanted to see a more interesting match," Djokovic said later. "I made a mistake, let my emotions go, lost my concentration. I won't do it again."
Nishikori took the second set after making a crucial break in the eighth game and emerged with all guns blazing in the decider, perhaps heartened by his remarkable record in such situations. He had won 21 of his previous 23 deciding sets this year and has won a higher percentage of final sets than any other player in the modern game.
When Djokovic served at 15-40 in the opening game of the decider the momentum seemed to have swung decisively, but an over-excited Nishikori went for too much on the next two points. From that moment Djokovic resumed control.
Reuse content