There is no logical reason why fathers should not be successful players, but the scenario to be played out at the top of the world rankings in the coming weeks is a highly unusual one. Novak Djokovic, who became a father last Wednesday, is the world No 1, but his place at the top is increasingly under threat from Roger Federer, a father of four. If Federer wins this week's Paris Masters and Djokovic fails to reach the final, the 33-year-old Swiss will return to the summit during next month's Barclays ATP World Tour Finals in London.
Few fathers have won Grand Slam titles or held the world No 1 ranking, although Federer has done both. Pete Sampras, who held the record for the number of weeks as world No 1 until he was overtaken by Federer, achieved neither, while Rod Laver, John McEnroe, Ivan Lendl and Stefan Edberg are among those who never won Grand Slam singles titles as fathers.
Djokovic, whose wife Jelena gave birth to a baby boy, Stefan, last week, asked Federer this year for advice on how to handle fatherhood while pursuing a globetrotting career. The Swiss rarely travels to tournaments without his wife and children.
"I would like to be with my son and wife every single day, but sometimes that's not possible," Djokovic said here on Monday. "They will not be here this week or in London, for example, because the baby is too young to travel yet.
"But starting from next year, we'll try to be together. It's not easy, the kind of lifestyle that a tennis player has. There is a lot of travelling, a lot of hotels, a lot of planes. Of course it's not the healthiest option for a baby, because you would like your child to be in one place and have a certain routine, but we'll try to manage this situation.
"As well as Roger there are many other players in a similar situation, so I try to talk with them and get some tips or experiences that they can share with me so it can help in my own case.
"I hope that being a father will have a positive effect on my career. In terms of my approach to the tennis, nothing changes. I'm still out here, still fighting, competing, and then trying to be No 1 of the world, trying to win tournaments."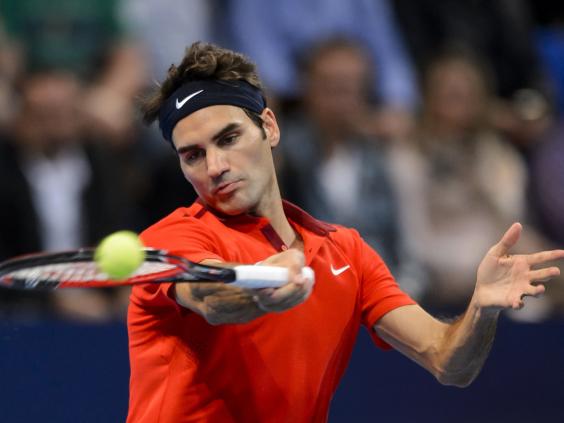 Djokovic, who plays Philipp Kohlschreiber in his opening match on Tuesday, has a lead of 2,230 ranking points over Federer. However the Serb, having won the Paris and London titles last year, has 2,500 points to defend before the end of the year, whereas Federer, having lost in the semi-finals of both, has only 760 to defend. The Swiss, who claimed his fifth title of the year in Basle on Sunday and has won 22 of his last 23 matches, can also earn ranking points at Switzerland's Davis Cup final against France next month.
Because the points from London 2013 drop off in 13 days' time, Federer could secure his return to the top over the next week. If he wins the title here and Djokovic fails to reach the final, Federer will become world No 1 again on the second day at the O2 Arena.
However, Djokovic pointed out that he has an excellent recent record in Paris and London. He said he had prepared well for this week and added: "The way I feel right now, I feel like I'm already No 1 after becoming a father last week. For me, this is the most important moment in my life."
Andy Murray, meanwhile, will play his first match here on Tuesday against the winner of the meeting between Julien Benneteau and Yen-Hsun Lu. The Scot should reach the World Tour Finals whatever his results here, though in theory he may need to make the quarter-finals to be certain.
Reuse content