The Murray double was not to be. Twenty-four hours after Jamie Murray won his first Grand Slam men's doubles title here at the Australian Open, his brother Andy suffered what has become an all too familiar defeat in the final of the year's opening Grand Slam tournament.
Murray, who was beaten 6-1, 7-5, 7-6 by Novak Djokovic after what had been a typically tight encounter in the last two sets at least, became only the second man in the Open era to lose five finals at the same Grand Slam event. Murray shares the record with his former coach, Ivan Lendl, who lost five US Open finals. Unlike Murray so far in Melbourne, however, Lendl did also taste victory in New York.
If the outcome was a disappointment for Murray, there was certainly no shame in losing to a player who may eventually come to be regarded as the greatest of all time. Djokovic's 11th Grand Slam title ties him with Bjorn Borg and Rod Laver and leaves just four players ahead of him on the all-time list – Roger Federer with 17 titles, Rafael Nadal and Pete Sampras with 14 and Roy Emerson with 12.
The world No 1 has now won four of the last five Grand Slam tournaments, with his defeat to Stan Wawrinka in the final of last year's French Open his only loss in Grand Slam play since the 2014 US Open. In winning here for the sixth time  – he has won every final he has contested at Melbourne Park - Djokovic also equalled Roy Emerson's record of Australian Open titles.
Murray fought like a tiger after being swept aside in the first set, but his long-time rival has had the upper hand over him for more than two years now. This was Djokovic's 11th win in the 12 matches he has played against Murray since he lost their 2013 Wimbledon final and the fifth time in the last six years that he has beaten the Scot here. Four of those victories have been in finals - in 2011, 2013, 2015 and 2016.
"I feel like I've been here before," Murray said with a smile at the presentation ceremony. "I'd like to congratulate Novak.  Six Australian Opens is an incredible feat."
Australian Open: Andy Murray vs Novak Djokovic in pictures
Australian Open: Andy Murray vs Novak Djokovic in pictures
1/12 Novak Djokovic vs Andy Murray

A view of the Rod Laver Arena during the Australian Open final between Andy Murray and Novak Djokovic

Getty Images

2/12 Novak Djokovic vs Andy Murray

Andy Murray hits a backhand in front of the Norman Brookes Challenge Cup

Getty Images

3/12 Novak Djokovic vs Andy Murray

Andy Murray reacts after losing a point against Novak Djokovic

Getty Images

4/12 Novak Djokovic vs Andy Murray

Andy Murray reacts after having his serve broken in the first set against Novak Djokovic

Getty Images

5/12 Novak Djokovic vs Andy Murray

Novak Djokovic celebrates breaking Andy Murray's serve

Getty Images

6/12 Novak Djokovic vs Andy Murray

Andy Murray reacts after being broken in the second set

Getty Images

7/12 Novak Djokovic vs Andy Murray

Andy Murray appears dejected after losing the second set

Getty Images

8/12 Novak Djokovic vs Andy Murray

Andy Murray reacts after being broken in the second set for the second time.

Getty Images

9/12 Novak Djokovic vs Andy Murray

Novak Djokovic celebrates his victory over Andy Murray after winning a third-set tie-break

Getty Images

10/12 Novak Djokovic vs Andy Murray

Andy Murray is consoled by Novak Djokovic after his Australian open final defeat

Getty Images

11/12 Novak Djokovic vs Andy Murray

Novak Djokovic celebrates winning the Australian Open after beating Andy Murray

Getty Images

12/12 Novak Djokovic vs Andy Murray

Andy Murray stands next to Novak Djokovic after the Australian Open final

Getty Images
The "Big Four" – Djokovic, Murray, Federer and Nadal – is rapidly becoming the Gang of One. This was Djokovic's 17th win in his last 18 matches against top 10 opponents. Murray, in contrast, has lost 12 of his last 13 matches against players ranked No 1 in the world. Cruelly, he will drop one place to No 3 in the world rankings tomorrow behind Federer.
Murray, nevertheless, can feel proud of his achievement in reaching the final here, particularly given the challenges he has faced off the court in recent weeks. Murray's wife, Kim, is due to give birth to their first child later this month and the Scot was always ready to return home early if she went into labour. He also had to deal with the trauma of his father-in-law, Nigel Sears, collapsing during a match here and being rushed to hospital.
At the presentation ceremony tears welled up in Murray's eyes as he thanked his wife for her support.  "You've been a legend the last few weeks," he said. "Thanks for your support and I'll be on the next flight home."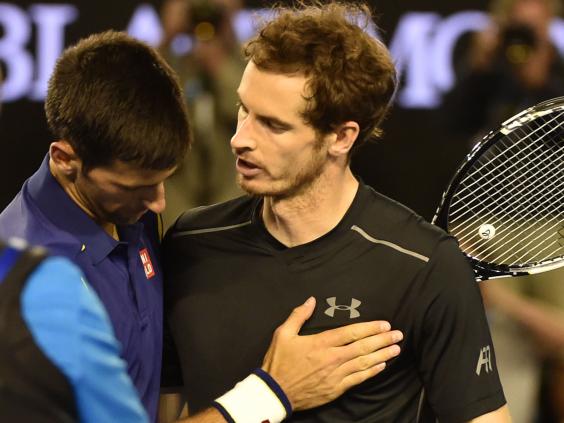 Murray competed ferociously in the second and third sets, but when Djokovic plays at his best it is all but impossible to live with him. Nobody can turn defence into attack more devastatingly than the world No 1, as he demonstrated with a point early in the second set that almost defied belief. Murray appeared in control when he hit a huge forehand into Djokovic's backhand corner, but from a position where almost any other player would have struggled even to put up a lob the Serb thumped a stunning backhand cross-court pass beyond Murray's reach.
The weather here has been chilly for most of the last 10 days but for the climax of the tournament the conditions were all but perfect. After a warm summer's day there was barely a breath of wind as the players entered Rod Laver Arena for the 7.30pm start.
Murray started promisingly enough, forcing a break point in the opening game which Djokovic saved with a backhand cross-court winner, but before long his back was against the wall. While Djokovic immediately settled into a comfortable rhythm, hitting his ground strokes with purpose and power, Murray struggled to find any consistency.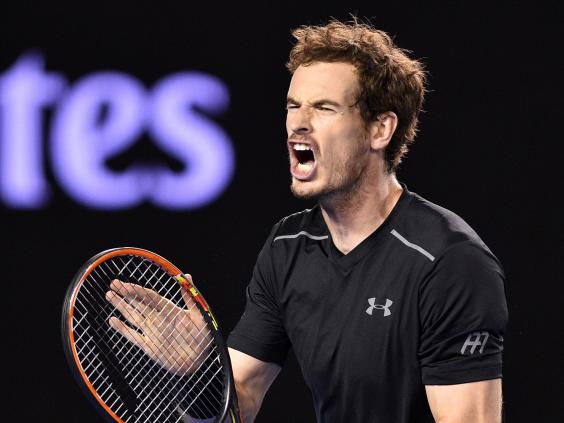 Djokovic broke on a double fault to lead 2-0 and when he won the first point of the next game with a brilliant drop shot, a voice in the crowd called out: "Give him a chance, Novak!"
The Serb was in no mood to do any such thing. Murray was broken again in his second service game and after just 19 minutes Djokovic was leading 5-0. Murray, trying to be more aggressive, finally got on the scoreboard by holding serve and certainly pushed Djokovic harder when the world No 1 served for the set, but a netted return brought an end to his resistance.
Although Djokovic won the second set, it was much, much tighter and produced the sort of tennis we have grown accustomed to seeing from these two great rivals: pulsating rallies from the back of the court, great athleticism as big shots were repeatedly chased down and games regularly decided by the tiniest of margins.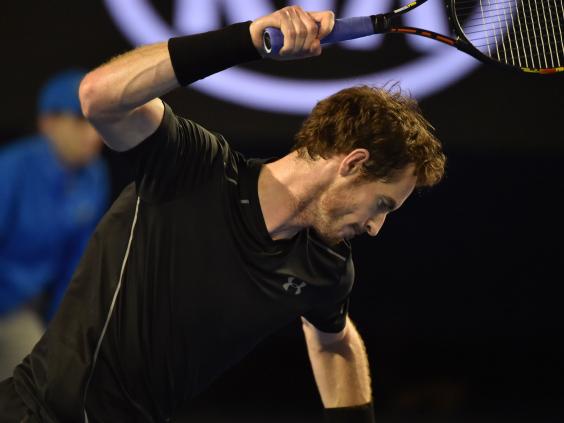 Murray clung on to his serve to go 2-1 up after saving four break points, but Djokovic broke four games later as Murray, trying to force the pace, made three errors in a row. With an hour and 19 minutes on the clock, however, Murray forced his second break point of the match in the following game and promptly converted it with a backhand winner.
When Djokovic served at 4-5 and 15-30 there was a small chink of light for Murray, but the door quickly slammed shut as the Scot again made three successive errors.
At 5-5 and 40-0 Murray appeared in little danger, but Djokovic then broke serve by playing five points in a row which were close to perfection. At 40-30 the two men played a wonderful 35-shot rally – the longest of the whole contest – which ended with Murray putting a backhand wide. The point summed up the match, with Djokovic relentless in his accuracy and finally grinding down his opponent.
When Djokovic served for the set, two successive double faults gave Murray the chance to break back, but the Scot netted a backhand on break point and a forehand on set point.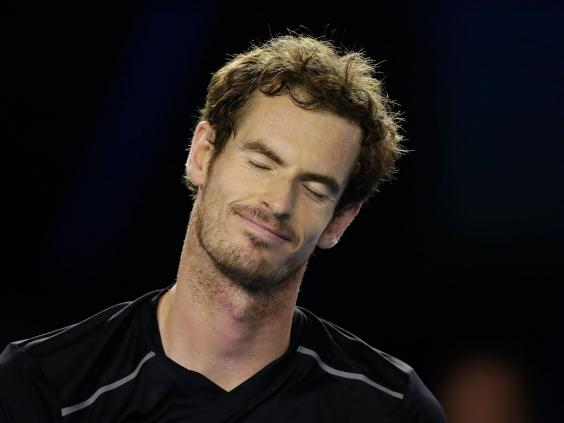 Murray could ill afford a slow start to the third set, but a fluffed smash handed Djokovic two break points in the opening game. He converted the second of them with a spectacular backhand pass down the line.
The Scot's supporters might have feared that Djokovic would run away with the third set, but to Murray's great credit he broke back to level at 3-3, after which both players held serve comfortably until the tie-break.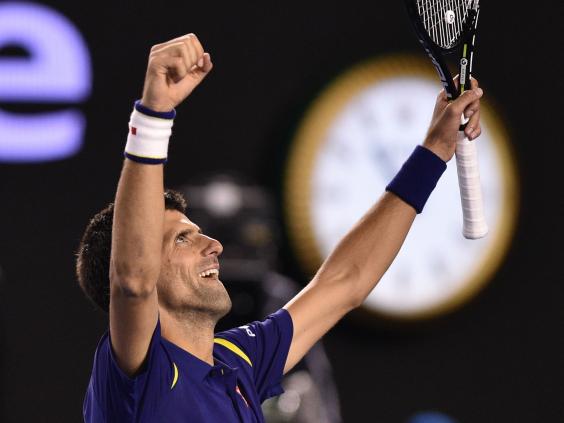 The tie-break started ominously for Murray when he double-faulted. Another double fault gave Djokovic a 5-1 lead and although Murray saved the first two match points there was no stopping the Serb as he closed out victory with an ace. Djokovic kissed the court surface at the end in recognition of his remarkable love affair with this tournament, while Murray was heading for the airport within minutes of leaving the court.
Reuse content