Rafael Nadal appeared to be on the brink of repeating one of his most famous victories here, only to suffer a defeat which casts further doubt on whether he can ever reclaim his former glories.
When Nadal won his only Australian Open title in 2009, he did so after beating Fernando Verdasco in the semi-finals in the second longest match in the tournament's history, a five-set epic that lasted five and a quarter hours.
The two Spanish left-handers went the distance again, but this time it was Verdasco who came out on top, winning 7-6, 4-6, 3-6, 7-6, 6-2 after a marathon battle that lasted four hours and 40 minutes. Verdasco, aged 32, had lost all but two of their previous 16 meetings.
Nadal, who let slip a two-sets-to-one lead, went 2-0 up in the decider before Verdasco went for broke, hitting some huge forehand winners. One of the best came on match point, when the world No 45 cracked a huge return of serve that flew beyond Nadal's reach.
"I just hit everything," Verdasco said afterwards. "I played unbelievable in the fifth set from the break. I just started hitting winners. I don't know how. I was closing the eyes and everything when I was coming in [to the net]."
Despite enduring his worst season in Grand Slam play since 2004, Nadal had appeared to be returning to form in the latter stages of 2015 and talked here about his "happy feelings" as he went into the year's opening Grand Slam event.
"The match is obviously a tough one for me to lose," Nadal said. "Last year, I arrived here playing badly and feeling I was not ready for the tournament. This year was a completely different story. I have been playing and practising great. It's tough when you work so much and arrive at a very important event and you're going out too early.
"It's tough but at the same time I know I did everything that I could to be ready. This was not my day. Let's keep going. That's the only thing."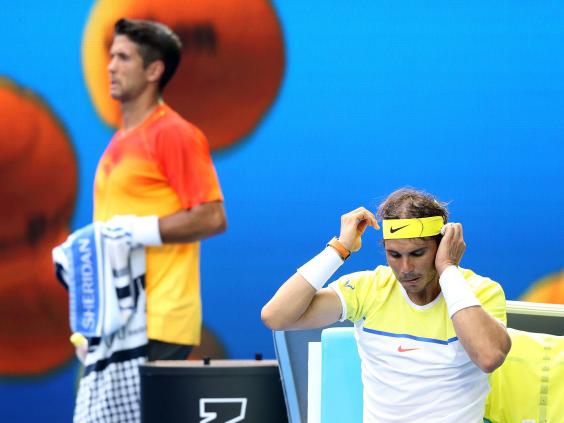 Lleyton Hewitt, playing in the last tournament of his career, made an impressive start to his 20th successive Australian Open, beating his fellow countryman, James Duckworth, 7-6, 6-2, 6-4. Remarkably, Duckworth was only the second Australian Hewitt has ever faced in his home Grand Slam event.
"It was a tough situation, absolutely, to try and block out everything else that's been going on," an emotional Hewitt said afterwards. "I blocked it out pretty well."
Simona Halep, the world  No 2, refused to blame an Achilles tendon problem for her first-round defeat by China's Zhang Shuai, the world No 133, who had lost all 14 of her previous matches in Grand Slam competition. Halep, runner-up at the French Open in 2014, said she had been "a little lost on court".
She added: "I had many problems in this period before coming here, so I can say that I am a little bit down mentally because I was very homesick."
Zhang burst into tears when interviewed on court after the match. "I think in my life, it's the best tennis," she said. "To win against a top-two player, I'm so happy, so excited."
Reuse content