It has taken Andy Murray the best part of two years to reclaim his former glories but the Scot proved he is all but back to his best by beating Novak Djokovic to win the Montreal Masters. Murray's 6-4, 4-6, 6-3 victory ended his run of eight successive defeats to the world No 1, who had not been beaten by his great rival since the Wimbledon final of 2013.
For all Murray's excellence this year, which will see him replace Roger Federer at No 2 in Monday's updated world rankings list, Djokovic had consistently got the better of the Scot. The Serb had beaten Murray in all four of their previous meetings in 2015, although he had needed five sets to do so in their most recent encounter at the French Open.
Murray appeared to cope better with the 33C heat in Montreal and put Djokovic under pressure from the start with his aggressive ball-striking. Djokovic saved five break points in the fourth game before Murray finally made his breakthrough as the Serb missed a volley.
Having saved two more break points in the sixth game, Djokovic fought back to level the set at 4-4, only to be broken again. On Murray's tenth break point of the first set Djokovic's mishit backhand enabled the Scot to draw first blood after 66 minutes.
Forbes' highest paid athletes - top 25
Forbes' highest paid athletes - top 25
1/24 25) Carmelo Anthony (basketball)

$30.5m (£19.45m)

Getty Images

2/24 =23) Neymar (football)

$31m (£20.06m)

GETTY IMAGES

3/24 =23) MS Dhoni (cricket)

$31m (£20.06m)

GETTY IMAGES

4/24 22) Rafael Nadal (tennis)

$32.5m (£21.03m)

AFP/Getty

5/24 21) Sebastian Vettel (F1)

$33m (£21.36m)

Getty Images

6/24 20) Derrick Rose (NBA)

$33.9m (£21.94m)

USA Today

7/24 19) Jon Lester (baseball)

$34.1m (£22.07m)

Getty Images

8/24 18) Gareth Bale (football)

$35m (£22.65m)

Getty Images

9/24 17) Fernando Alonso (F1)

$35.5m (£22.97m)

Getty Images

10/24 16) Ndamukong Suh (NFL)

$38.6m (£24.98m)

Getty Images

11/24 14) Zlatan Ibrahimovic (football)

$39.1m (£25.30m)

12/24 13) Novak Djokovic (tennis)

$48.2m (£31.19m)

GETTY IMAGES

13/24 12) Rory McIlroy (tennis)

$48.3m (£31.26m)

GETTY IMAGES

14/24 11) Ben Roethlisberger (NFL)

$48.9m (£31.65m)

Getty Images

15/24 10) Kobe Bryant (NBA)

$49.5m (£32.03m)

AP

16/24 9) Tiger Woods (golf)

$50.6m (£32.75m)

Getty Images

17/24 8) Phil Mickelson (golf)

$50.8m (£32.88m)

Getty Images

18/24 7) Kevin Durant (NBA)

$54.1m (£35.01m)

Getty Images

19/24 6) LeBron James (NBA)

$64.8m (£41.94m)

AP Images

20/24 5) Roger Federer (tennis)

$67m (£43.36m)

GETTY IMAGES

21/24 4) Lionel Messi (football)

$73.8m (£47.76m)

Getty

22/24 3) Cristiano Ronaldo (football)

$79.6m (£51.51m)

Getty Images

23/24 2) Manny Pacquiao (boxing)

$160m (£103.55m)

Getty Images

24/24 1) Floyd Mayweather (boxing)

$300m (£194.15m)
Djokovic, nevertheless, responded superbly, breaking to love in the opening game of the second set. Murray broke back for 3-3 but dropped his serve again as Djokovic went on to level the match. It was the first set Murray had dropped in the whole tournament.
Murray saved a break point with a service winner in the opening game of the deciding set and promptly broke to go 2-0 up as he repeatedly attacked the net to win points either with his own decisive volleys or by forcing his opponent into mistakes.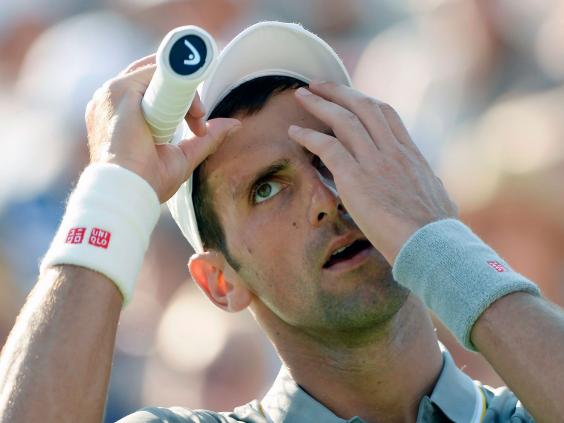 When Murray served at 3-1 the Scot won an epic 18-minute game, saving six break points. Djokovic, who had saved two match points against Ernests Gulbis in the quarter-finals, saved three when he served at 2-5 and a fourth in the following game.
On the fifth match point, however, Djokovic hit a backhand long to give Murray victory after three hours of ferocious competition. It gave Murray the 35th title of his career and ended Djokovic's 30-match winning run in Masters Series tournaments.
At the presentation ceremony Murray revealed that his coach, Amelie Mauresmo, had given birth to a baby boy earlier in the day. "Amelie, this one's for you," Murray said.
Murray had ensured his return to No 2 in the rankings by beating Kei Nishikori 6-3, 6-0 in the semi-finals on Saturday. Only 11 months ago Murray had dropped to No 12 in the world, which was his lowest position since 2008. He was last at No 2 between May and August in 2013.
The Scot has also qualified for the Barclays ATP World Tour Finals in London in November. It is the eighth year in a row in which he has qualified for the season-ending finale, though he did not take up his place in 2013 following back surgery.
It is all a remarkable turnaround from last summer. After last year's US Open Murray dropped out of the world's top 10 and qualified for London only by playing a demanding autumn schedule which saw him win tournaments in Shenzhen, Vienna and Valencia but which left him a spent force by the time he got to the O2 Arena. The eight places in London go to the players who have earned the most ranking points in the calendar year.
This time Murray has qualified, along with Djokovic, with a full three months to spare. "It's good," Murray said. "Obviously to do it with a long time to spare is nice. It's very different to last year, when I ended up playing six tournaments in six weeks. I was pretty fried by the time I got there.  So hopefully I'll be able to prepare a little better for it this year. I always enjoy playing there."
The other six players currently in position to take up their places in London are Stan Wawrinka, Federer, Nishikori, Rafael Nadal, Tomas Berdych and David Ferrer. There is already a sizeable gap between those eight players and the rest of the field, though there are still plenty of points to be won and lost between now and November.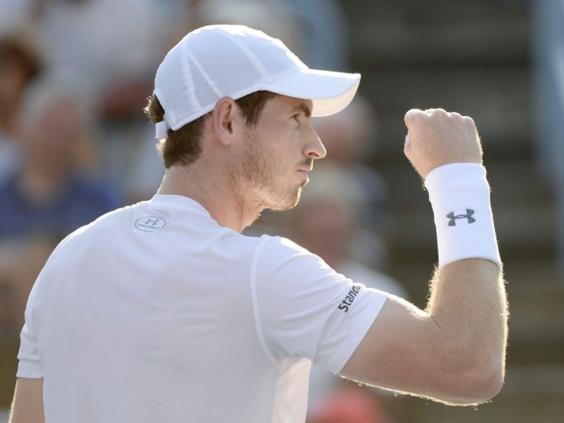 The US Open, the last of the year's Grand Slam tournaments, begins in a fortnight's time, while there are also big points to be won at this week's Cincinnati Masters, where Federer will return to competition for the first time since Wimbledon.
Murray, who will face Viktor Troicki or Mardy Fish after a first-round bye, is seeded to meet Grigor Dimitrov in the third round, Marin Cilic in the quarter-finals and Federer in the semi-finals. Djokovic, the top seed, is in the other half of the draw.
With Federer defending his title in Cincinnati, Murray should hold on to his No 2 position through to the US Open, which would mean that he could not face Djokovic until the final in New York.
Belinda Bencic followed up her semi-final victory over Serena Williams, the world No 1, by beating Simona Halep, the world No 3, in the final in Toronto. The 18-year-old Swiss, who is set to climb to No 12 in the updated world rankings list, won 7-6, 6-7, 3-0 after Halep, who was struggling with a thigh injury and the heat, retired after the third game of the deciding set.
In beating Williams 6-3, 5-7, 4-6 on Saturday Bencic became the youngest player to beat her in a completed match since 17-year-old Maria Sharapova beat the American 11 years ago. It was only the second defeat Williams has suffered in 45 matches this year.
Reuse content