Nick Kyrgios has a long way to go before his achievements can be compared with those of John McEnroe and Andre Agassi, who went from tennis brats to Grand Slam champions, but for the sake of his sport it's hoped such comparisons will one day be valid.
In their early days McEnroe and Agassi could be just as volatile as Kyrgios, who has been fined $41,500 (£34,000) and effectively suspended for the rest of the season by the Association of Tennis Professionals, which runs the men's tour. The 21-year-old Australian "tanked" a match at last week's Shanghai Masters, verbally abused a spectator and was unrepentant afterwards, saying he did not owe fans anything and "couldn't care less" about qualifying for the year-end ATP World Tour Finals.
With the golden era of the "Big Four" ticking down, Kyrgios is one of the few players capable of sustaining the interest in men's tennis. By next summer Roger Federer, Rafael Nadal, Novak Djokovic and Andy Murray will all be thirty-somethings. Tennis needs new heroes.
There are plenty of talented youngsters around – Alexander Zverev, Dominic Thiem, Borna Coric, Kyle Edmund – but none generate as much interest as Kyrgios. While the others do not behave as badly, it is equally true that none have quite the same explosive capacity to entertain. With his edgy clothes and hair cut, Kyrgios also clearly appeals to a younger audience.
In full flow Kyrgios is a sight to behold. He can crack outrageous winners and is a wonderful improviser, as he showed with his half-volley between-the-legs winner from behind the baseline when he announced himself to the world with his victory over Nadal at Wimbledon two years ago. If Kyrgios has yet to prove he has what it takes to win a Slam that might be because in the more physical modern game champions are not as young as they used to be. By the time they were Kyrgios' age, McEnroe had won two Slams and Agassi had appeared in three finals.
While Kyrgios has never gone beyond the quarters of a Slam, he has a much better record at that level than all his contemporaries. Twelve of his 14 Slam defeats have been to top-20 opponents. This year he has won his first three tour titles, the biggest the Japan Open, which has taken him to a career-high No 14 in the world. 
Mentally and emotionally, however, Kyrgios is disappointingly immature. His press conference reaction in Shanghai was like that of an unruly child who knows he did wrong to smash the kitchen window with his football but lashes out at his parents, insisting that he "couldn't care less".
Nevertheless, Chris Kermode, the head man at the ATP, believes that Kyrgios – who told The Independent last year: "I don't really like the sport of tennis that much" - cares much more than he sometimes lets on. Kermode spoke to him in Shanghai after the incident and says the Australian was "distraught", knowing that he had been in the wrong. "The strain of being in the spotlight occasionally gets too much for him," Kermode said.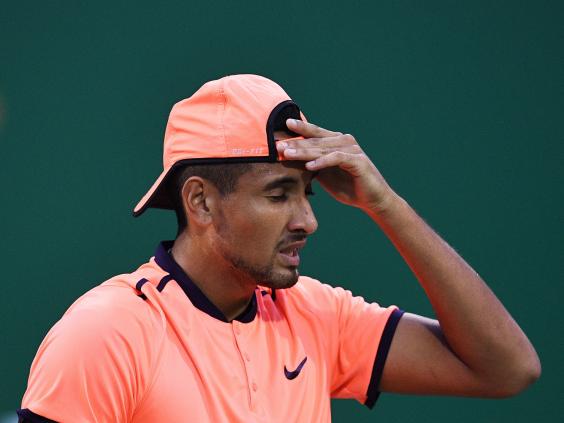 Has the ATP been lenient in its sanctions given that Kyrgios can cut his eight-week suspension (which would run until mid-January) to three weeks provided he sees a sports psychologist? That would mean he could return after the Paris Masters in early November, after which the only tournament on the main tour is the ATP World Tour Finals in London, for which Kyrgios cannot now qualify because he is suspended.
The cutting of the ban would free Kyrgios to compete in ATP tournaments in the first two weeks of 2017, but he might not be planning to play in them anyway. In the opening week of the new season he is lined up to take part in Perth's Hopman Cup mixed team event, which, like the Australian Open beginning on 16 January, does not come under the ATP's jurisdiction.
Episodes like this underline how much tennis might benefit from having a single all-powerful governing body. They also raise questions about the ATP's suitability to police the sport given that the organisation is jointly controlled by the players and the tournaments.
In this case, nevertheless, the punishment seems appropriate. While it would have been wrong for the ATP to have overlooked Kyrgios' misdemeanours – his actions were an insult to paying spectators both in Shanghai and on television around the world – they need to be viewed with some perspective. Kyrgios was not trying to cheat, he was not taking performance-enhancing drugs and he was not abusing fellow players and officials.
Seeking outside help via a sports psychologist might just do him some good, provided he is prepared to listen. Sound guidance is probably what Kyrgios needs more than anything given that he has not had a regular coach for nearly 18 months.
Kyrgios' Davis Cup captain, Lleyton Hewitt, another former Grand Slam champion who grew out of a rebellious phase to become a much respected figure, tries his best to mentor Australia's greatest young talent, but Kyrgios would surely benefit from having a strong and senior figure permanently in his corner. Look how the likes of Ivan Lendl, Boris Becker, Magnus Norman and Michael Chang have helped the respective careers of Murray, Djokovic, Stan Wawrinka and Kei Nishikori.
Kyrgios coached by a Lendl or a Becker? Now that would be a time to assess whether the Australian really has what it takes to make the very top.
Reuse content