Pressure? If Andy Murray thought he had experienced it all last summer when he ended 77 years of British disappointment by winning the Wimbledon men's singles title, he was reminded of the nation's continuing expectations here yesterday. The 27-year-old Scot had barely settled into his seat in front of the world's media before he was asked how it felt, in the wake of England's World Cup exit, to have "the hopes of a despondent nation" on his shoulders.
"Wow," Murray said, taking a mock intake of breath, much to the amusement of all present. "Wow. To be honest, I don't feel too much different than I did a few days ago. I'm here to try and win the tournament. That's it. My focus is solely on the first match, preparing properly for that."
It is a Wimbledon tradition that the defending men's champion is one of the last players to hold a pre-tournament press conference but the first to appear on court. Murray will begin the defence of his title against Belgium's David Goffin, the world  No 104, on Centre Court at 1pm this afternoon.
The 12 months since his greatest triumph on the same stage have been an up-and-down time for Murray – he has not won a title since, spent more than three months out following a back operation and parted company with his coach Ivan Lendl before bringing in Amélie Mauresmo as a replacement – but his recent run to the French Open  semi-finals suggested he is finding form at the right time. Most importantly, his back is feeling better than it has for a long while.
"I feel ready," Murray said. "In practice I have been hitting the ball well and I have played OK. There are a few things I could do a little bit better, but that was the same thing last year. It has been the same case for many of the years when I have gone into Wimbledon.
"I'm moving well and my body feels good. It's not sore, so it is down to me to perform and to play well. No player knows how they are going to perform until they get out there on any given day, but I've prepared pretty much the best that I could."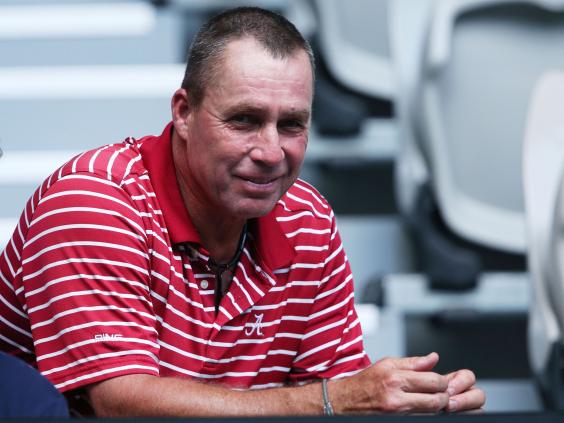 Champions automatically become members of the All England Club and Murray feels more at home here than ever. Regular dealings with Tim Henman, who is a committee member here, have helped. "I've communicated to him a lot of the things that I liked and the things that I didn't like – things that could be changed or done better," Murray said. "Having somebody to talk to about those things helped.
"This is also where I have played the most important tennis matches of my life, out on that court. Obviously, it's going to mean more to me as my career has gone on. Nowadays it's a place I like going to because it's quiet. I like to go to Wimbledon to practise sometimes, but sometimes I just go there for lunch or just to be there. It's quiet. It's a place where I can go and I don't get bothered. I can think there. I like it."
He added: "It's obviously nice coming back and seeing your name on the wall because there's great history attached to the tournament. Most of the greatest players who have ever played have won here. That's the nicest part about it. It's something no one can take away from you. You've won one of the greatest tournaments in tennis."
One thing Murray has not done too much of in the last year is cash in on his success. Some champions exploit their financial potential to the full in the wake of such a triumph. Murray announced a deal last week with Standard Life, whose logo will appear on his shirt, but otherwise he has had a quiet time commercially.
"There have been quite a few offers but for me it's about doing the right stuff and working with people who understand what my goals are and what I am trying to do," he said. "It is very easy to sign five or six deals, but I want to play tennis and concentrate on trying to win more. It is not only the people in my team. The companies I work with have to understand that as well.
"The last week, for example, has been incredibly important for me to prepare properly and train properly and practise. I don't want to give up loads of my time this week. For a lot of those companies, that is a bit off-putting because this is the time of the year that they want to be doing loads of things. Some players are fine doing a lot of things the week before a Slam, but that's not for me. I'm happy with the way things are going."
Murray is happy, too, with the fact that Wimbledon is not the only major event currently topping the sporting agenda. "I enjoy it when the World Cup is on," he said. "It gives me something to do in the evenings. I don't have to listen to people talking about me playing at Wimbledon."