Six months ago, sitting in a room beneath the Perth Arena in Western Australia not long after she had beaten Serena Williams  6-2 6-1 in the season-opening Hopman Cup, Eugenie Bouchard was adamant.
"I really don't see that mentality and I don't want even to think or talk about it," the 21-year-old Canadian said when asked whether she had any fears about suffering "second-season syndrome" in the wake of her breakthrough year in 2014. "I've got so many other things to worry about on the court and with my game, so that's the last thing on my mind.
"But, of course, I know I'm in a different position. Last year I was more hunting and now I'm more like the hunted. I probably have a bit more of a target on my back. But I see that as motivating. They say it's hard to get there but even harder to stay there, so that's my challenge."
Today Bouchard has grown used to answering questions about what Americans call the "sophomore slump", a phenomenon where performers struggle to repeat the successes of their first year. As she prepares for her favourite tournament of the year at Wimbledon, where she became the public's Centre Court favourite en route to last year's final, the world No 12's form has not so much slumped as plummeted.
Bouchard has lost 11 of her past 13 matches. The run includes  a first-round defeat by Kristina  Mladenovic at the French Open, another by Tatjana Maria, then the world No 113, in Miami, and embarrassing losses in both her singles rubbers in a Fed Cup tie against  Romania in her home city of Montreal, where she was ridiculed by her opponents for refusing to shake hands at the draw ceremony.
Even when she won a match at Eastbourne last week, she  retired next time out with an injury. Bouchard said she would play at Wimbledon this week "no matter what, even if I'm on one leg".
Ask the Canadian about second-season syndrome now and she is not so dismissive. "Maybe I am going through that," she said. "Everyone talks about it so much. So you know what, I shouldn't freak out. Maybe I am going through what all of you are telling me I'm going through. So maybe I'll lose another five matches in a row – but I'll be fine with that.
"It's just about believing that there is light at the end of the tunnel. I hope that doesn't sound too depressing. I'm just fine. I know that I have the belief. I'm working hard in practice and I'm feeling great in practice. It's just about transitioning that into the matches."
Bouchard believes a return to form is only a matter of time. "Whether it's this week, next week or in another month, I'm not going to beat my head over it," she said. "I feel like it's too short an amount of time to start freaking out, even though I feel like everyone else is freaking out."
Looking back, it is hard not to question the wisdom of the changes Bouchard made at the end of 2014, when she switched management companies and parted from Nick Saviano, her coach of 12 years. At the end of this year's  Australian Open Sam Sumyk, Victoria Azarenka's long-time coach, told the Belarusian he did not want to work with her any more and joined up with Bouchard.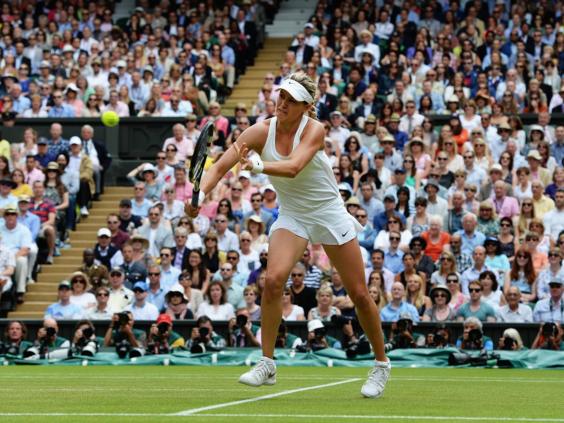 The Canadian now admits that she underestimated the impact of those changes. She said: "I tried to start the year just thinking, 'Right, I'm starting at square one. I'm just going to try to play as well as I can.' But since then I changed my coach. I've had a lot of tough changes. I think that affected me more than I thought in the sense that I didn't think it would take me so much time to adjust."
Perhaps returning to the All England Club will provide the spark to reignite her season. She loves playing there, having set her heart on doing so when she was 10 as she watched television coverage of Maria Sharapova beating Williams in the 2004 final. "I thought, 'Wow, that looks so cool. I want to do exactly the same thing'."
Five years later Bouchard was playing in the Wimbledon junior event. "It was just amazing. I think I played on Court Eight. It was one of those courts where people were walking by, right in the middle of the action. It was weird. It just felt so special, seeing the practice courts, walking by, seeing Roger [Federer] and Rafa [Nadal] practise. Wimbledon had a special feeling from the very first time I went there."
By 2012 Bouchard was Wimbledon junior champion and within another year, on her senior debut at the All England Club, she beat Ana Ivanovic, then the world No 12, on Centre Court. She remembers the occasion vividly.
"When you go on to Centre Court you walk through the members' lounge," Bouchard said. "I remember noticing all the women there in their high heels. I was in my tennis shoes and I almost felt like I was underdressed. I thought maybe I should be walking on to Centre Court in my high heels and wearing a dress or something.
"The other thing I remember was looking at the Royal Box during the match, trying to identify people. I'm pretty sure Kate Middleton's parents were there. Then I thought [sarcastically] to myself, 'Wow, I'm so focused right now – I'm trying to find royals in the Royal Box!' But I was on Centre Court and I just had to look to see who was there."
Fast forward another 12 months and the Bouchard family's obsession with royalty became a major focus of media attention at last year's tournament. Bouchard revealed that she had been named after Princess Eugenie, who subsequently attended the final, only to see the Canadian brushed aside by Petra Kvitova in the shortest Wimbledon final for 31 years.
The prospect of playing at the All England Club again this week excites Bouchard, who faces a Chinese qualifier, Ying-Ying Duan, in the first round. "It's my favourite tournament, the tournament I've had the most success at and the biggest tournament in the world," Bouchard said. "It's going to be so special to go back."
Reuse content