Maria Sharapova
Russia, aged 28, world No 4
Maria still has exactly the same attitude that she had when she walked into the academy with her father, Yuri, when she  was only nine. She just thinks: "I will win."
It's a few years since she was permanently based at Bradenton, but she spent quite a lot of time at the academy over the Christmas holidays this past winter. I'm always impressed with the way she finds time for the juniors and autograph-hunters.
We probably see more of Yuri than we do of Maria. He visits once in a while. He always seeks me out and thanks me for what we did for Maria, but people should never forget what Yuri did for his daughter. If it wasn't for her father in those early years with us I don't know where Maria would be now.
Today Maria is surrounded by a great team, including her coach, Sven Groeneveld. He knows what to say and when to say it. My one fear about her is that age may be starting to creep up on her. She might be tempted to change her game and play a bit more conservatively, but for me that just wouldn't work. If she plays too conservatively she's  vulnerable. Maria has to hit the ball early.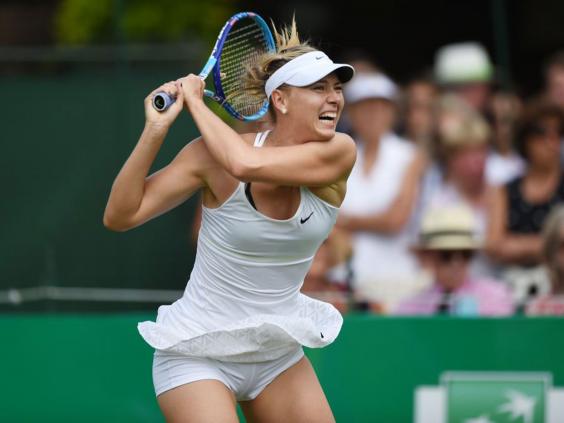 Her serve has been a slight problem in the last few years since she had shoulder surgery, but if she can get those first serves in she'll be a contender.
One of the many things I admire about Maria is the way she handles her life. You never read gossip about  her away from the court – and look at what she does for charities. She's one disciplined chick, buddy.
Not many people could do what she does with all her off-court business interests. I read the other day that she earns $24m a year. Boy, that could keep me in ice cream for the rest of my life.
Maria doesn't play tennis for the money. She just loves to get out there. She still wants to be a winner.
Kei Nishikori
Japan, aged 25, world No 5
When Kei came to my academy at 13 he couldn't speak a word of English. He missed his home and his food. Today he's one of the best players in the world. Dante Bottini, his full-time coach, worked on all his techniques and now Michael Chang has taught him how to fight. He's also got a great manager in Olivier van Lindonk, who handles everything off the court.
Holy mackerel, no coach in the world could teach Kei some of the shots he hits. His talent is just natural. His hands are so quick that he could make a living as a magician. He would be able to take things out of people's pockets – handkerchiefs, money, keys, you name it – without them knowing.
Kei is also a charming young man. When he came back to the academy after he reached his first Grand Slam final, at the US Open last summer, he hadn't changed one bit.
I often see him when he walks down the road at lunchtime to get his cheese philly steak. One day recently I bought it for him. He  told me: "Nick, you shouldn't do that." I told him: "But Kei, you can't afford it." He laughed out loud.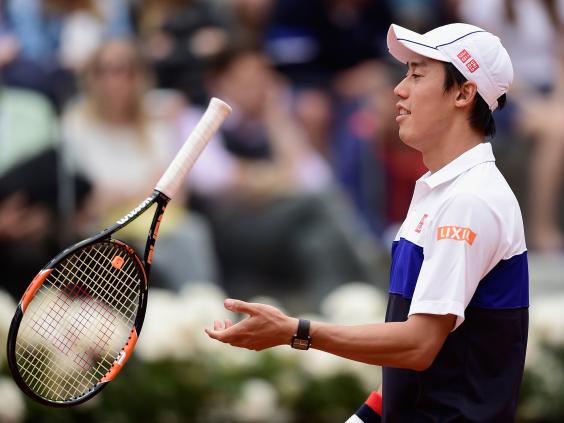 Serena Williams
US, aged 33, world No 1
I see Serena a lot when I'm on the road. When I'm back at the academy we exchange text messages. She always stays in touch. Richard Williams used to bring his daughters to the academy regularly. I always loved working with them, but you had to know how to handle Venus and Serena.
I remember one time when Serena was practising hard but suddenly threw her racket down and said: "That's enough. I'm off." I just said to her: "Get your ass out there!" She said: "Not even my father has ever talked to me like that!" But she got back  out there.
Serena just loves winning. I remember another occasion when she was struggling a bit. I was sitting with her at the bottom of our stadium court. I could see something was troubling her and asked her what it was. She said to me: "Nick, I'm tired of this crap. I'm tired of finishing second."
That's the thing about Serena. She wants to win so badly that it hurts when she doesn't. Even when she's sick she finds a way, like she did at the French Open recently. When she's in trouble her serve is a wonderful weapon to have. That serve can change everything.
Patrick Mouratoglou has obviously been great for her. He hasn't tinkered too much with her game. Why would you want to change that serve? Are you bull-shitting me? He's been wise enough to concentrate on inspiring her, motivating her, keeping her up when she gets down  and doing the things that keep her hungry.
She's not ready to give up her throne just yet. She could be like a Jimmy Connors, who played in a US Open semi-final when he was 39. She just loves to get out there and play.
Venus Williams
US, aged 35, world No 16
After Stan Wawrinka won the French Open recently, Mats Wilander said that his coach, Magnus Norman, was the best in the business. Magnus  has clearly done a very good job, but what a lot of people forget is all the work that goes into making a player in their early years.
Magnus with Wawrinka, Boris Becker with Novak Djokovic, Amélie Mauresmo with Andy Murray – I salute their achievements, but they started working with those players only after other coaches had spent 10 years with them. They knew how to apply the finishing touches, but they hadn't put in all the ground work.
Just like Gloria Connors made her son Jimmy the player he was, just like Andre Agassi was moulded by his father, so the same is true of Richard Williams. People said he was crazy, that he didn't know his ass from his elbow, but he was the one who put Venus and Serena on their way.
The two sisters can be quite different. There's always a wonderful calmness and serenity about Venus. Some people are surprised that she is continuing to play, especially given her health problems in recent years, but you have to understand the sisters' roots. Serena and Venus come from a hungry background – and they're still hungry  for success.
Sabine Lisicki
Germany, aged 25, world No 18
Sabine loves Wimbledon and has a fine record there. She could have a great fortnight, but I fear that too often she fails to make the most of her ability. Her greatest problems are in her head. She has wonderful talent, but over the years I've felt that she's listened to too many people.
She has a great serve, as she showed when she hit 27 aces against Belinda Bencic last week, a record on the women's tour. However, I think she could do even better if she added a bit of variety by changing the pace of her serves and using the wide slice more often.
In my opinion Sabine's mind hasn't caught up with her ability. And without the right mentality, discipline and determination, even the most talented players can fall short of their goals.
Tommy Haas
Germany, aged 37, world No 848
Tommy first came to the academy when he was 11, but he got frightened and went back home. He came back to me when he was 13 and his father said: "Take my son." Tommy has been with us ever since.
Although he got to  No 2 in the world and won 15 titles, who knows what more Tommy might have achieved without his injuries? If you went through a list of them it would be like reading a medical encyclopaedia.
Tommy has made more comebacks than Frank Sinatra, but I'm not sure how many people expected to see him return when he underwent a fourth operation on his right shoulder last June. However, you learn never to count out Tommy and, sure enough, he returned to  competition earlier this month at the age of 37. He won his first comeback match, too, beating Mikhail Kukushkin, the world No 59.
He's been so unlucky over the years. Holy cow! He's the sort of guy who would win the Lottery, put all the money away and then turn on the radio and hear his bank had gone bust.
Tommy's had more injuries than I've had wives. He's broken both his ankles and he's had to quit in the middle of Wimbledon on three occasions. He once trod on a ball in the warm-up before his first-round match and was out before he'd started. Another time he missed Wimbledon after his parents were  seriously hurt in a motorcycle accident.
We all know people who complain that they have backache, or a pain in their shoulder, or they wake up with a sore stomach and say: "I don't think I can go to work today." I would say to all of them: "Look at Tommy Haas. Look at the way he never gives in to any physical problem." If there were more people like Tommy around, the world would be  a better and more productive place.
I hope I'm wrong, but I'm a little bit more concerned about him this time because the shoulder is a big part of his game with his swinging volley and serves. But if anybody can do it, it's Tommy.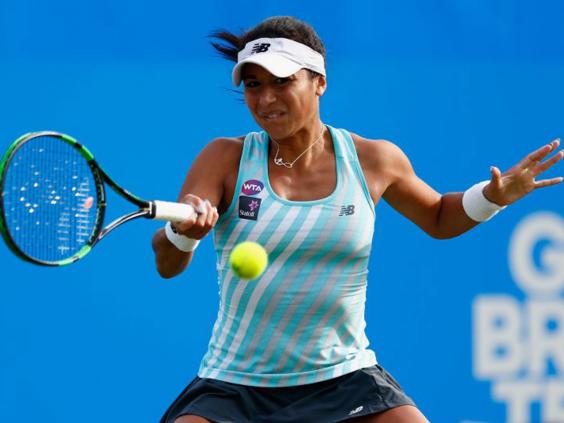 Heather Watson
Britain, aged 23, world No 64
Heather's a great girl. She's been at the academy for 10 years now and you Brits should be proud of her. She has a smile as wide as the Atlantic and lights up everywhere she goes.
I think she's at a crossroads. She's working her butt off to get to another level, but I don't think she's going to achieve that by playing from the baseline. She just hasn't got big enough shots to do it that way. She has good volleys and moves extremely well. I think she has to gamble and come into the net more.
I used to worry that she wasn't focused enough on her tennis – she always wanted to know what was going on down the street, who was doing what – but not any more. She's turned that around. However, the clock is ticking. She's not a young girl any more.
I think it would be wishful thinking to suggest that she could ever win a Grand Slam, but I think she has the potential to be a spoiler. On her day she could upset almost anybody.
Jelena Jankovic
Serbia, aged 30, world No 29
Jelena was one of the best athletes who ever came to the academy. She's always had real ability too. Her two-handed backhand is a great shot. She has great technique.
However, in recent years I think Jelena has worried too much about whether she is still a winner. If something goes wrong in a match she seems to find it hard to let go. She dwells too much on the previous points.
She comes to Bradenton a lot these days and this week she's been working again with Chip Brooks, one of the academy's finest coaches. If anyone can turn things around for her, Chip's the man.
Max Mirnyi
Belarus, aged 37, world No 42 in doubles
Max has been at the academy for 24 years. The older he gets the more competitive he gets. He has won 48 doubles titles, but no statistics can convey what a great guy the big man is. Boy, in the whole history of the academy there's never been anyone who has worked like he does and has done so much to help other people.
When Max first came to the US with his father, they had just about enough money to get a cab ride to the house where they were going to stay in Long Island. I think it was maybe two years later, when Max was 13, that they came to the academy. I went on court with him and was so impressed that within two minutes I said to him: "Son, you're on a scholarship." He's been at the academy ever since.
Reuse content